Photos by Adobe Stock
By Lisa Dukart
When hosting an outdoor wedding, thinking about your carbon footprint probably isn't at the top of your list (or maybe it is). But by planning in advance, couples can mitigate their impact on the planet and preserve their beautiful location for many betrothed brides and grooms in the future. Think being green means compromising chic style? Not at all, says Erica Razze, owner of Capiche Custom Events and facility coordinator at the Delaware Center for Horticulture. In fact, it can be seamless, as well as a great way to start the conversation about conservation. Here, she offers her top tips for a more eco-mindful celebration.
Ditch the single-use items.
Whether it's disposable dishware, glasses or cutlery, find reusable or compostable alternatives. "If you're getting basic dishware rentals, china or other real dishware is almost in line and sometimes even less expensive than some of these higher-end plastics," Razze says. Or opt for compostables made from organic material, like leaves.
Choose a stylish venue.
"If a venue is set up and has the look that you're going for, there's a very good chance that you are going to have the ability to decorate less," says Razze. That means you'll save money and the environment. She also suggests asking how a venue handles things like trash and recycling and what other ways they work to "combat their carbon footprint."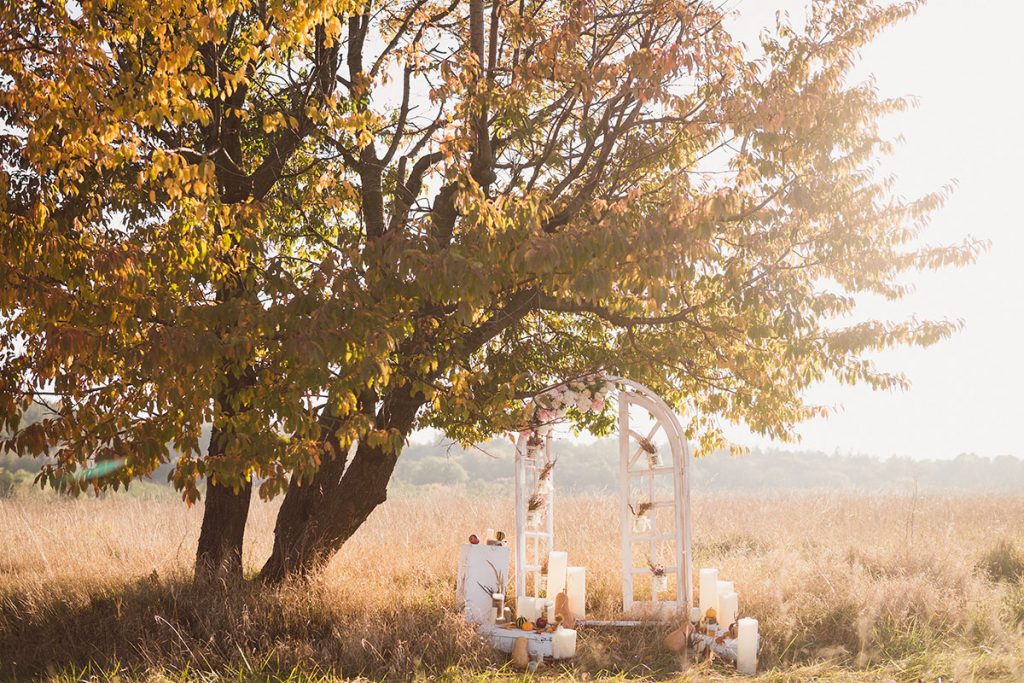 Drink local.
Reduce how much waste is generated from the bar by working with local breweries and wineries. Razze suggests ordering kegs or large bottles when possible. If the venue won't allow kegs, "growlers are a great option," she says. Working with a local purveyor also limits emissions from transportation, plus you'll gain the cool factor for offering craft sips.
Think beyond the bouquet.
Flowers are an integral part of weddings and by working with an eco-conscious florist, you can ensure they're locally sourced. "Some florists will even compost your flowers so that they go right back into the ground," Razze says. If working with such a florist isn't possible, use an earth-friendly seller like Whole Foods Markets or even rent silk flowers for arrangements. "They are such high quality that you can't tell."
Sustainable fare.
Using a caterer that sources locally is a great way to ensure food is not only fresh and seasonal but also reduces its impact on the planet. Razze even suggests cutting back on meat and dairy on the menu where possible. Couples should also make plans for their leftovers. Whether offering it to family and friends or donating it, "tell the caterer ahead of time so that they know how to properly store and keep it safe," Razze says. "While people don't necessarily think that food waste is part of sustainability, it really is." She also suggests looking into caterers or venues that offer composting to further minimize impact.
Embrace vintage jewels.
For those not yet engaged or buying wedding bands, consider a vintage option to use as is or to repurpose. Alternately, choose a naturally occurring stone. "Moissanite is a really popular option," says Razze of the clear, diamond-like stone made of silicon carbide. "You know that the creation of it is not only conflict-free, but it is not harmful to the earth."
Offer group transportation.
If guests will need to travel en masse, offer large-scale transportation, like a trolley. "Group transportation is more fun, and it's a little bit easier on the environment," says Razze. For an even greener option, some companies offer hybrid or electric vehicles.
Save a tree, plant a tree.
If opting for traditionally mailed invitations, minimize their impact by using a printer that offers recycled paper and low-toxicity ink, Razze advises. Couples can also buy paper embedded with flower seeds, which can be planted by either the guests or the couple. Razze especially likes it when guests keep seeded paper. "It's fun because you may hear from them in a year when they show you that their plant's growing," she says. "They now get to think of you every time they see these flowers."
Ditch the uniform.
Let the bridal party select their own wardrobe for your wedding day. "Just give a color scheme or set some parameters," Razze suggests. People are much more likely to wear something again if you let them pick it out themselves.
Reuse and repurpose.
For decorations, including signage, check online groups, including Facebook. Repurposing or reusing items not only is better for the planet but it also saves money, too. "I'm noticing a shift in personalities and lifestyle," says Razze. "It's a little bit of a younger generation where people are starting to appreciate things that are not single-use, things that are passed down from generation to generation." Be sure to check with your venue if they're holding other events around the time of your wedding. You may be able to share cost and rentals with another couple.