The
beach
played an important role in this couple's
relationship,
from the moment they met to the day they
tied the knot.
Words by Lisa Dukart
Photographs by Deanna Michele
---
Growing up, Justin Noble wasn't sure marriage was in the cards for him, but he hadn't yet met Evan Koslof. A Delaware native raised near Old New Castle, Justin spent a lot of time at his family's second home in Bethany Beach. Evan, a Boston native and reporter at WBOC, had come to call the Delmarva Peninsula home.
After talking for a few months over a dating app, the pair decided to take the plunge and meet in person in late 2015, but they were nearly thwarted by a going-away party for one of Evan's co-workers. Something made him decide to skip the party in favor of his date with Justin. "I went on this date, and I'm really happy I did," Evan says.
They went to Stingray, a sushi spot in Rehoboth Beach, and then out for drinks nearby. "It was just a really great first date," Evan recalls.




When Evan realized a year and a half later that he'd found the one in Justin, he thought they should move in together. Simultaneously, Evan landed a reporting job in Washington, D.C.,  so they uprooted their separate lives and began one together in the nation's capital. "I could see that we had a future," Justin says about deciding to relocate.
One day, while joking about marriage, Justin told Evan he was ready to tie the knot and was just waiting for a proposal. Opting to make it a surprise, Evan hatched a plan with the help of both of their families. On a solo visit to Justin's parents, Evan asked for their blessing. While there, he put his reporting skills to work to create a congratulatory video for when he popped the question. Justin's brother and sister-in-law, as well as the couple's friends, joined the celebration.


In April 2018, on a chartered catamaran cruise in the Gulf of Mexico with family, Evan popped the question. While Justin lounged in a hammock—which he was initially reluctant to leave—Evan set the scene, even rigging GoPros to capture his proposal. There on the azure and golden waters at sunset, Justin was in the dark about what was to come.
Evan presented him with a Movado watch rather than a ring—something the two had previously discussed. A Movado held more significance, since it's the brand Justin's grandfather wore. "I thought [he] was the epitome of a gentleman from the way he spoke, the way he carried himself, the way he treated other people," Justin says. "For me, a Movado is a very special and classy watch." A month later, Justin bought Evan his own Movado engagement watch.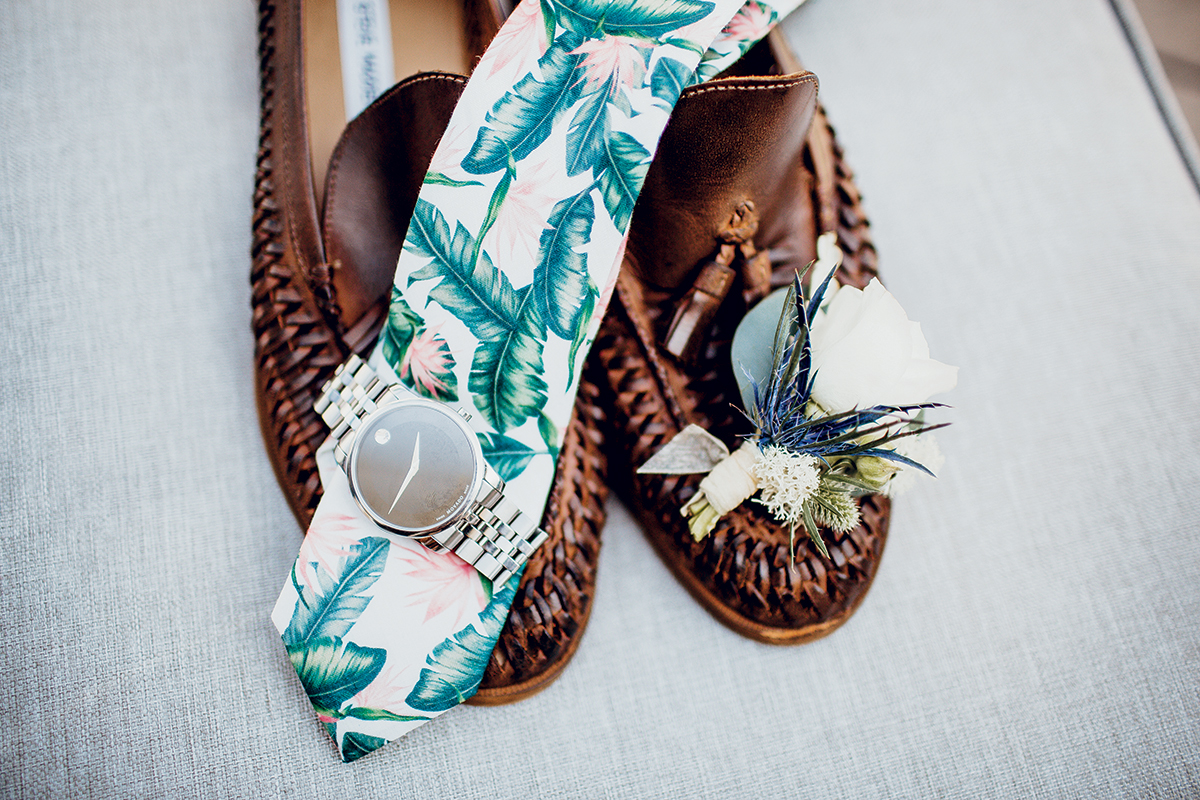 When it came to the wedding venue, there was no contest: "Our relationship was born at the beach, so I couldn't imagine getting married anywhere else," Evan says. They also wanted to share this special place with Evan's family, who'd be traveling from Boston.
On Labor Day weekend of 2019, the couple exchanged vows in the sand, officiated by a family friend of Evan's. The nondenominational ceremony honored Evan's Jewish faith with the traditional breaking of a glass. "It was just perfect. Justin had a great speech that made everybody laugh and made people cry," Evan says.


They celebrated with a reception at the Big Chill, with sweeping views of both the Atlantic Ocean and the bay, plus the iconic Cullen Bridge. "You can't get that view anywhere else," Justin says.
Now, whenever they return to Bethany, it feels a little sweeter. "Even though that's what I've known my entire life, it definitely means more to me now," Justin says.
---
Details
Ceremony and reception: Big Chill, bigchillbeachclub.com
Guests: 140
Grooms' and groomsmen's attire: Generation Tux, generationtux.com
Caterer: Fork + Flask, forkandflask.com
Day-of wedding coordinator: Angie Smythe, Eventfully Yours, eventfullyyoursmd.com
Entertainment/DJ: Just Kidding Around
First dance: Rihanna's acoustic version of "Umbrella"
Cake: Carolina Sugar Fairy, carolinasugarfairy.com
Florist: Bleached Butterfly, bleachedbutterfly.com
Photographer: Photography by Deanna Michele, deannamichele.photography
Biographies: Justin is a Realtor and Evan is an on-air reporter.
---
Published as "Sunset and Sand" in the Fall/Winter 2020 issue of Weddings Today.