Years after meeting,

Downingtown

couple Joanna Ferreri and Seth Cisco

reconnected

and

found love.
Words by Lisa Dukart, Photographs by Tina Jay
---
Despite becoming friends while working together at Concord Country Club in Glen Mills, Joanna Ferreri and Seth Cisco eventually drifted in different directions. But fate seemed to know something they didn't and brought them together at a Festival Pier concert a few years later. Amid the jumble of music lovers, the two ran into each other and reconnected in 2010.
Joanna knew then that Seth was the one. "He is such a good guy, so funny and kind. We got along so well and it was just really easy," she recalls. Within a year of that concert encounter, the couple moved in together, relocating to Bethlehem for Joanna's nursing career.




Happily together for many years, their love grew, and on New Year's Eve of 2017, Seth asked Joanna to marry him. The pair were alone in their new Downingtown home, the first they'd purchased together. "It was where we love to be," Joanna says of the intimate proposal. Later that night, they were joined by family and friends who would help them ring in 2018—and celebrate their engagement.
Set on an October wedding—Halloween is Seth's favorite holiday and Joanna loves the change of the seasons—the couple waited nearly another two years so they could hold their nuptials at the perfect time and place. They landed on French Creek Golf Club in Elverson. "It's a little spread out and has beautiful scenery," says Joanna. "It was worth the wait."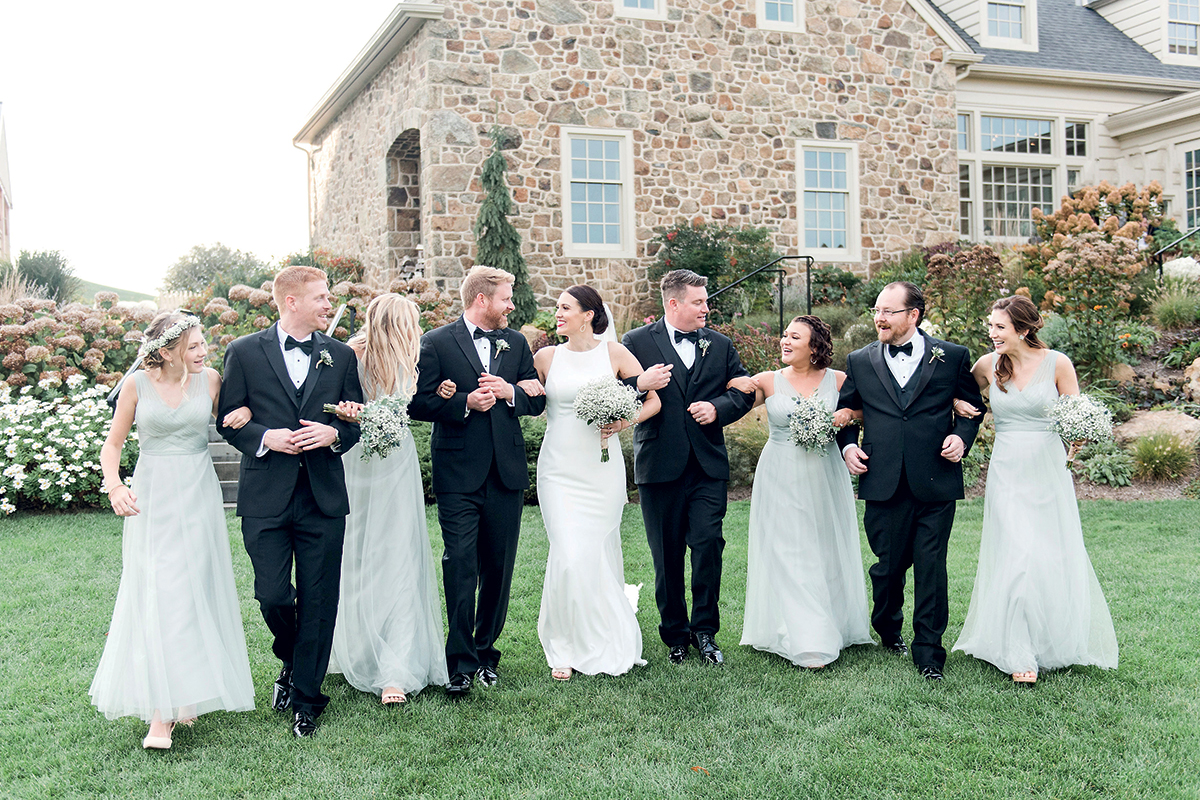 Wanting a simple but elegant aesthetic, Joanna opted for clean lines and natural colors on her big day. Joanna and her bridesmaids—her two sisters and her sister-in-law—carried bouquets of baby's breath, which was mirrored in the boutonnières worn by Seth and his groomsmen—his three brothers.
"I just loved it. I thought it was just the perfect [shades] of white and green," says Joanna, who used it for inspiration for much of the wedding. "It's simple but looks beautiful with the wedding dress." Greenery was subtly carried through in the décor and even their wedding cake, which was ringed in fresh leaves.




Thanks to the venue's rustic barn—with soaring ceilings and abundant green space—the couple was able to incorporate their love for nature into the celebration. Both enjoy hiking and Seth likes camping, so those elements made their special day all the more personal. They hosted their ceremony in the barn, officiated by Rev. Bob Devine, a former Catholic priest. This element was important to Joanna, who is Catholic but didn't want a full church ceremony. Instead, the clergyman loosely followed a traditional Catholic service, delivering the religious aspects Joanna wanted. Two friends also offered readings.

After the couple exchanged vows, nature served as the backdrop for cocktail hour. Later, the reception was held in the clubhouse. Wanting their wedding to be a lively celebration, the couple opted for the large Jack Faulkner Orchestra. "They were amazing. People danced the whole night, which was really important to us," says Joanna.
The band also performed for Joanna and Seth's first dance, a rendition of Frank Sinatra's "It Had to Be You." A favorite artist when they prepare and share dinner at home, the song was a fitting choice and a reminder that fate had brought them together many years before and made sure they found one another again.
---

Details
Ceremony and reception: French Creek Golf Club, frenchcreekgolf.com
Guests: 150
Bride's gown: Pronovias, Van Cleve Bridal, thevanclevecollection.com
Bridesmaids' dresses: W2 by Watters, Van Cleve Bridal, thevanclevecollection.com
Groom's and groomsmen's attire: Calvin Klein, Men's Wearhouse, menswearhouse.com
Hair and makeup: Ulta Beauty, ulta.com
Entertainment: Jack Faulkner Orchestra, jackfaulknerorchestra.com
First dance: Frank Sinatra's "It Had to Be You," covered by the Jack Faulkner Orchestra
Cake: Cakes and Candies by Maryellen, facebook.com/CakesandCandiesbyME.
Joanna and Seth shared a gluten-free almond cake, while guests enjoyed Champagne and lemon-raspberry cakes.
Officiant: Reverend Bob Devine
Florist: Blue Moon Florist, bluemoonflorist.com
Photographer: Tina Jay Photography, tinajayphotography.com
Biographies: Joanna is a nurse practitioner in Penn Medicine's hematology/oncology department; Seth is an electrician at Philadelphia's Navy Yard.
---
Published as "It Had to Be You" in the Fall/Winter 2020 issue of Weddings Today.