Words by Artika Casini
Photography by Victoria Selman
It began so casually: Her college roommate had a crush on his college roommate, and so Megan Krol and Craig Viera first met as "wingmen" at the University of Delaware. But beyond their matchmaking duties, they found an undeniable connection—a shared sense of humor, an innate love of nature and a first date that began with a hike through White Clay Creek State Park.
Over the next seven years, Megan and Craig would travel to more exotic destinations, from the jungles of Costa Rica to the wonders of the Grand Canyon. They went whitewater rafting and camping in the Shenandoah Valley. In fact, the couple had planned a vacation to Harper's Ferry in April 2017, and were almost out the front door when Craig said he had something to show Megan first.
The photo album he gave her was filled with a trove of memories: the different cities and apartments where they had lived (Newark, upstate New York, Baltimore, Washington, D.C.); the day they adopted their beloved cats, Teddy and Penny; the trips they had shared and the story they had already started.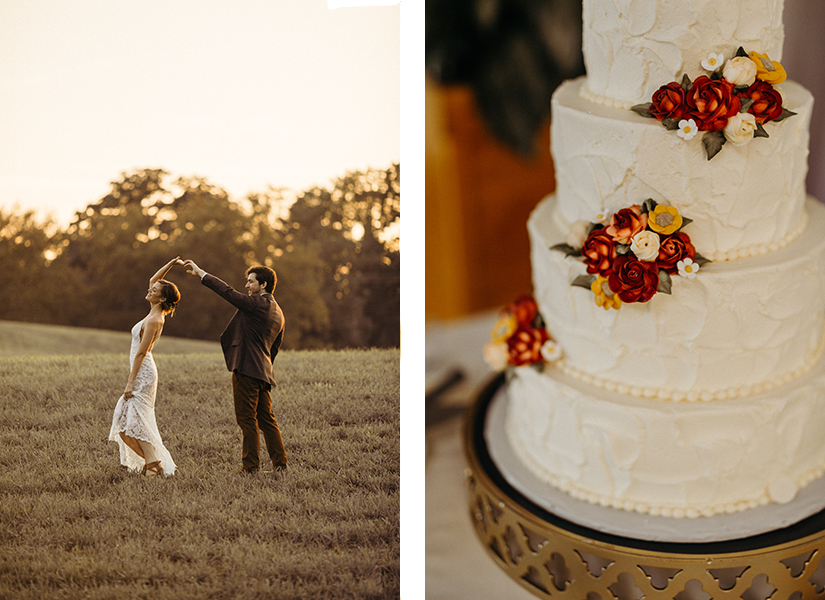 "I want to fill out the rest of the book together," Craig said to Megan, taking out a ring as he got down on one knee. The answer was a no-brainer.
Newly engaged, the couple would spend that weekend in West Virginia immersed in beauty—experiencing some of the very elements in nature they hoped to reflect on their big day.
That day arrived the following summer, on August 24, 2018. "We were looking for a venue that felt like ourselves, but fancier," says Megan. "We wanted to tie in our love of nature with a place that did the work for us and didn't need a lot of extra touches."
Winterthur Museum, Garden and Library was a picture-perfect fit, capturing the couple's theme of "green, minimalist, bohemian beauty." Guests saw foxes scurry by as they mingled near the reflecting pool for cocktail hour, and the bridal party noticed deer grazing in nearby meadows during their sunset photo session.
The setting felt like an enchanted fairy garden. The couple's color palette of burgundy, amber, terracotta and sage set the mood. Megan's hairpiece (a collaboration between her stylist, Onlo Beauty in Philadelphia, and florist, Honeybunches Floral, in Landenberg) enhanced the vibe. And it was all captured masterfully by Victoria Selman's lens.   
"She was the first selection we made," Megan says of the Annapolis-based photographer. "We were big fans of her work and knew she would make the day fun."
Fun, family and friendships were crucial components of the day. "We wanted it to be a community celebration," says Megan. Their wedding party consisted primarily of their siblings; their ceremony was officiated by a friend; the bride wore the same earrings her mother-in-law had worn on her wedding day; and the couple even managed to include their cats, as Megan wrapped her bouquet with a leather string from Teddy and Penny's favorite toy.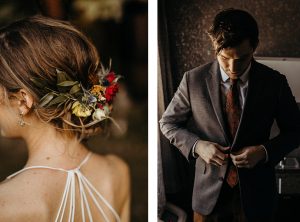 In addition to the personal details, it was important for the couple to incorporate elements of sustainability. With guests coming in from across the mid-Atlantic, Delaware became an environmentally friendly "destination wedding" of sorts. 
"We were very conscious that our wedding reflected our values, from choosing a venue that was an educational nonprofit to balancing the carbon footprint of guest travel," says Megan, who works at the Smithsonian's Museum of Natural History.   
The two used freeze-dried biodegradable flower petals for confetti and mailed wedding invitations on recycled paper. The bride's jewelry was either borrowed or upcycled, and after the ceremony, the couple reused store-bought decorations in their home. As wedding favors, they bottled milkweed seeds, the primary food source for the endangered monarch butterfly.
"We tried to incorporate the beautiful pieces of our life," Megan says. "We wanted it to feel like a celebration of our relationship and a reflection of ourselves."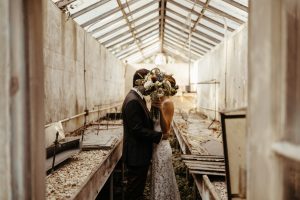 Details
Ceremony and Reception
Winterthur Museum, Garden & Library
Hair and Makeup
Cake
Groom's Attire
Pants from the Gap; Shirt from Banana Republic
Bride's Gown
Bridesmaids' Dresses
Ceremony Entertainment
Florist
Number of Guests 120
First Dance
"Baby I'm Yours," Artic Monkeys cover, as played by one of the couple's friends
Honeymoon
Croatia
Occupations
Craig is a copywriter for Freddie Mac, and Megan works for the Smithsonian's National Museum of Natural History as a collections contractor.
Photographer