Words by Artika Casini
Photography By Pat Robinson
Timing is everything, sometimes down to the second. Ryan Simeone and Hannah Spanfelner first met in February 2014, while out with friends during Hannah's senior year in college. The two would attempt to reconnect on multiple occasions thereafter, but there was always an exam or something with school, Ryan recalls. At the time, he thought, you can only try so many times.
But a chance re-encounter changed things forever. It was the night before graduation, and just as Hannah and her family walked into the restaurant where they were celebrating, she noticed a familiar face stroll past the host stand. "Do you happen to be at Sullivan's Steakhouse?" she texted Ryan. He was indeed, and the two continued texting well into the evening, eventually planning a dinner date the following week. When they shared their first goodnight kiss, Ryan told her, "I could definitely get used to this."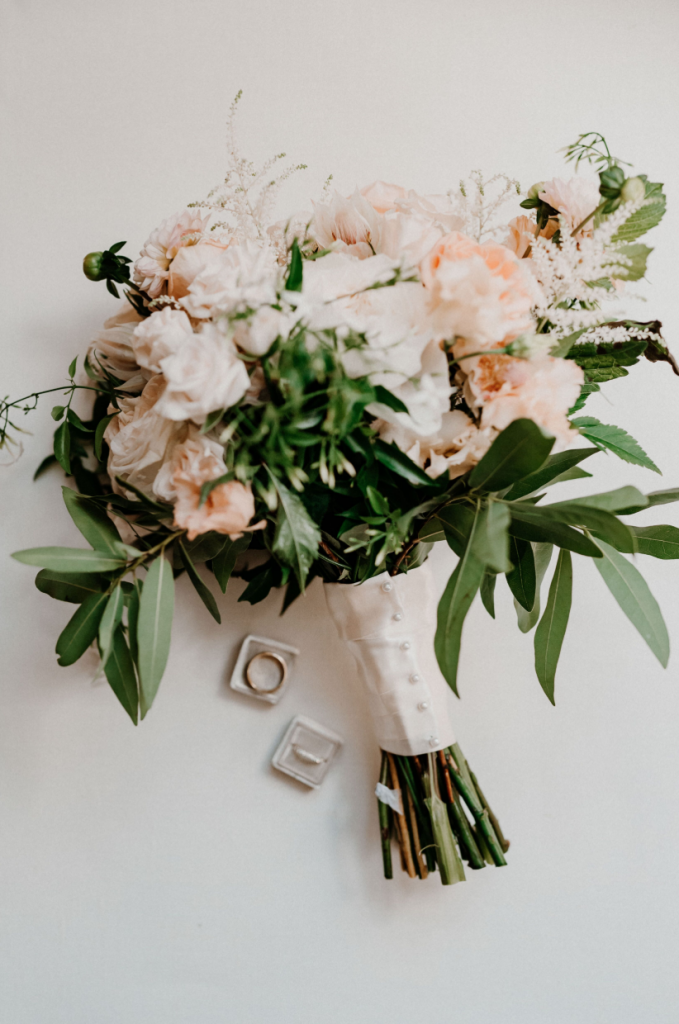 "I just knew she could be 'the one'," he says. "She's a genuinely good person, the one to drop anything for anyone. She's my best friend."
For Hannah, it was Ryan's sense of humor and kind heart that won her over. "He makes me laugh without fail. He's caring and a great listener and such a loving person. He's my best friend."
The two are also deeply family oriented. During the romance, the couple's happiest memories were shared in Rehoboth Beach at Ryan's family home, with their 6-year-old German shepherd, Titan, always in tow. Hannah, who never had a pet growing up ("not even a fish") quickly fell in love with the 130-pound pup ("How could you not?"), and the three—Ryan, Hannah and Titan—soon spent many Friday nights at Zogg's Raw Bar and Grill.
Initally, the night of August 11, 2017 was just like any other, starting at Zogg's and ending on the boardwalk, with Titan curiously left in the car. As Ryan and Hannah admired the ocean view, hand in hand, he reached into his pocket.
"Hannah, I love you so much," he said, lowering himself on one knee. Hannah recalls laughing nervously, suddenly bewildered by what was happening. "I couldn't believe my dream was coming true," she says.
A webcam at the nearby Sands Hotel captured the moment, where Hannah's parents and Ryan's sister watched in real time. Ryan's parents, who were just a few feet away on the boardwalk, rushed in with a bottle of Dom Pérignon to toast the newly enfianced.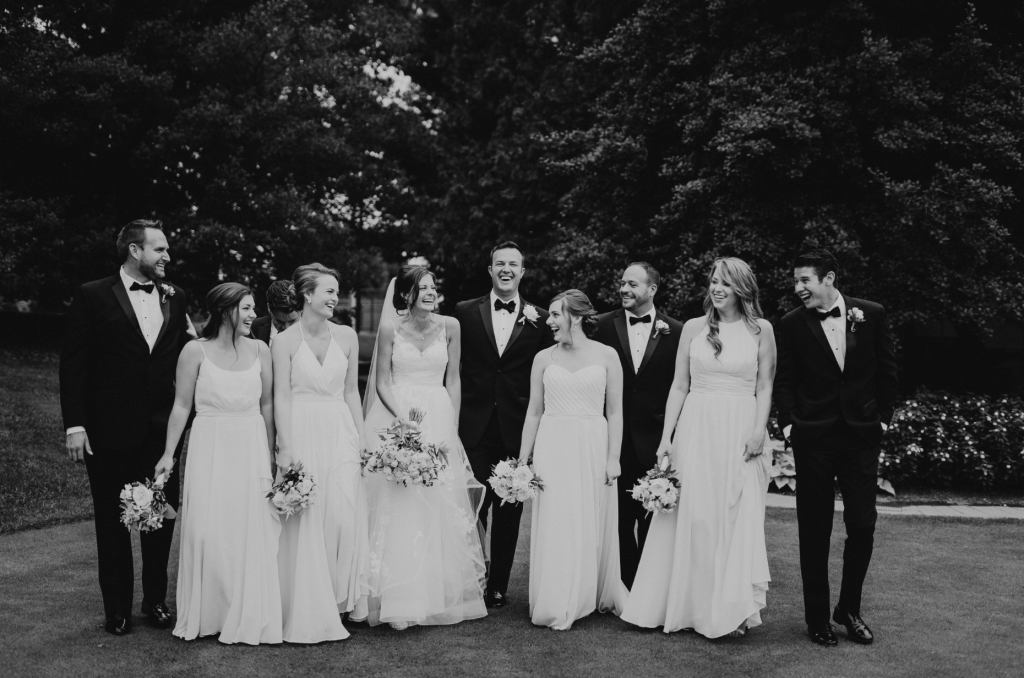 When it came to planning the wedding, Hannah wanted something "classic and elegant." That vision was reflected in everything from the Bellini bridesmaid dresses (a light blush hue by Bella Bridesmaids) to the reception at the Wilmington Country Club, where guests were treated to live piano music during cocktail hour. "We were looking for a venue with greenery, an outdoor patio and an intimate setting," says Hannah. "I cried when we toured it for the first time. We knew this was it, and could not have been happier with our choice."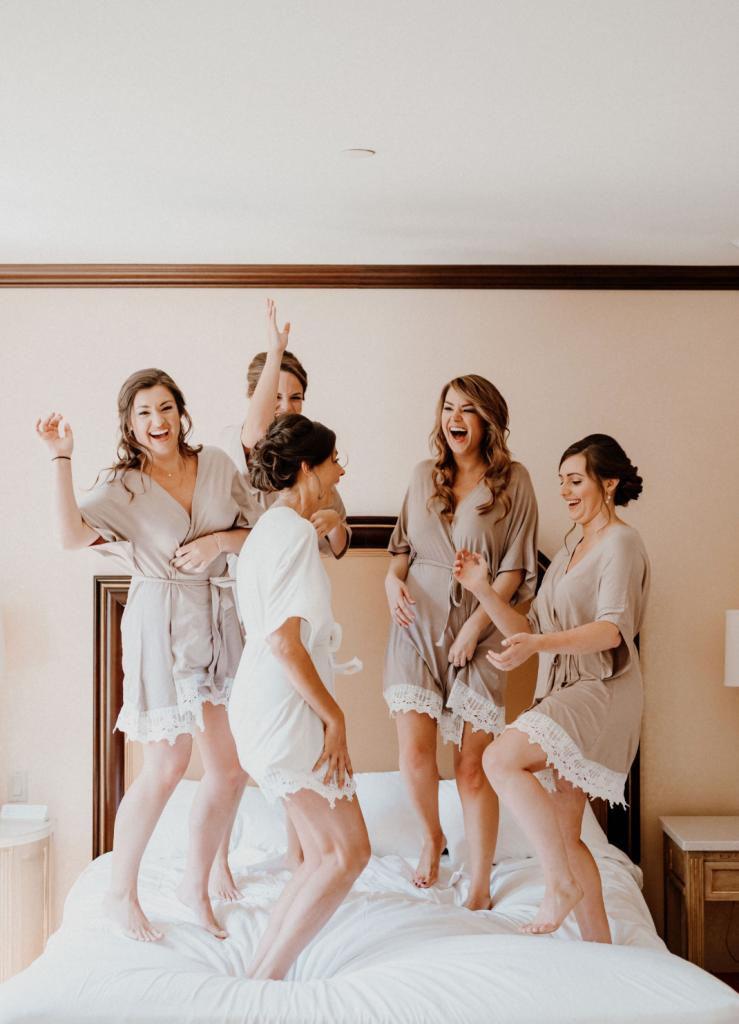 Special touches, like calligraphy from the Lewes Lettering Company, also enhanced the mood, with a beautiful sign outside of the church to welcome guests; a custom-made seating board and bar menu added quiet elegance to the reception.
But "it wasn't about the glamour," Hannah says. "We wanted the day to be about our love for each other and our family."
Getting dressed with her bridesmaids was especially memorable for Hannah, as the ladies hailed from Philadelphia, Boston, Vermont and San Francisco. For Ryan, the greatest highlight was seeing his bride for the first time, after the two had spent the previous night apart. "A day without her just doesn't feel right," he says. "I was ecstatic when the doors opened for our first look."
It was one of the many moments that moved Hannah to "instant tears." The most notable moment, perhaps, was her father's speech, which ended with the same blessing her gradfather made at her parents' wedding decades ago: "God bless you both. God bless your marriage. And may God's grace shine upon you forever."
Those deeply personal elements continued well into the reception, from the Eagles-themed groom's cake, brought out as "Fly, Eagles, Fly" began to play, to the tender rendition of "Ring of Love," performed by Hannah's grandfather, uncle and cousins, who wrote their own lyrics to Johnny Cash's "Ring of Fire." And, of course, there were the pizzas brought out during the reception—"an absolute must," says Hannah, who has yet to meet someone who loves the cheesy dish more than her husband.
"When I think of all my favorite memories, it's basically the whole day," Hannah says. "It was the most humbling experience to look around and see everyone who traveled from near and far to support us. We could not be more thankful to have the family and friends that we do."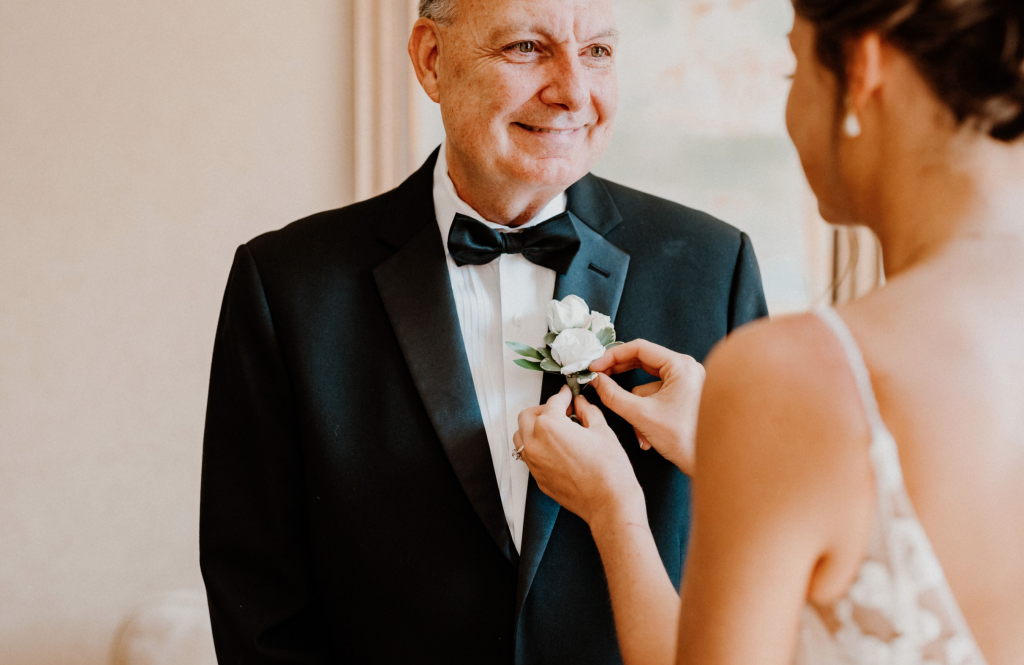 Ceremony: St. Joseph's on the Brandywine
Reception: Wilmington Country Club
Number of attendees: 130
Band: Kristen and the Noise
First Dance: "All I Ask of You" by Kelly Clarkson and Josh Groban
"It's a song from The Phantom of the Opera, which is Ryan's favorite play. We saw it shortly after we got engaged, and as they were singing this song, he told me how much it reminded him of me."
Dress: Irini's Originals (400 Philadelphia Pike, Wilmington)
Bridesmaid's Dresses: Bella Bridesmaids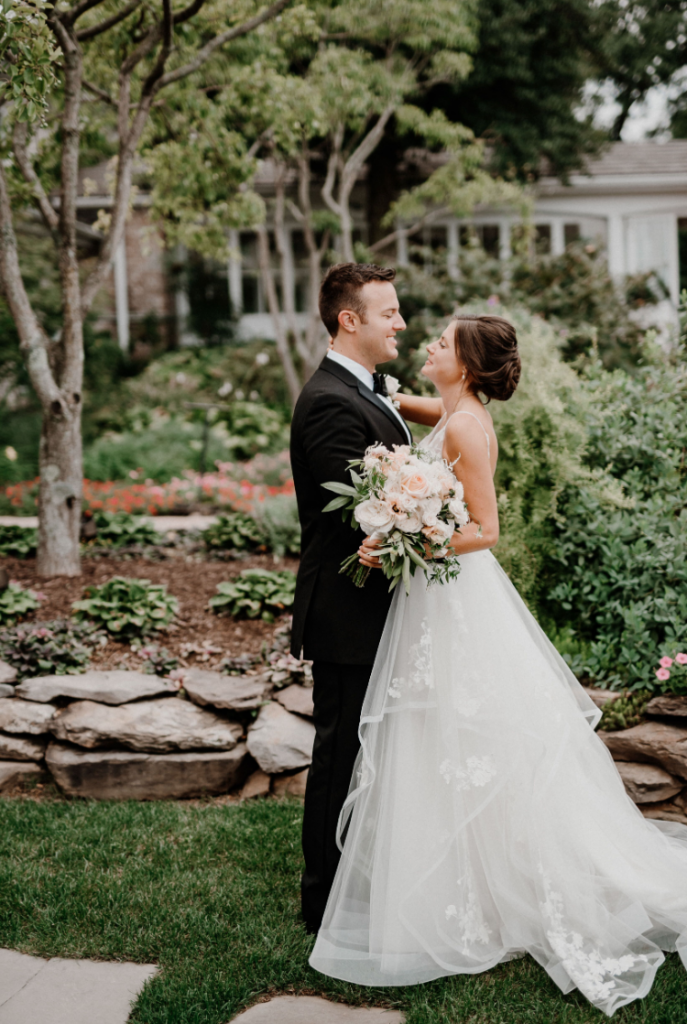 Shoes: Bella Belle Shoes
Suits: Formal Affairs (275 E. Main St., Newark)
Hair: Salon by Dominic (130 Lantana Dr., Hockessin), styled by Cynthia D'Angelo
Makeup: Ooh La La: The Makeup Studio (5800 Kennett Pike, #3, Wilmington), by Tonia Patterson
Florist: Flowers by Yukie (916 N. Union St., Wilmington)
Cake: The Master's Baker (319 W. Gay St., West Chester, Pa.)
Transportation: King Limousine and Transportation (370 Crooked Lane, King of Prussia)
Photographer: Pat Robinson Photography, photographed by Matt Genders
Videographer: TLJ Studios (Skippack, Pa.)
Invitations: Whimsy Greenville (3838 Kennett Pike #101, Greenville, Del.)
Calligraphy: Lewes Lettering Company
"Katy [Ackerman, the owner] does beautiful work and made my vision come true!"
Wedding Planner: Kaleidoscope Weddings, Clayre Cardi (121 N. Wayne Ave. #100, Wayne, Pa.)
Dance Lessons: Take the Lead Dance Studio
Honeymoon: Ten days in Italy, traveling through Positano, Capri and Rome
Occupations: Hannah is a data analyst for DuPont and Ryan is a property manager for his family company, Unity Construction.