Words By Christi Milligan
Photos Courtesy of J. Nicole Photography
When Lauren Baker was planning her wedding, she knew she wanted three things: food stations piled with delicious hors d'oeuvres, an extended happy "hour" and a music experience that neither she nor her guests would ever forget. 
She got it all—and the third, in spades.
Lauren and her husband, Joe, who live in Lewes, hired Philadelphia-based band Kristen and the Noise, and gave their 175 guests a full concert experience.
"I'm pretty sure they made our wedding great," Lauren says of the band. "Everyone was packed on the dance floor."
Thanks to social media, today's couples can copy the looks, trends and details for their storybook wedding ceremony. But when it comes to music for the reception, creating an experience that speaks to a diverse guest list has its challenges.
While parameters like location, size and budget offer some direction, accommodating various tastes and ages can feel overwhelming. The perfect playlist will draw Aunt Margaret, as well as your best friends from college, onto the dance floor.
Mix it up
Joel Kupis is a Delaware-based deejay who subcontracts for a booking agent in Philadelphia. He says the ability to read a crowd can set the temperature of a party. "You can teach anybody to mix music and build a playlist, but what separates a good deejay from a bad one is their ability to read a room."
For Joel, the process begins well in advance of the wedding, with an initial interview to gauge preferences and the overall vibe for the reception. He says he asks every couple to give him a list of their top songs, regardless of tempo and danceability.
"I have people that come to me with specific songs genres, and people all over the spectrum with what they want," says Joel.  "I place a heavy emphasis on them telling me what they like, and I incorporate that into a broader playlist."
He adds that snags emerge when couples over-plan their wedding music, excluding family and friends they hope to engage or preventing the deejay from recovering from a lull on the dance floor.
Joel recently played at a wedding where the couple handed him a complete four-hour playlist and asked him not to deviate from it. "The bride and groom enjoyed it," he says, "but of the 180-plus people that were there, I'd say only 20 were on the dance floor."
To get everyone to participate, Joel recommends a few things: First, remember your guests. "Typically, weddings consist of people of all ages," he says. "Your grandparents enjoy dancing as much as your young school friends—if the music is right."
Since most people love dancing to throwbacks, save the modern-day jams for the latter half of the evening "when the older people start to tire out," he says.
You should go easy on genres that are too specialized. "Obviously, you want to hear your favorite songs at your wedding, but consider whether or not your friends and family also enjoy indie hip-hop," says Joel. 
That said, there is a time and a place for every song. "There is plenty of time to play songs that don't necessarily have to be danceable for everyone," adds Joel. "Cocktail hour and dinner are a great place to throw in your favorite songs that might not necessarily be hits on the dance floor."
With more than 150,000 songs in his library, Joel is all about incorporating couples' preferred playlists with songs that resonate with a broad audience. "The great thing about using a deejay is that there's a lot of flexibility," he says.
Lauren Baker had already seen Kristen and the Noise perform in Dewey Beach and Philadelphia. When she and Joe later booked them for their wedding, they requested 10 songs they wanted to hear and told the band the rest was up to their discretion.
Hit all the notes
Newlyweds Carla Aponte Johnson and her husband, David, cultivated a musical trifecta. Married in her family's native San Juan, Puerto Rico, the Middletown couple hired a guitar player for the dinner hour, a live band for dancing and then cultural music to close the night.
"We wanted to make sure our parents knew the songs as well as our friends," Carla says. That meant finding an array of "today's hits that everyone could dance to," as well as a song that everyone loved.
The Johnson's wedding planner encouraged them to hire a live band that was bilingual, and suggested they have a deejay spin tunes between sets. David and Carla selected some family favorites —Aerosmith and Led Zeppelin for his dad, and '80s and Merengue for her parents.
David says don't be shy about giving your input, but also make sure you trust the music expert you hire. "They do it as a job, so trust them," he says. "You might really love a song, but it might not fit the dance floor."
The surest way to select tunes your guests will get down to? Ask them, say newlyweds Aaron and Rachel Settle, of Smyrna. The duo got an early jump on their playlist by asking guests to jot down their music requests on their RSVP cards months in advance.
"Our deejay suggested this," says Rachel. "That way he could create a playlist that included everyone's requests while still keeping the flow of the evening."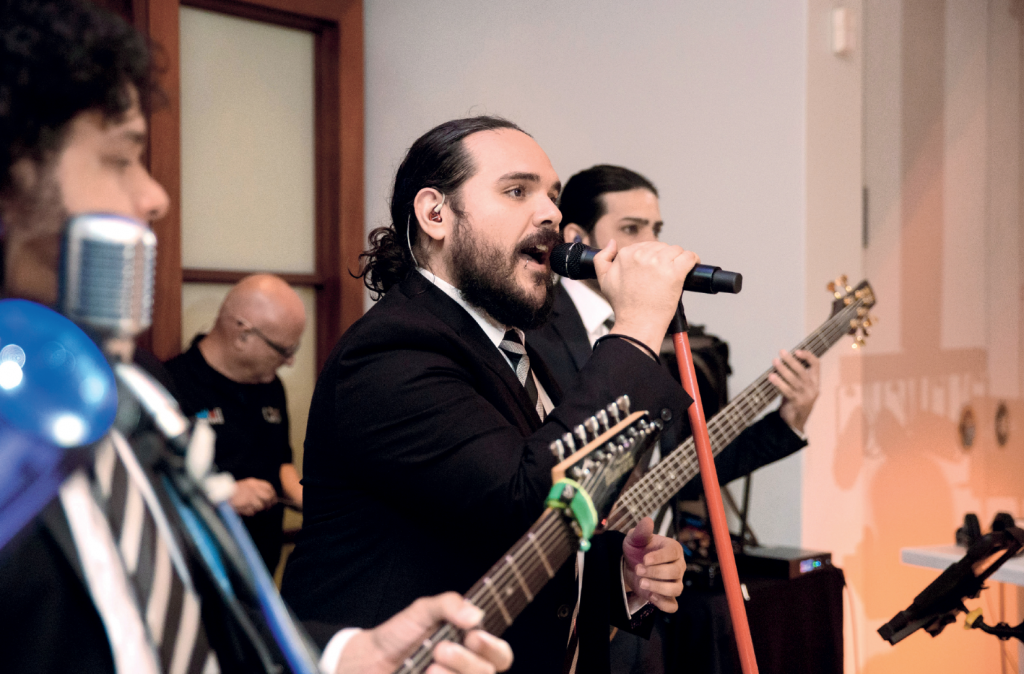 Spin Tips From a Pro
With hundreds of weddings under his belt, Deejay Joel Kupis says these songs work every time.
"Uptown Funk" by Bruno Mars: There aren't many people who don't start moving and singing when they hear this song's funky throwback beats. The younger people know it, the older people appreciate it—it's a winner.
"September" by Earth, Wind and Fire: This song has been around since the '70s and has never lost its popularity. It's great because it caters to older guests while keeping the energy high in the room for the younger guests who find it so familiar.
"Dancing Queen" by ABBA: Older crowds love it because it's from the '70s, and thanks to the 2008 movie "Mama Mia," it became a hit for a new generation.
"Shut Up and Dance" by Walk the Moon: It's a newer song that most people love, and an easy one to learn. Usually by the second chorus, those who don't know it are singing it.
"This Is How We Do It" by Montell Jordan: This is a great transitional song. Most of the older crowd have gotten their fill of dancing, and it's time to turn it up a notch and really get the party started.
Personalized Playlists
The right music can set the vibe for a reception and dance floor. "Weddings are made by the music," says newlywed Dave Johnson. Here, couples share their top selections and why they chose them.
Joe and Lauren Baker
"American Pie" by Don McLean: It's a classic.
"Me and Bobby McGee" by Janis Joplin: It's Lauren's all-time favorite song.
Aaron and Rachel Settle

"Young and Beautiful" by Lana Del Rey: According to Rachel, the song's significance was in the bridge and speaks to how God answered her prayers.
"Tightrope" by Michelle Williams: "We love 'The Greatest Showman,' and when we were trying out first dance songs, this is the one that made us both go, 'Oh my gosh. We'll be married. Woo hoo!'" 
"Guillotine" by Jon Bellion: The Settles call this song "crazy fun to dance to."
"Simple and Clean" by Utada Hikaru: It's a favorite from one of Aaron's preferred video games.
"Young, Dumb and Broke" by Khalid: According to Rachel, if this song plays on the radio at a restaurant in 20 years, they'll get up and dance to it.
David and Carla Aponte Johnson
"Despacito" by Luis Fonsi: We walked into the room to this song. It was the Spanish song that we thought everyone would know and it fit the theme.
"Simple Man" by Lynyrd Skynyrd: Dave and his mom danced to this. They love old rock music, so it was a must-play.
"Danza Kuduro" by Don Omar: The matron of honor and I took Zumba for years, and this was our favorite song.
Any Juan Luis Guerra song: His songs were huge for my parents during college.We played them throughout the night to get my parents on to the dance floor.
"Fame" by David Bowie: It's a favorite of Dave's parents.