Words by Ashley Breeding
Photographs by Maria DeForrest
Kate Taylor remembers meeting Michelle Sodini in 2010 during a volleyball game.
Michelle doesn't remember meeting Kate until later that year, when the two joined the same Ultimate Frisbee team.
"I introduced myself, and was like, 'Hey, I'm Michelle. What's your name?'" Michelle recalls, chuckling. "And Kate goes, 'Yeah, I know. We've already met."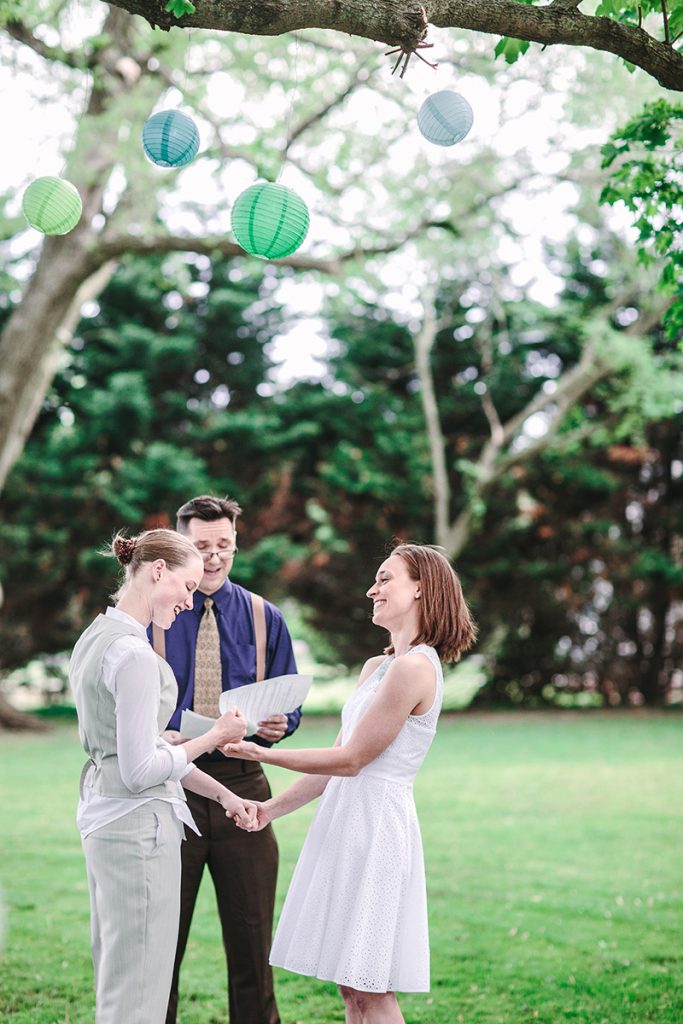 What might have been an awkward moment dissolved into immediate chemistry. But the timing wasn't right for romance for either woman.
"I felt an attraction right away," Kate concedes, "but I had never dated a girl before, and that was confusing for me."
Plus, Michelle had just gotten out of a relationship and wasn't ready to jump into another.
The 20-somethings instead became fast friends, enjoying many years of close friendship while dating other people.
When Michelle broke off another relationship and needed a place to stay, Kate's door opened—and so, too, would her heart.
"I guess you could say we accidentally fell in love," Kate says.
After a night out on the town ("with a few adult beverages," she adds), the two cuddled together on the couch.
They both wondered, do friends do this?       
What happened next was no accident. "Michelle kissed me," Kate says. "The next day, we went to our Frisbee tournament, and nothing was weird. That's when we realized this felt really good, really … right."
A month later they exchanged I love you's, and less than a year after that, they exchanged vows.
Kate had said one day, casually, "I think we should get married," and Michelle replied, "Yeah, we should."
Since the then-Ohio residents (Kate is a Dayton native, while Michelle moved from Pittsburgh) could not legally marry in either of their home states, they decided to wed in Rehoboth Beach, Delaware, over Mother's Day weekend.
"We both grew up going to Rehoboth with our families," says Kate, noting a special connection with the town. "And it's super gay-friendly, so it was the perfect place."
They planned an intimate affair with only their immediate families at The Homestead B&B, just a couple miles off the coast. The cozy beach cottage had never hosted a wedding but could easily accommodate their 15 guests.
Owners Dave and Joe cleaned out the B&B's barn-turned-garage, replacing a big pile of dirt with a farm table and stringing lights to create the "wild and rustic" ambiance the couple hoped for.
A rainy forecast on that May day gave way to gray skies that allowed Michelle and Kate to marry under a tree in the yard, with "only a sprinkle for good luck," Kate says.
She wore trousers and a fitted vest that her mom had made for her, while Michelle sported a short ivory sundress and carried a fabric bouquet made by her mother.
Both women were walked down the aisle by their fathers.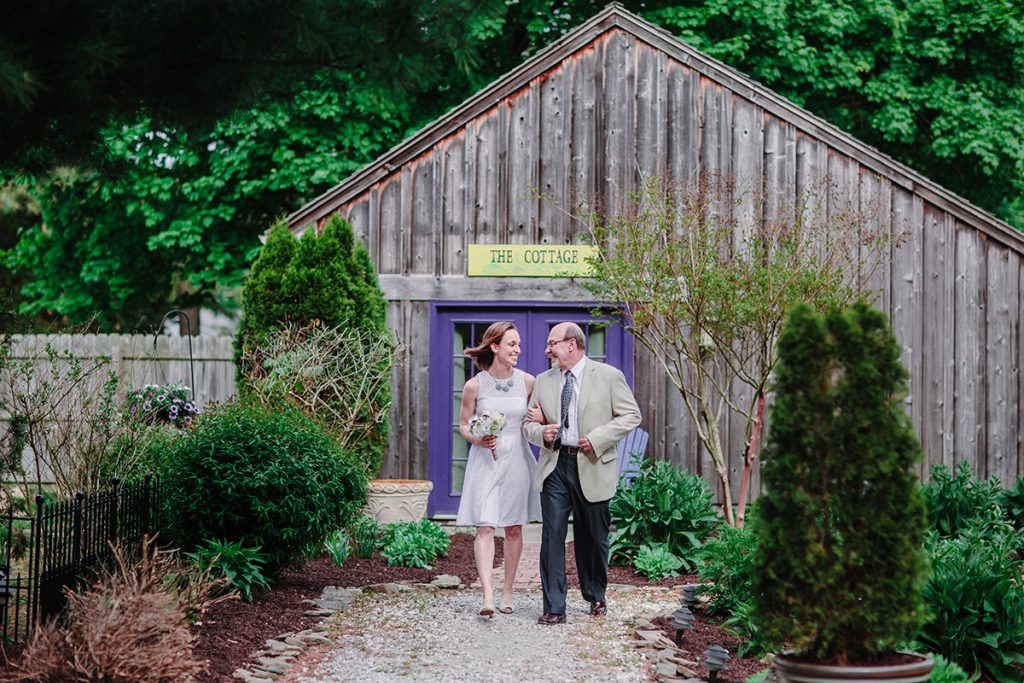 Family members looked on from folding lawn chairs, though many took part in the ceremony. Michelle's brother-in-law officiated, while her brother played music; both their siblings offered readings. Michelle's niece was the flower girl, and her nephew the ring bearer. (An Ultimate Frisbee theme spun throughout the event, their relatives deemed the "the master of music," "the ultimate flower girl," and so on.)
The newlyweds danced their way back down the aisle to Pharrell's "Happy"—one of a list of songs they included in a mix CD to give to each family member.
The reception took place around the farm table, which Michelle and Kate had decorated with white linens, and blue and green vases of colorful wild flowers. They served wine, Dogfish Head beer and a lemon cake with raspberry filling. Older relatives were asked to leave a tip in the tip jar—that is, their advice on how to have a successful marriage. When everyone had their fill, they poured onto an adjacent dance floor, from which they slowly trickled off to bed, the toddlers being the first to tire out.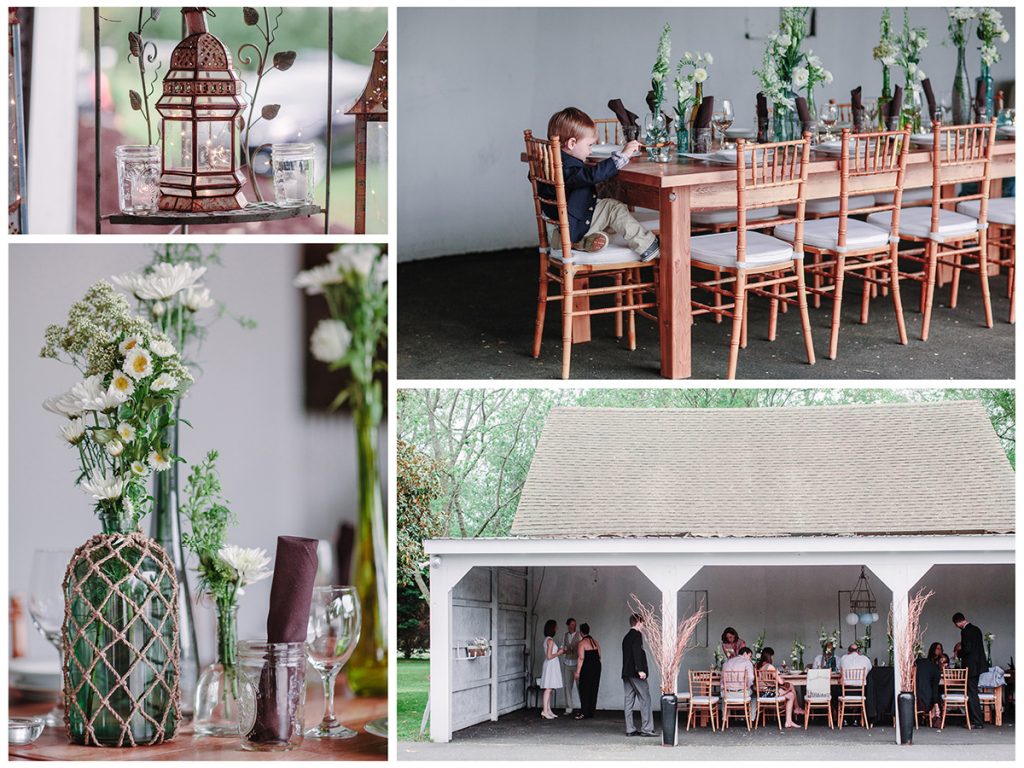 The next morning, the couple hosted a Mother's Day brunch at the homestead, enjoying hair-of-the-Dogfish Head "Momosas." As a parting gift, they offered a trail mix bar where everyone could create their own snack for the journey home. For Michelle and Kate, the weekend was the ideal way to celebrate embarking on their new journey.
With most love stories, the proposal comes long before the nuptials. But two years after they married, Michelle told Kate they didn't have an engagement story. So while in Florida with family, the couple awoke to watch the sunrise on the beach, and to Michelle's surprise, Kate proposed—on bended knee, with a Ring Pop—while her sister hid behind sand dunes to capture the moment in photos.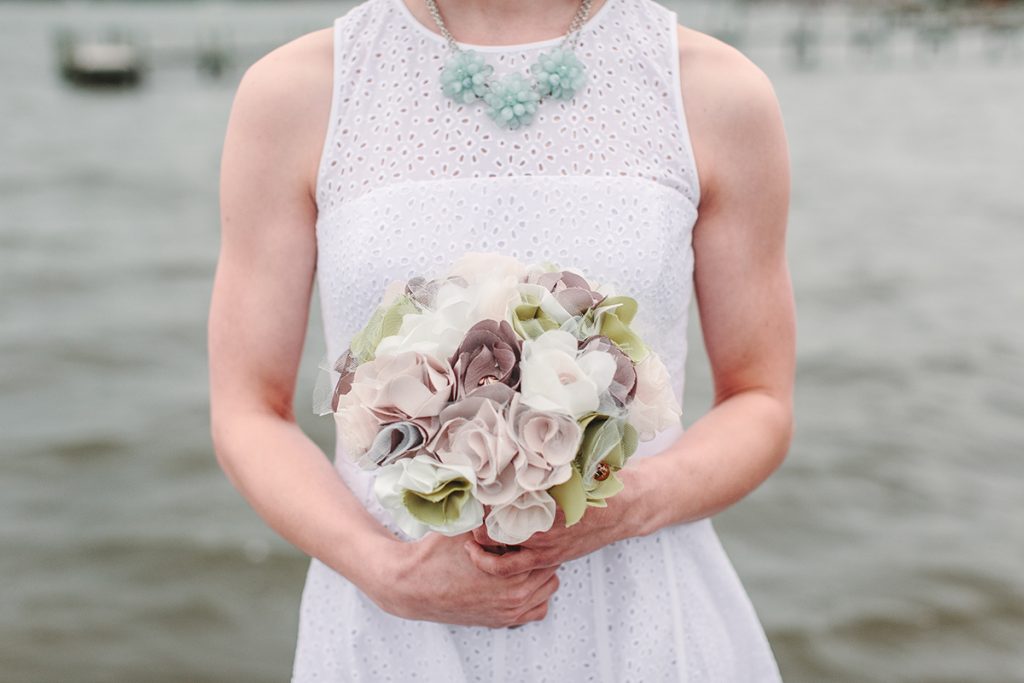 ---
DETAILS
Ceremony and reception:
The Homestead B&B at Rehoboth Beach
Entertainment: Michelle and Kate picked the playlist; Michelle's brother, Matt, manned the turntable.
Wedding march: Kate walked down the aisle first to Pachelbel's "Canon in D," and Michelle walked down the aisle next to Ingrid Michaelson's cover of "Can't Help Falling in Love."
First dance: Ellie Goulding's "How Long Will I Love You"
Photographer:
Maria DeForrest