From the proposal to the reception, this couple's love story was filled with the unexpected.
Words by Lisa Dukart
Photographs by Ashley Shuey
In July 2011, Alison Weichel and Thomas Williams were both students at West Chester University when they took up jobs at the now defunct Lieberman's Dynamic Bookstore. It was there that they developed a friendship, which soon blossomed into something more. On their first date, Tom, a Unionville High School grad who grew up in Tennessee, took Alison to Longwood Gardens to see the Christmas display.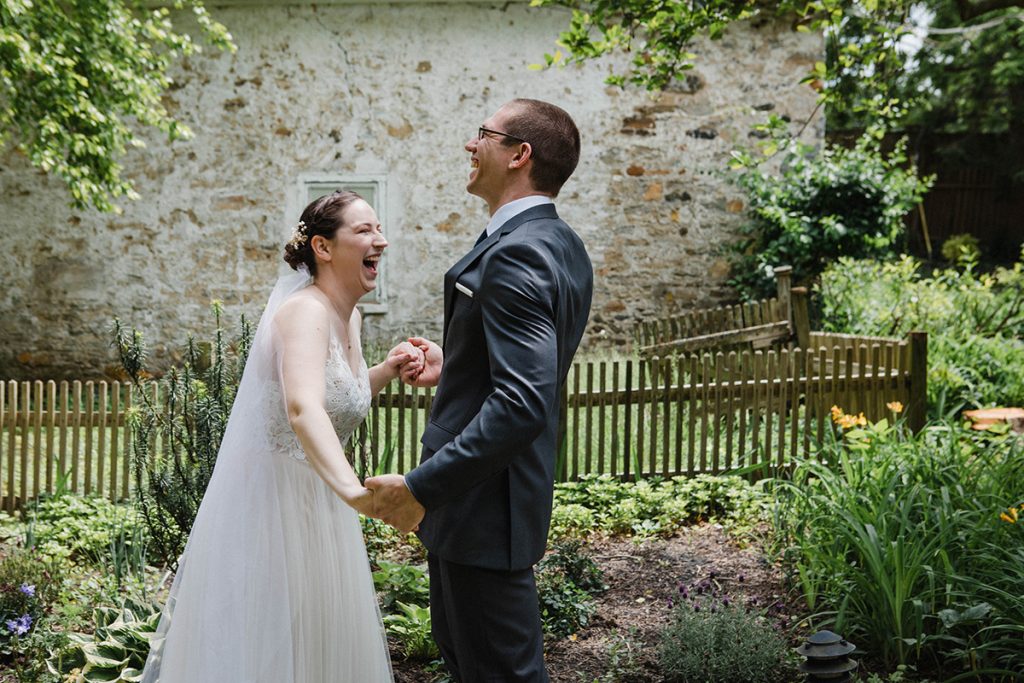 They continued to date for six years and even bought a house together in 2016. While their families wondered when they'd get engaged, the couple had no qualms about the timeline of their relationship. "We're signing a 30-year mortgage together—we're committed," Alison explained. They spent a year remodeling their home, knowing a wedding would happen someday.
Having just enrolled in graduate school, Alison didn't expect that "someday" would be soon. But Tom had other ideas. The following June, he asked Alison's parents to support his plan to propose.
By late summer, as Alison—a teacher at Downingtown Middle School—prepared for the start of the school year, Tom surprised her with a fire pit in their backyard. He picked up his guitar and started playing Peter Gabriel's "The Book of Love." It wasn't until the lyric, "I love it when you give me things/And you/You ought to give me wedding rings" that Alison realized what was about to happen. When Tom finished the song, he got on bended knee and, with a custom-designed vintage-inspired ring, asked Alison to be his wife.
The wedding took place a year and half later, after the couple had relocated to Exton, Pennsylvania. Late spring was the perfect time. "We love being outside [and a] really fresh, clean, minimalist, natural, low-key vibe," Alison says. Wanting to put their own stamp on the venue, the couple sought out historic estates and inns.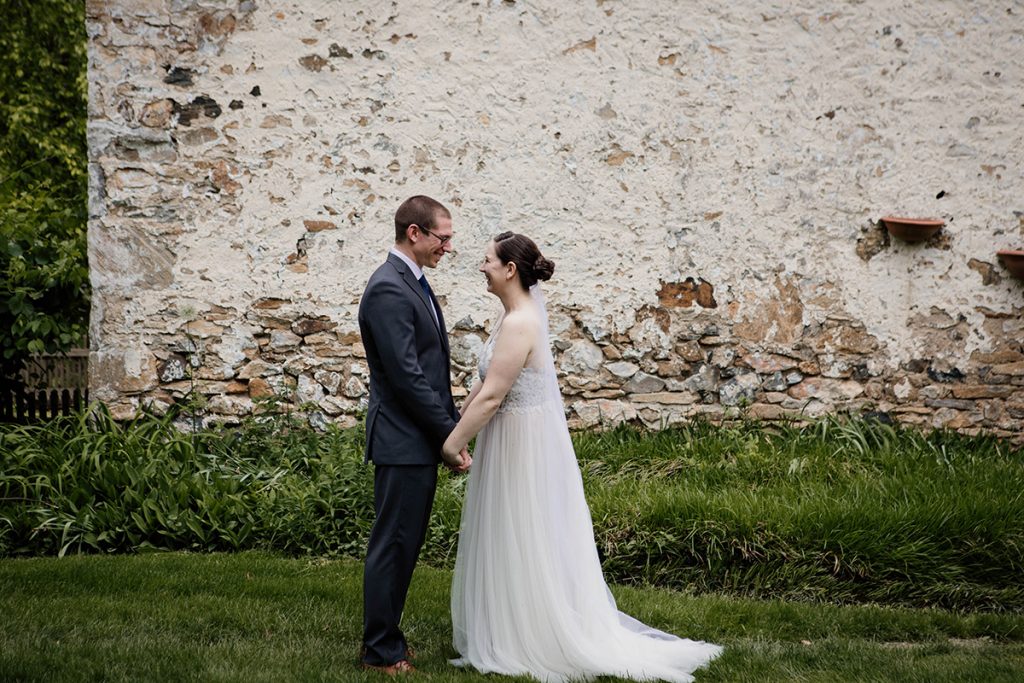 When they came across the 1700s-era Pennsbury Inn in Chadds Ford, spacious enough to accommodate their families for a wedding weekend, they knew they'd found their place.
That May, surrounded by a grove of trees, the pair exchanged personal vows. Tom's brother, Michael, officiated, and one of Alison's friends offered a reading. "Hearing Tom make his vows to me was perfect," Alison says.
Like their customized vows, the whole wedding was full of do-it-yourself flair. Alison and her bridesmaids styled their own hair and makeup, and assembled their bouquets with flowers they'd bought from Wegmans the night before. Alison went with a neutral color palette, using eucalyptus and cream-colored roses with a pop of pale purple. Hand-painted vintage windows welcomed guests upon arrival. The table centerpieces—rustic wooden slabs decorated with air-plant terrariums—were created by the bride, who thought they were the perfect choice amid "such a beautiful backdrop" where flowers would have been too much.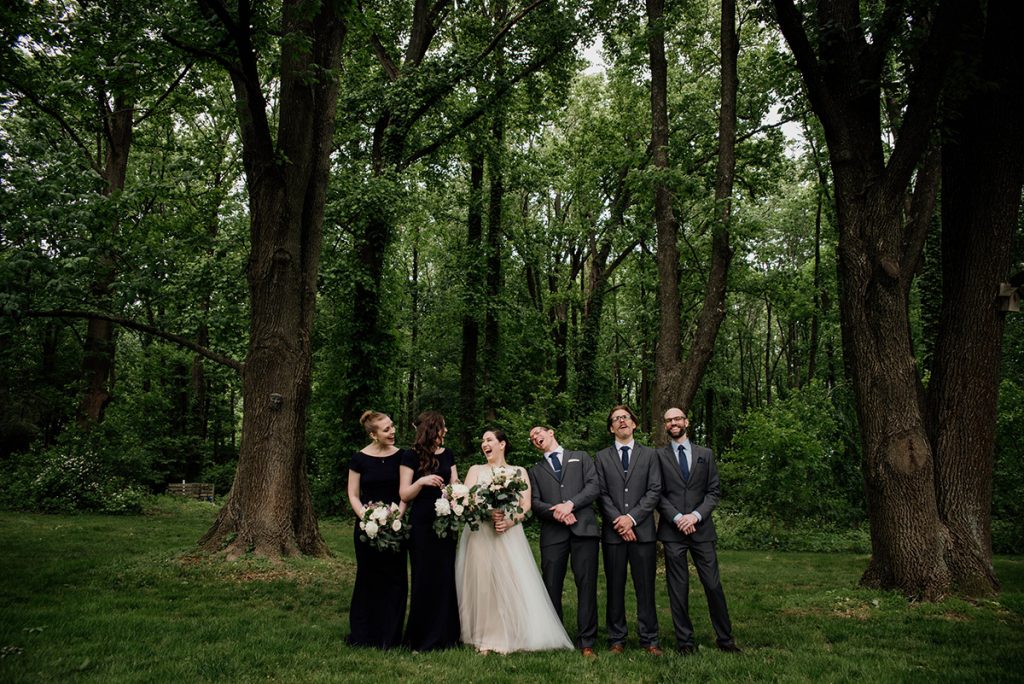 Even the dessert table (save for the bread pudding and a small cake that Alison and Tom cut) was topped with homemade touches. Alison made orange cardamom sugar cookies, Tom's grandmother baked her famous cupcakes and one of Alison's students prepared chocolate Oreo truffles. Their thank-you gift to guests were also made by hand: Tom's parents spent two days mixing batches of their signature homemade Chex mix, which they handed in cute containers to guests as they left.
But even with all the unique elements, it was a gift for Tom that sent it over the top: Wanting to surprise her new husband the same way he'd surprised her with the engagement, she worked with Tom's brother, Taylor, to create something special. Taylor knew members of the Philadelphia-based band Darla, which he and Tom would often see performing live. Abandoning the playlist the couple had planned for the reception, Alison and Taylor asked Darla to perform for the first part of the wedding.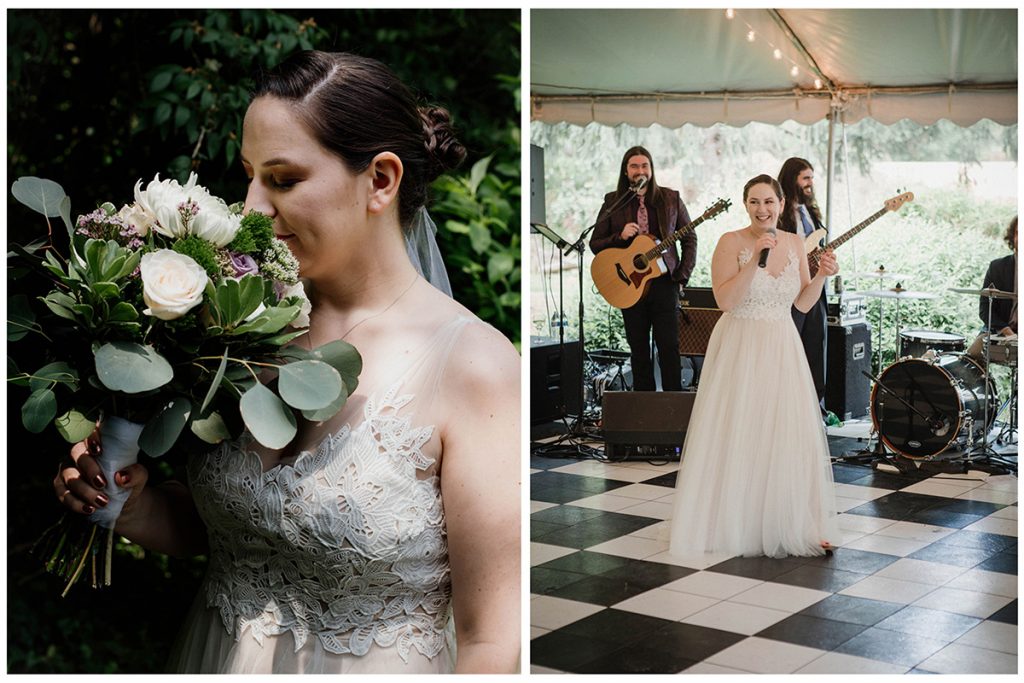 Alison and Tom got an additional surprise as well. As the band prepared to play the couple's first dance song—the same song Tom strummed before proposing—Taylor took the microphone. Neither knew Taylor was a singer, but sing he did. "Every single thing about the day was perfect," Alison says.