This Wilmington couple adapted their lavish wedding plans into an intimate celebration
 

amid COVID-19.


Words by Lisa Dukart, Photographs by Kelli Wilke
---
Twelve years after developing crushes on each other in college, Kendall McDowell and Jonathan Tilton finally found the right timing to pursue their feelings. "He was totally off-limits," Kendall remembers of their college years. (They both attended the University of Delaware, where Jonathan roomed with a friend—who happened to be Kendall's brother.) The two Wilmington natives remained friends and the latent spark lingered. "Every time I would run into him, I would just brighten up," she says. In December 2015, they both attended a mutual friend's party—and at last the spark fully ignited. 
But their first date didn't go as planned. Wanting to catch a movie, they tried several theaters, finding all were sold out. So they went to Wilmington's Trolley Tap House instead, a move that proved far better than any film. Over drinks, they agreed to try psychologist Arthur Aron's 36 questions meant to cultivate intimacy. They had read about the concept in The New York Times' "Modern Love" section and were curious. 
The questions start out simple: "What would constitute a 'perfect' day for you?" and "If you could change one thing about the way you were raised, what would it be?" Then they get progressively more intimate: "What is your most treasured memory?" and "Complete this sentence: 'I wish I had someone with whom I could share …'" At the end, partners spend four minutes looking directly into one another's eyes. So that's exactly what Kendall and Jonathan did. "It was just beautiful, because it was like two souls looking at each other," Kendall says. At the end of the night, she felt like Jonathan was "the one."
And he was. Their relationship steadily progressed, and both knew marriage was inevitable. Jonathan popped the question on a trip to Rehoboth Beach, where both had spent time as children. On Kendall's birthday last year, the couple took a stroll around Lake Gerar Park, where Jonathan got down on one knee, ring in hand. "My jaw just dropped and he was tearing up," Kendall says.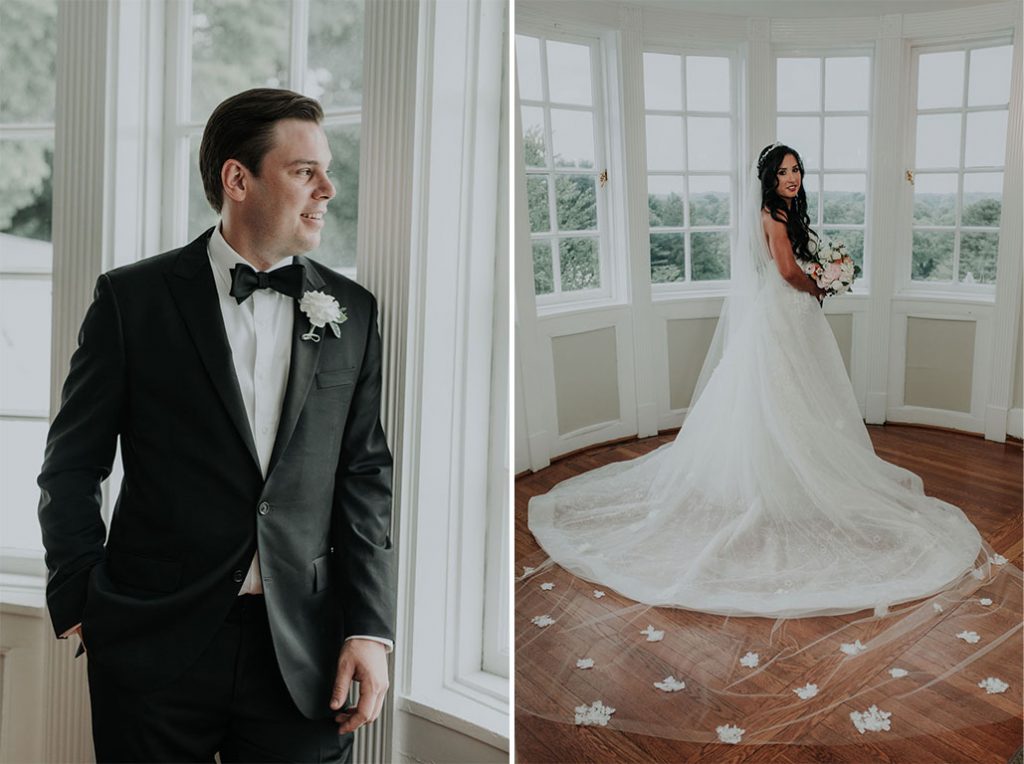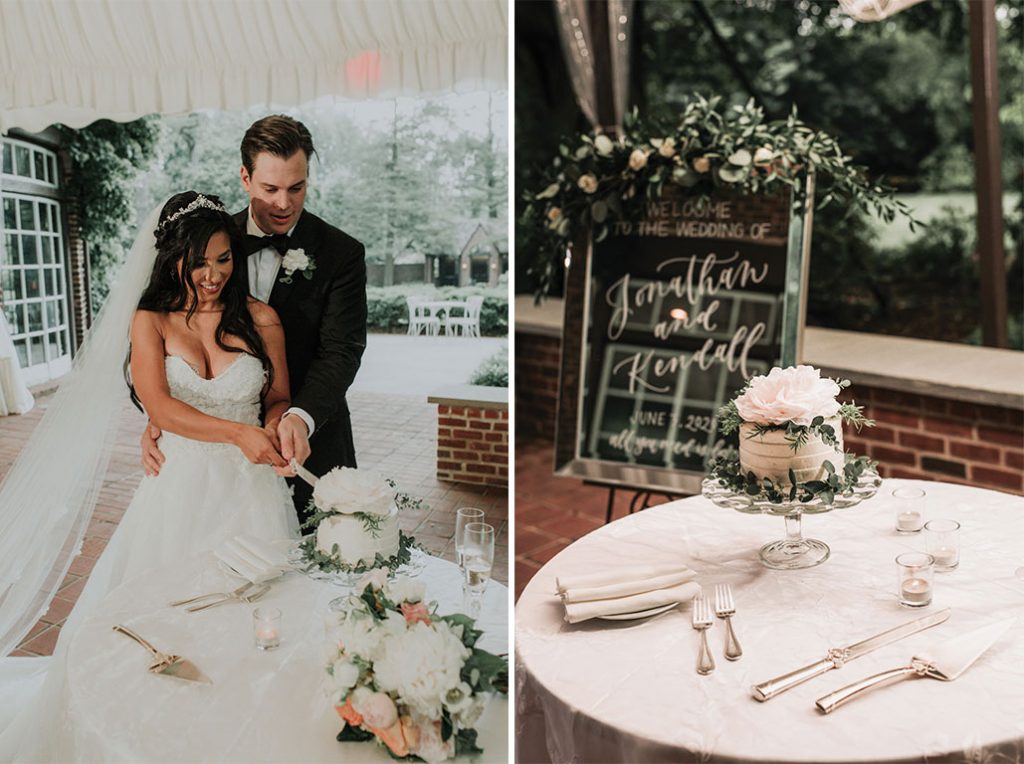 Back on the beach, they met up with Kendall's parents. "My mom was so excited that she made us reenact it," Kendall says. 
The couple soon set a date for the following June, planning a lavish 200-person affair—complete with nine bridesmaids—to take place at Greenville Country Club. "I wanted a fairy-tale wedding," Kendall says. "I wanted to feel like a princess."
Save-the-dates were sent out and vendors were booked. By mid-March, those plans began to shatter as COVID-19 swept the country. Ultimately, the other slipper dropped. Gathering restrictions put in place didn't ease until June 1, just four days before their intended wedding date. Having canceled their plans, the easing of restrictions allowed them to move forward with a cozy guest list of 11. "It was important to me to keep the date," Kendall says. "I didn't want to be sad on June 5, 2020."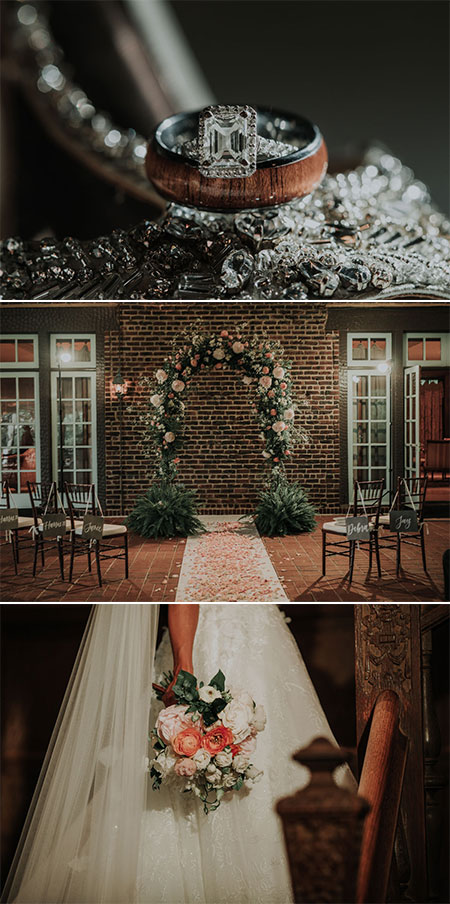 And she wasn't. After getting ready in Greenville's tower room, Kendall and Jonathan exchanged vows under an arch of peonies, surrounded by their immediate family. The ceremony was far more intimate and personal than they could have dreamed. "What was truly important was the love between me and Jonathan," Kendall says. "A small wedding gave me the opportunity to just focus on that—on my dad walking me down the aisle, and my mom and her special moments with me, and just the people who really, really love me."
Memorable touches included a mutual friend presiding over their nuptials and two of Kendall's musical friends performing a violin and ukulele duet of "Somewhere Over the Rainbow" as she walked down the aisle. Later, she and Jonathan shared a first dance to a live rendition of "Can't Help Falling in Love." Their children (two terriers named Benny and Timmy) were also in attendance.
 "They're part of the family, so it was special to have them," says Kendall, who hadn't planned on including them at the larger ceremony. 
Following their vows, the couple cut a small cake, and Kendall's father, Sen. Harris McDowell III, made a toast. Her brother, who served as best man, read a Senate tribute made in honor of the day. Afterward, the group adjourned to Jonathan's mother's home, where they dined on a meal from the House of William and Merry, one of the couple's favorite date spots. 
"All these beautiful little details came together to make our wedding so special," Kendall says. "I feel blessed the way it all turned out. It was like the heavens opened up and all the things that truly would have made it extra special were able to happen."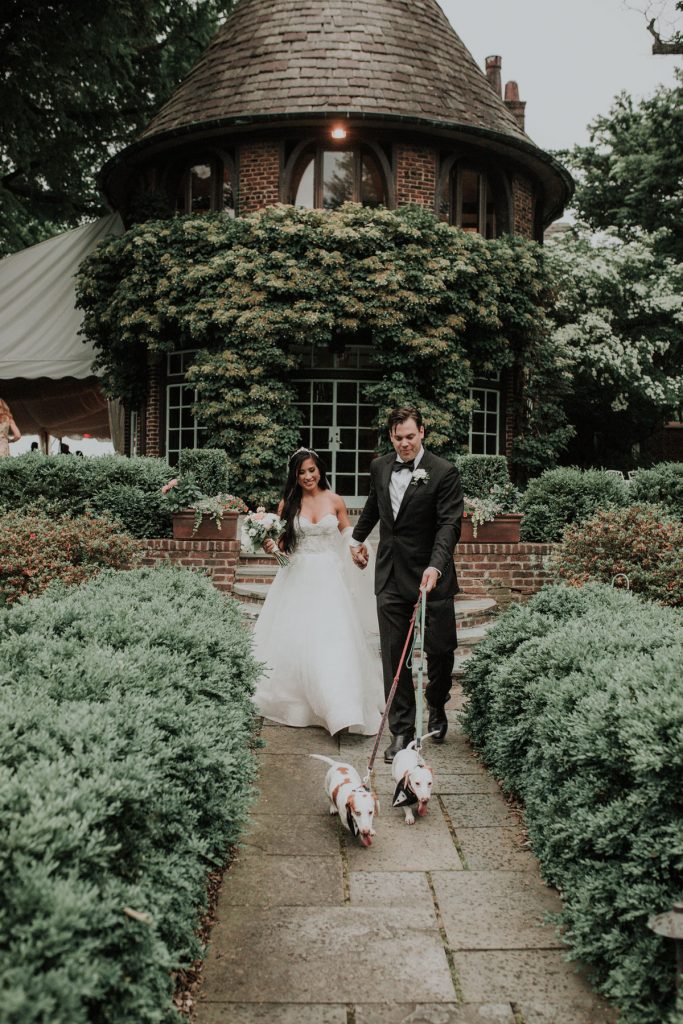 ---
Details
Ceremony and reception: Greenville Country Club, greenvillecc.com
Guests: 11
Bride's gown: Lazaro, Jennifer's Bridal, jennifersbridal.com
Groom's attire: J. Crew, jcrew.com
Hair: Salon by Dominic, salonbydominic.com.
Makeup: Jackie Scully Beauty, jackiescullybeauty.com
Wedding planner: Christine Dominique Jennings
First dance: A live rendition of Elvis Presley's "Can't Help Falling in Love"
Cake: Michele Mitchell Pastry Designs, mmpastrydesigns.com
Florist: Flowers by Yukie, flowersbyyukie.com
Photographer: Kelli Wilke Photography, kelliwilke.com
Calligrapher: The Shaded Maple, theshadedmaple.com
Honeymoon destinations: Rehoboth Beach; they are planning a forthcoming trip to Greece and Italy.
Biographies: Kendall is a nurse at ChristianaCare at Wilmington Hospital and Jonathan is a day trader. 
---