This Delaware couple hosts a wedding ceremony at the Delaware Center for Horticulture after COVID-19 forced them to scale down their big day.
Words by Ashley Breeding, Photographs by Theresa Emmett
---
In second grade, Erica Razze carpooled to school with a neighbor, an older girl she only vaguely remembered until a few years ago. One day while at work, Erica had a disagreement with a co-worker over the phone. When she hung up, she thought, why does his name sound familiar? Suddenly, she remembered the toddler in the back seat of her carpool many years ago.
"I immediately called him back and said, 'Random question, but are you Jennifer DiGiacomo's little brother?'" Blake was, and the realization that they went so far back dissolved any friction that might have resulted from the previous moment's exchange. They became fast friends, but Erica felt the reunion was serendipitous and pursued something more.
"Yeah, I chased him for a while," she says, laughing. Soon(ish), the relationship blossomed into romance and ultimately a proposal at Rockford Tower, where the couple frequently hiked with their dogs.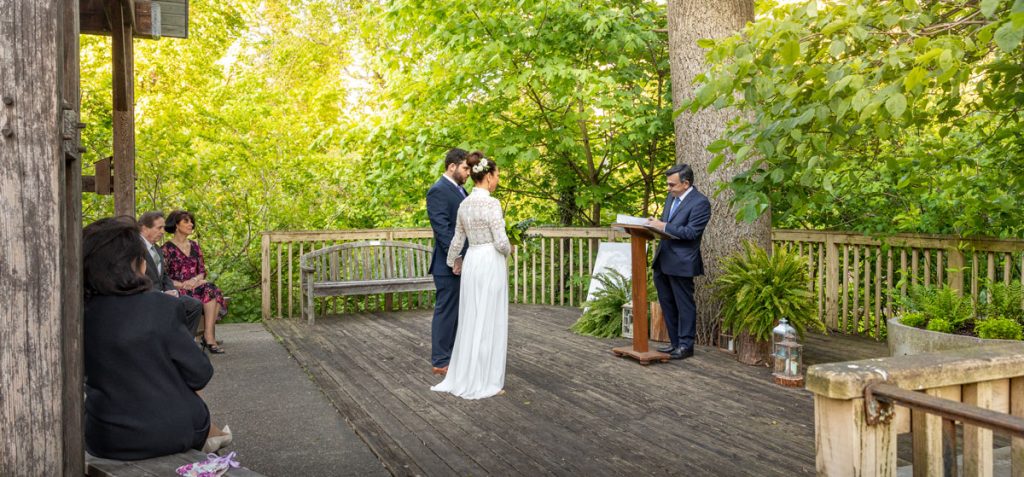 Erica didn't see it coming, though she did spot something: "My dog took off after this tree, and I assumed it was a squirrel," she says. But when she turned to run after him, Blake quickly spun her back around. Bending down on one knee, he pulled a diamond ring from his pocket—"no box or anything," she says—and asked her to marry him. Moments later, she realized the familiar scent her dog had tracked was Blake's brother, who was hiding behind the tree to capture the moment on camera.
While the down-to-earth pair would have settled for a simple wedding, their large Italian families would not. Engaged in June 2019, they planned a 250-person affair for the following Mother's Day weekend at Hagley Museum, complete with formal dress, a family-style supper overlooking the mansion and all the traditional accoutrements, from bouquets to bands.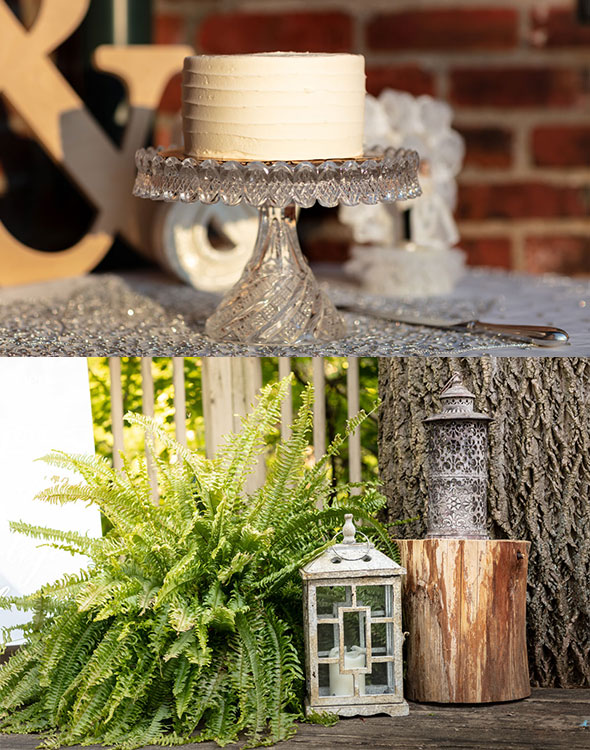 By early spring, every detail had been accounted for and every deposit made. (As the founder of Capiche Events, Erica is an expert wedding planner.) Then the pandemic brought new meaning to the term March Madness. Before Gov. John Carney announced any restrictions, Erica took control. "I just knew this wasn't going to get better," she says, keenly aware of what could ensue if they didn't delay the wedding. So with her family's blessing, she expressed her concerns to each vendor, politely requesting to postpone until the same weekend the following year. It became a trial run for the calls she'd soon be making on behalf of all her wedding clients as social distancing guidelines took hold. 
As their initial wedding day approached, the prospect of hosting an event even a year later became bleaker. Eager to be married, they decided to throw together a "minimony" with immediate family. "It was a hard decision, because we badly wanted Blake's sister and my brother to be there from out of state," Erica says, but ultimately, with full support from family and friends, the couple quickly planned an intimate ceremony at the Delaware Center for Horticulture. 
With "10 1/2" in attendance and Blake's dad as the officiant, the couple exchanged vows under the rustic wood pavilion, surrounded by verdant gardens and groups of guests spaced 6 feet apart. Some wore fancy masks, while others maintained even greater distance. "One of my best friends came with her husband and 3-year-old (the 1/2), who was supposed to be our flower girl, and they sat on the outskirts," Erica says. They also added "floating chairs" for other close friends who might decide to attend, adding that they would have respected the decision of anyone who felt uncomfortable. 
During the ceremony, more than 100 other guests "Zoomed" in from afar, some even dressing up to watch from home. "So, in a sense, we still had our big wedding," Erica says.
Feeling that her original dress—an elegant number from Jennifer's Bridal, which she planned to pair with her mom's cathedral veil—was too formal, Erica quickly ordered a less frilly lace frock online. (Plus, her gown was stuck at the seamstress and the veil hadn't yet been altered to match the style of her dress.) Blake donned a cool blue suit from Mainline Custom Shop, seamlessly blending in with the rustic and casual setting they were after.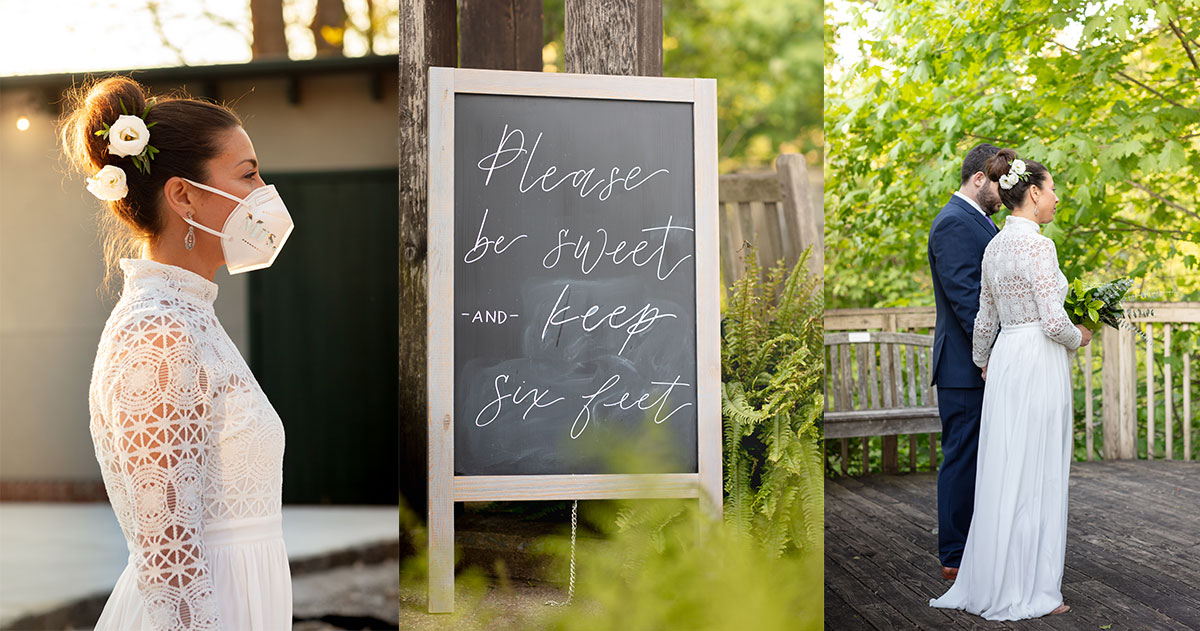 Even with a pared-down affair, it was important to Erica and her family to follow tradition: Her mom still had the honor of zipping her daughter's wedding dress, while Erica and her dad shared the "first look" from a distance. 
Afterward, the party moved to the veranda, where each group had their own designated cocktail table, complete with a flower arrangement (Alexis Florals), a cheese basket hand-picked and put together by Erica, and a bottle of wine. For hours they talked, laughed and enjoyed one another's company as photographer Theresa Emmett—founder of Fouryouth Productions, a Wilmington nonprofit focusing on education for at-risk youth—captured each special moment of their small but very big day. ("She's not a wedding photographer," Erica notes, "but I love her style and she knows the DCH grounds well.)
The couple plans to hold their big wedding at the same time next year, but Erica is taking it one day at a time: "Who knows? By the time we throw this party, it might be for a child's first birthday."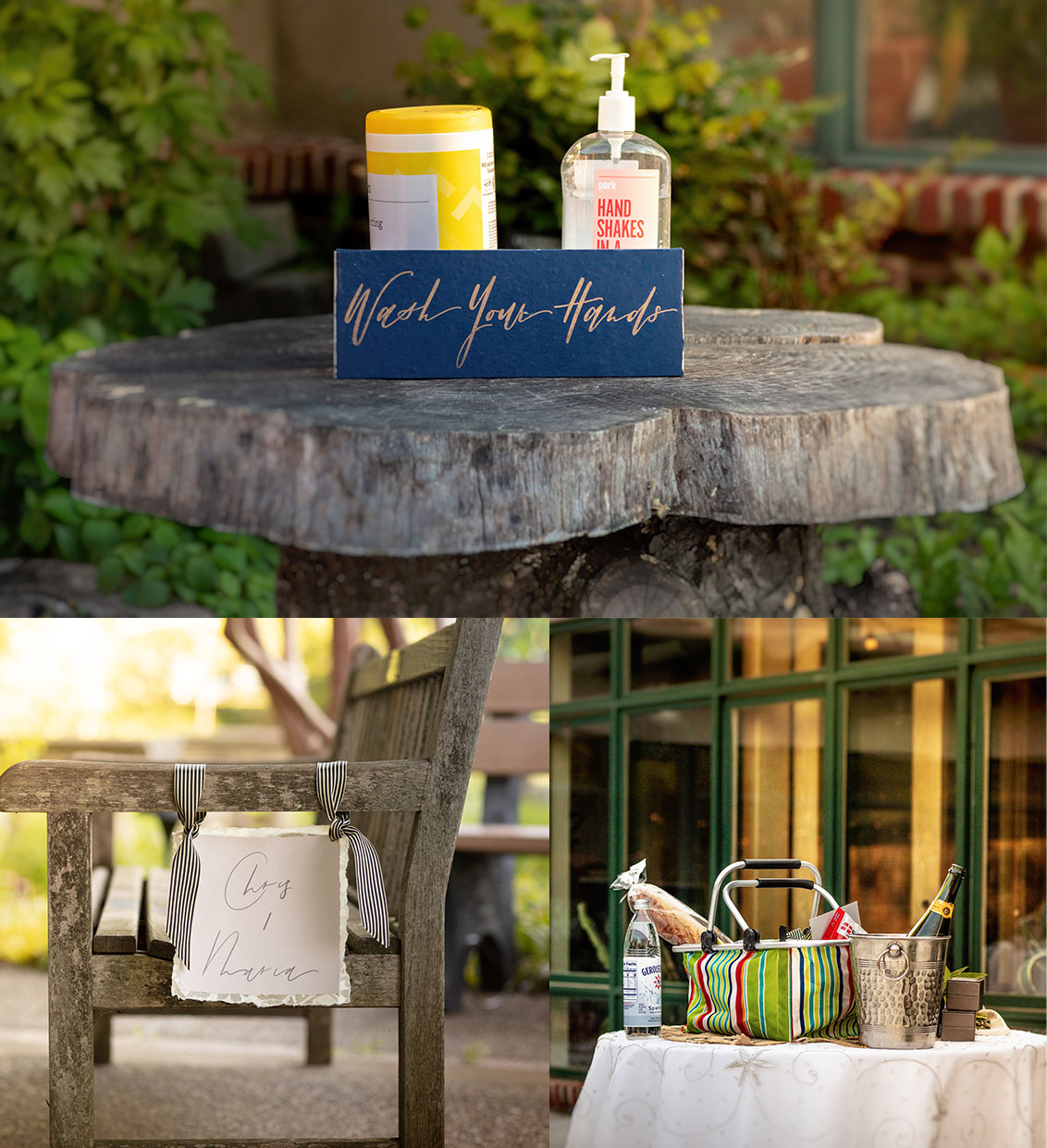 ---
Details
Ceremony and reception: Delaware Center for Horticulture, dch.org
Guests: "10 1/2" (10 adults, 1 toddler)
Bride's gown: lulus.com
Groom's attire: Mainline Custom Shop, West Chester, mainlinemenscustom.com
Florist: Alexis Floral, Wilmington, alexisfloral.com
Photographer: Theresa Emmett, FourYouth Productions
Signage: Girl Holding a Pen, girlholdingapen.com
Honeymoon destinations: Because of their work schedules, the couple plans to hold off on their honeymoon but "go big" in Europe.