As wedding trends evolve to meet cultural changes and demands, here's what's popular for Delaware weddings.
By Lisa Dukart
---
While many couples are opting for cocktail tables and hors d'oeuvres in place of traditional dining, a popular compromise is the buffet table and unreserved seating.
A Buffet of Options
Breaking with the tradition of sit-down suppers, a relaxed reception puts the focus on fun.
As a private chef, Robbie Jester is accustomed to creating menus for weddings. So, when he started planning his October 2022 wedding to Katelyn Davis, he knew exactly what he wanted—and the choices might surprise you.
Jester and Davis hired Mojo Loco food truck and Orchard Point Oyster Company. "We want people to really enjoy a social event," says Jester, who booked the wedding for Vanderwende Farm Creamery in Greenwood. "That's a major trend—casual is the way to go right now."
Casual can still be stylish. It all depends on the food and service style.
Buffets Still Abound
Admittedly, COVID-19 concerns impacted the standard buffet setup. For example, some caterers insisted that only staff could touch serving utensils. Nevertheless, the buffet approach never disappeared, says Samantha Diedrick, owner of Secretariat, a wedding and event planner.
The trick is to use wisely. If you're only offering one protein, vegetable and starch, don't bother. A buffet is about choice.
Stations Add Excitement
A variation of the buffet, stations are also about options. However, similar foods are grouped together as a theme. At Jester's wedding, the truck was its own readymade station, but Mojo Loco owner Steve Ruiz also created other stations for pasta, carved meat and salad.
Today's stations are dynamic. For example, staff might make sushi while you watch. You can also encourage guests to build their own poke, tacos, burgers—you name it.
Can't choose or strapped for space? Put sides and other items on a buffet and create separate stations for mains, Jester says.
Or Share the Love
Buffets and stations get the party going: Guests don't need to sit and wait for multiple courses, but there is another way to expedite the meal.
During family-style services, seated guests help themselves from platters of food. "It's huge right now, especially at rehearsal dinners," Jester says. Fans of family style want guests to chat as they pass the dishes.
About 40% of the receptions at Terrain in Glen Mills are family-style, says Brianna Alcorn, director of events. Microweddings often go that route.
Go Local
No matter the service style, couples are personalizing their menus. Jester hired a friend from middle school who now owns an oyster company to shuck raw oysters. Jester's toast featured wines from Crow Farm Vineyard & Winery; Vanderwende ice cream supplied sweet treats.
Showcasing local dishes and ingredients has been trending for several years, Diedrick says. "Obviously, there are a lot of crab cakes in this area," she notes.
All in the Family
Personalizing a menu also means highlighting your heritage. For instance, Diedrick recalls one bride who handed over her grandfather's recipe for soup.
Jester recently handled a wedding with dishes from the Bahamas to salute some family members, and he's prepared Moroccan dishes.
Comfort Counts
Familiar items never go out of style. "Everyone still loves a pig-in-a-blanket, macaroni and cheese, and cheesesteak eggrolls," Diedrick says. "And all the yummy, greasy food is perfect for a late-night snack, or what I call a 'booze soaker.'"
Popular passed late-night snacks also include mini cheesesteaks, grilled cheese, fries and Tater Tots—anything that people can grab and keep dancing. If the venue or caterer allows it, bring in fast food, such as Taco Bell, Diedrick suggests.
Pick Plant-Based Options
When you're looking at meat-free alternatives, go for a gluten-free and vegan over a vegetarian option, Diedrick says. It's an easy way to cover dietary restrictions.
Terrain's customers have increasingly requested vegan wedding menus, says Brianna Alcorn, director of events.
Forget pasta primavera on plant-based noodles. "Those couples want to see creativity in the dishes," she notes.
Speaking of plants, sustainability is a wedding buzzword. "A lot of couples request that we don't use plastic or non-sustainable items at their event," Alcorn says. "We welcome it!"
—Pam George
The Modern Registry
What do you give the couple who's cohabitated for years? Our experts share some popular ideas.
As dating and marriage trends continue to evolve, so does wedding gift giving. In lieu of traditional registries, some couples are instead favoring more unique ideas. Those include honeymoon registries, as well as charitable donations to causes close to their hearts.
This budding trend is especially popular with couples who cohabitate before tying the knot. A 2019 study by the Pew Research Center found that more American adults have lived with a romantic partner than have been married.
Also factoring in is the increasingly later age that individuals are marrying. In 2021, the average American male was just over 30 years old at the time of his first wedding, according to the United States Census Bureau, while for women that age was just over 28. Age for first marriages has been consistently on the rise for the past 50 years. As such, couples' needs have changed—and subsequently, so have their registries.
Already furnished a home together? In lieu of monogrammed towels, guests can help finance an adventure, like a scuba excursion or African safari.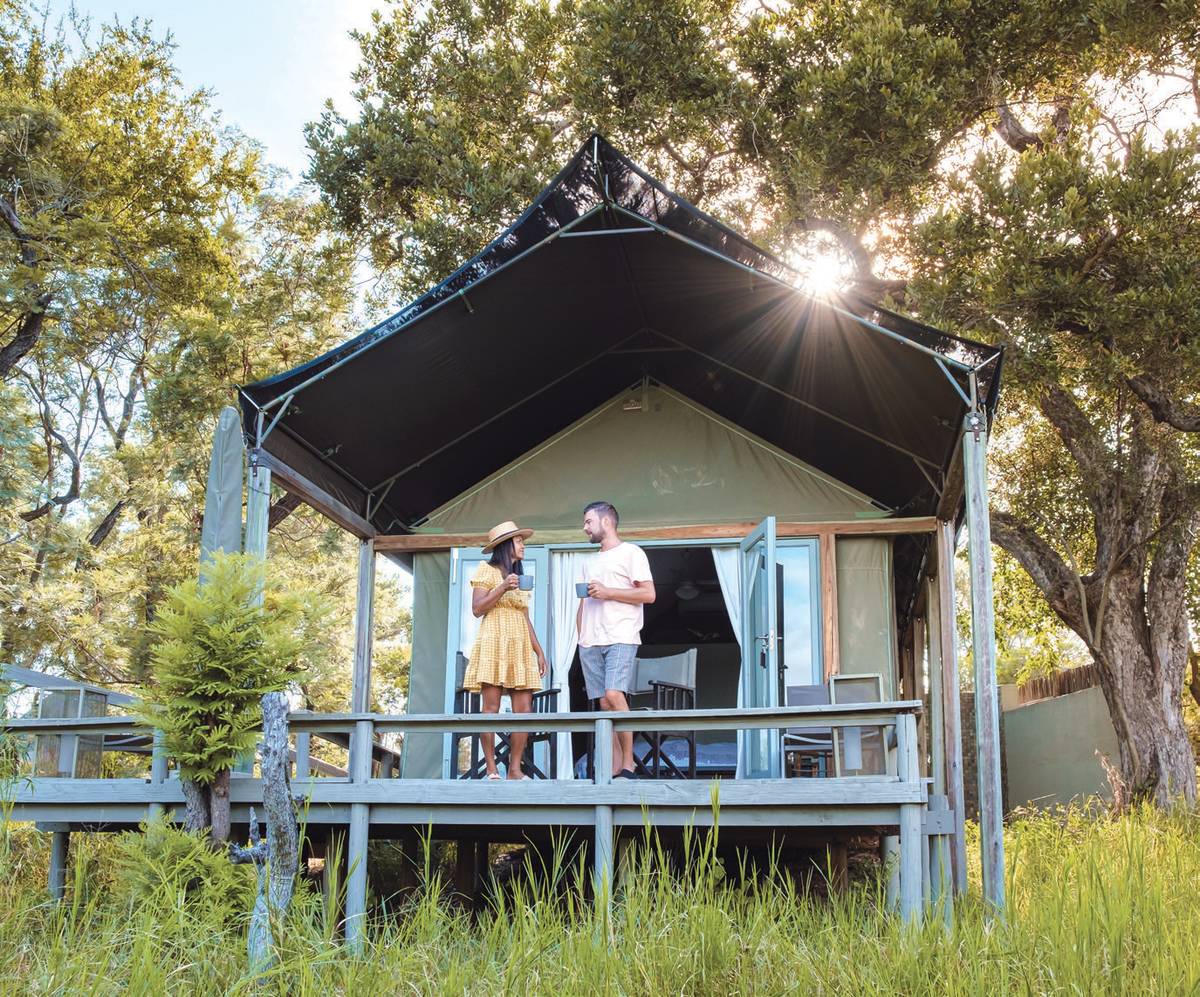 "We have been doing honeymoon registries for several years, but we have definitely noticed an increase in them," says Kate Rokosz, group operations for AAA Club Alliance in Wilmington, Delaware. "I think the reason being is that millennials, Gen X and Gen Z [are] waiting until they're a little bit older to get married, so they're more established." Put simply, they don't need a third toaster or set of flatware.
Instead of asking for household goods commonplace on wedding registries, some couples are instead asking their guests to contribute toward a honeymoon registry, or even specific experiences such as a sunset cruise, scuba diving lessons or an African safari. AAA works a bit differently, in that all contributions are applied to a couple's honeymoon that's entirely booked through the organization.
Rokosz says AAA launched the honeymoon registry program around 2016, but that it has really gained steam of late, partially driven by pent-up travel demands due to the COVID-19 pandemic. And couples aren't just seeking any travel, she says. "They're seeking high-end travel."
With both the experiences and expenses getting larger, "a honeymoon registry is a really fun and easy way to for people to give," Rokosz says, noting that 100% of guest contributions go toward the honeymoon, without fees.
For philanthropic couples, charity registrations are also a hit, wherein they ask for donations for organizations they hold dear. A popular site for facilitating such donations is The Good Beginning, which already hosts an extensive list of nonprofits. Couples create a registry on the website, where guests can contribute before or even days after the wedding. Once the registry closes, those collections are donated to the charity or charities the couple chose. Want to contribute to an organization that's not on the website's list? Don't worry; the organization will handle that for you.
Locally, numerous charities are already registered, including the Mary Campbell Center in Wilmington, Delaware, as well as Pennsylvania nonprofits Alex's Lemonade Stand Foundation and the American Association for Cancer Research.
Because gifts are purchased online, they come with the same level of ease for guests as traditional registry sites. And guests never need to worry about duplicating an item that's already been purchased.
Etiquette experts at Emily Post suggest that couples opting for these modern registries be transparent about where their contribution will go, be it a snorkeling adventure in the Maldives or to breast cancer research. For charity sites, draw the line at anything controversial, the site suggests: "A local food bank, yes; a political candidate, no."
At the end of the day, both types of registries add a level of flexibility for a couple and their guests.
"We really try to encourage our honeymoon couples to go this route because this is the way that they can kind of amp up their honeymoon," Rokosz says. "If they want to make it super special, and it might be a little cost-prohibitive, this is a way to get that trip of your lifetime."
All in Favor
Gone are the days of cookie-cutter party favors. In their place, enter personalized treats and takeaways for guests.
While those mini bottles of champagne or mints were customary once upon a wedding era, many couples now forgo these favors and instead invest in multiday celebrations or epic entertainment. Does old-fashioned etiquette compel you to still offer guests that something extra? Here, Caitlin Maloney Kuchemba of Clover Event Co. (Norristown, Pennsylvania) shares what's popular in party favors.
On-site edibles. "Anything edible is always best," Kuchemba says. Her favorites include boozy popsicles or an ice cream cart, doughnuts, Grotto's Pizza, popcorn stations, Rita's Italian Ice or soft pretzels. Offer to-go bags for guests heading out on the early side.
Treats to-go. Cookies like French macarons or madeleines are popular takeaways. For winter weddings, Kuchemba likes to add hot chocolate, coffee or tea to the mix.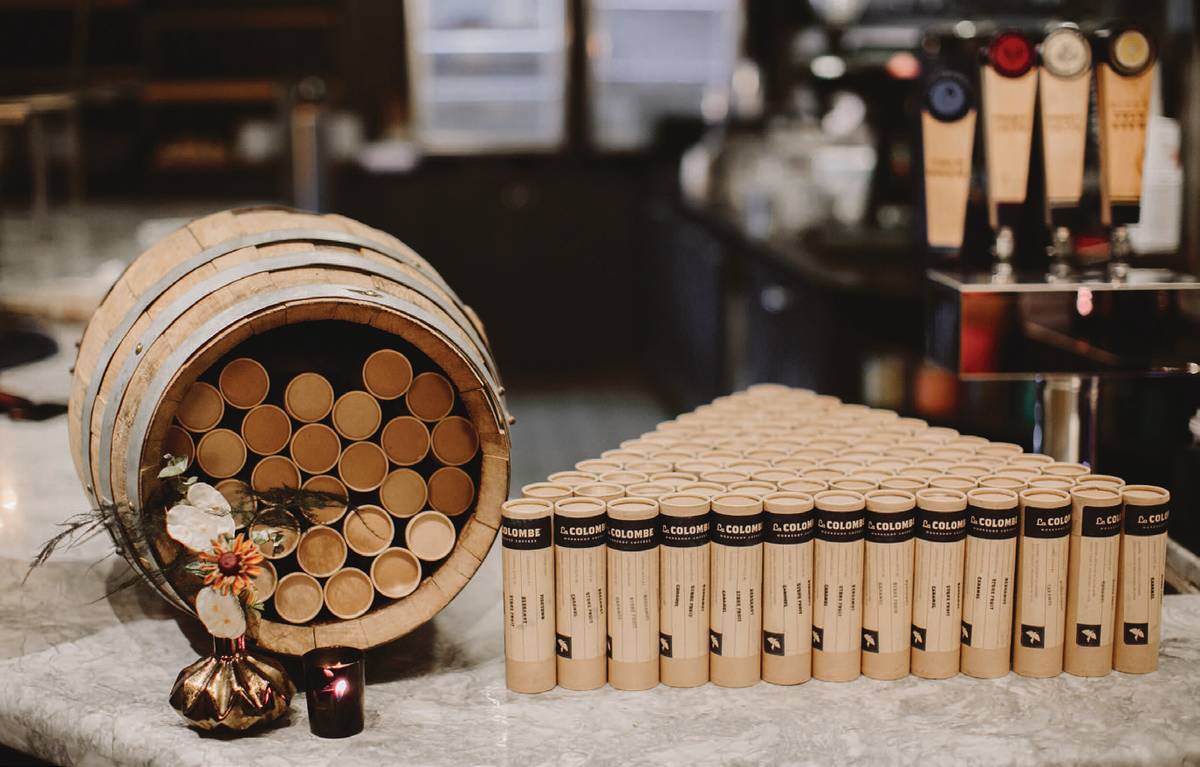 Luggage tags. What's a more fitting way to remember a destination wedding than a luggage tag? Personalize them for gifts that's cute and practical.
Mugs. A bigger investment, custom camp mugs are more likely an item that's one per couple rather than per person but are nonetheless a cute way to commemorate the day. Drink koozies are also a useful takeaway, which can be placed at the reception bar in addition to being handed out as favors.
Something personal. For family members with a passion for cooking or baking, a personally made item or something that speaks to the couple—like jam, tea, olive oil or maple syrup—makes for a memorable favor.
…Or practical. Items like hand sanitizer, bug spray or sunscreen with custom labels can double as favors—and depending on the location of the wedding, might be useful right there on site.
Post-wedding breakfast. While hosting a big brunch has become mainstream for many wedding weekends, some couples find that a low-key, to-go breakfast kit is just the ticket. Kuchemba suggests canned lattes or a sampler size of coffee beans from Philadelphia-based La Colombe paired with pastries or muffins from a local bakery. For a Delaware twist, try coffee beans from Brandywine Coffee Roasters.
It's About Time
With weekday weddings on the rise, so are extended weekend-long celebrations.
Heightened demand for wedding dates has some couples eschewing traditional Saturday nuptials in order to book their ideal venues on less traditional days.
Wedding planning website The Knot estimates that 2.6 million couples will wed in the U.S. in 2022, up from the 2.2 million who tied the knot in 2019, pre-pandemic. With the best venues booking up fast, more couples are now considering celebrating on a Thursday or even a Monday instead.
"There are only so many Saturdays in a month, so other times of the day or other days of the week are more in the mix than ever," says Jean Kintisch, owner of Pine Hill Events in Wayne, Pennsylvania.
Just about any day went last year at Springfield Country Club in Pennsylvania. The club's sales manager, Janet Rickards, estimates they hosted about two Thursday weddings each month. Meanwhile, Fridays are just as booked as Saturdays for wedding celebrations.
This trend of weekday weddings has created another trend: three- or four-day celebrations. "Bookending the weekend" becomes the goal, Kintisch says, adding that couples now have extended availability at their preferred venues. Some can even save a little money, since certain venues offer lower rental fees for "off days."
That's the case at Greenville Country Club in Delaware, which offers a 10% reduced rate for weddings booked on Fridays and Sundays, according to catering director Dee Becker. While midweek weddings haven't gained significant favor there, Friday and Sunday nuptials have.
"People really do want to be here, so they will choose a Friday or Sunday just to be able to get a date here with us," Becker says, noting an uptick in weekday rehearsals and standalone receptions. She doesn't see this change in wedding "seasons" stopping anytime soon.
Where weddings were traditionally single-day events, it's now common for celebrations to extend to three days, sometimes longer.
"In general, I would say more weddings are leaning to a full weekend experience," says Caitlin Maloney Kuchemba, owner of Clover Event Co. in Norristown, Pennsylvania. "I would say almost every wedding that we do now has many other components to it than just the physical wedding day."
Of the couples hosting both their ceremony and reception at Springfield, Rickards says 80% or more also host rehearsal dinners there (at Tavola). Welcome receptions and after parties are also booming, both of which offer couples more quality time to catch up with guests in a more casual setting.
Welcome receptions can be as simple as drinks and appetizers or a sit-down or buffet dinner, or they can roll into something more formal. The post-wedding brunch is not just for out-of-town guests anymore, with most couples at Springfield opting for a breakfast, casual or formal, the next day.
As wedding days have become entire weekends, wedding parties are also enhancing their experience, depending on the location. Popular for brides and bridesmaids are formal lunches and spa days in advance of the Big Day. For grooms and groomsmen, a day on the links is common.
And the VIP event? The pre-planned after party, hosted exclusively for close friends of the couple. While these have been around for quite some time and are typically held at a local bar or intimate room of the wedding venue, "Having [it] be something official and something planned is new," Kintisch notes.
These modern twists on wedding affairs seem to be born of the pandemic and the long separation endured by many from their family and friends. "I think people are just so happy to be together and people really want to maximize the time that they have with each other," Kintisch explains.
Planning a multiday wedding event? Our planners recommend keeping venues in close proximity to one another and communicating plans well in advance so guests can plan accordingly.