Nancy Alhum has helped hundreds of Main Line women find their dream dresses. What happened when it was her turn to be the bride?
By Melissa Jacobs
---
Nancy Ahlum spends most days surrounded by silk, lace, tulle and lots of beads. A principal stylist at Van Cleve Bridal + Evening in Paoli, Pennsylvania, Nancy has helped hundreds of brides choose their wedding gowns. She's also the owner of planning consultancy Paper Flowers Weddings and Events, so she knows almost everything about planning a wedding, including that the bride wants to feel extra special in her gown. "Choosing a wedding dress is a wonderful ritual that's become part of the bridal experience, and it's great to share that with the women in your life," she says.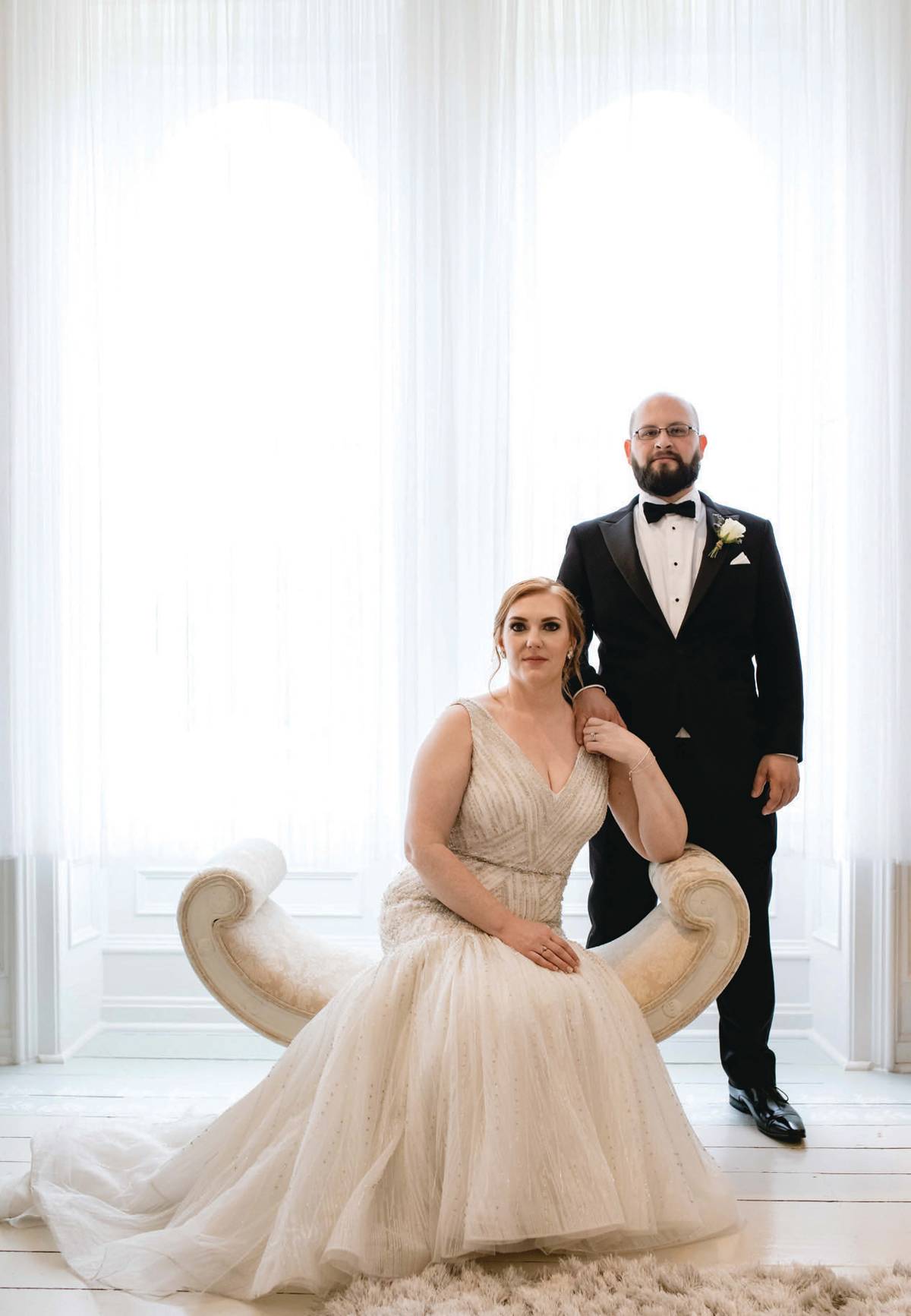 In February 2020, it was Nancy's turn to find her perfect gown. She'd gotten engaged to Michael Volpe on Christmas Day in a pop-the-question moment that he'd planned perfectly. After enlisting the help of Nancy's best friend, Volpe designed an engagement ring and asked Stephen's Jewelers in Wilmington to create it. The result: a radiant-cut, cushion shape diamond ring with two tapered baguettes. "I wanted Nancy to have something that was one-of-a-kind and represented how I feel about her," he says. "She's my best friend and a true partner. I couldn't ask for a better person to share my life with."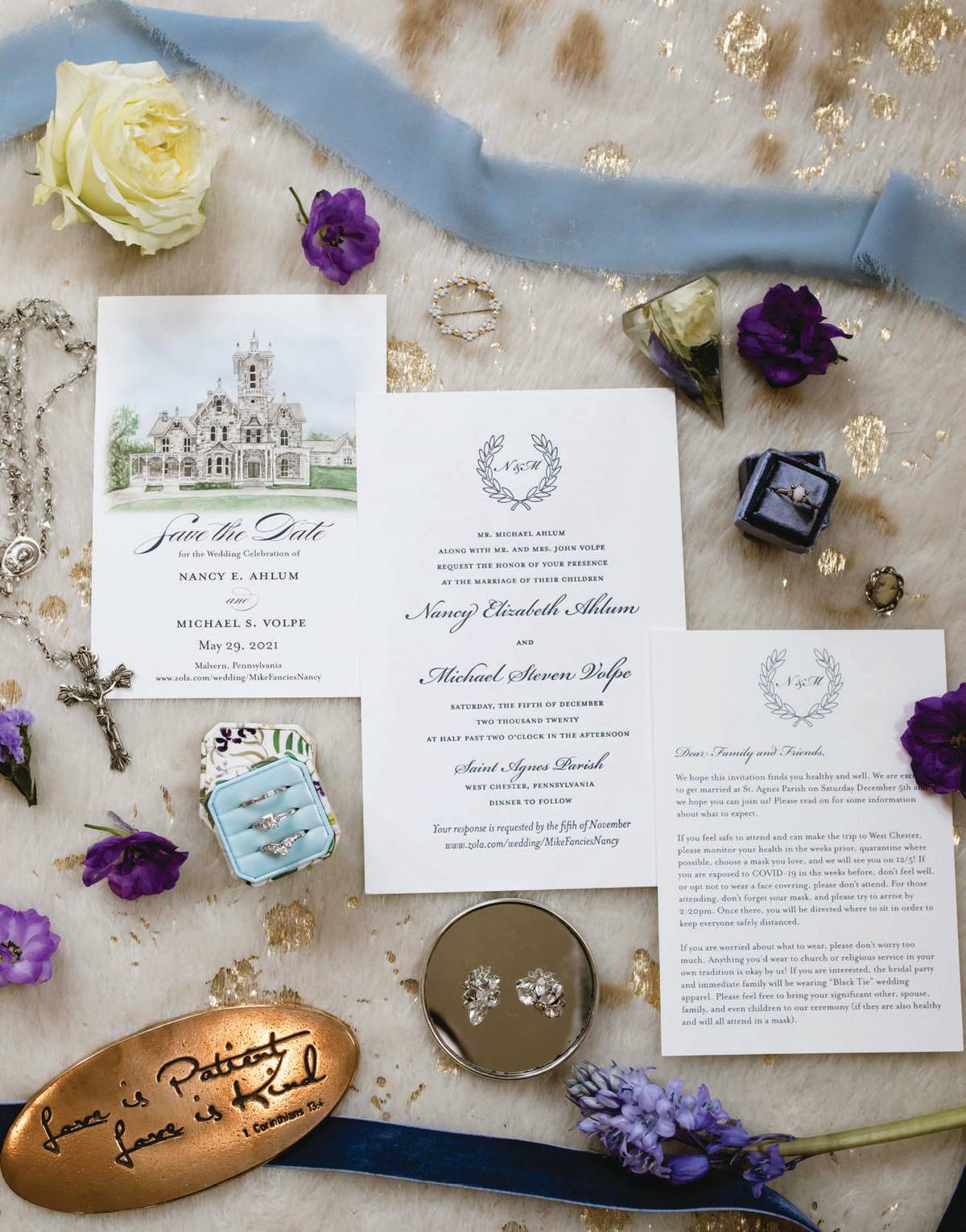 That's pretty much what Michael wrote in the card that accompanied the ring. And it's a good thing he wrote the card: Nancy didn't see the small ring box because it was hidden inside the box of a larger gift. When she started reading the card, she realized that Michael was proposing. Then he got down on one knee, right there in front of the Christmas tree.
Twelve days later, Nancy had their entire wedding planned. "It may be a world record for wedding planning, but I'd been in the business for so long that I knew what I wanted," she says.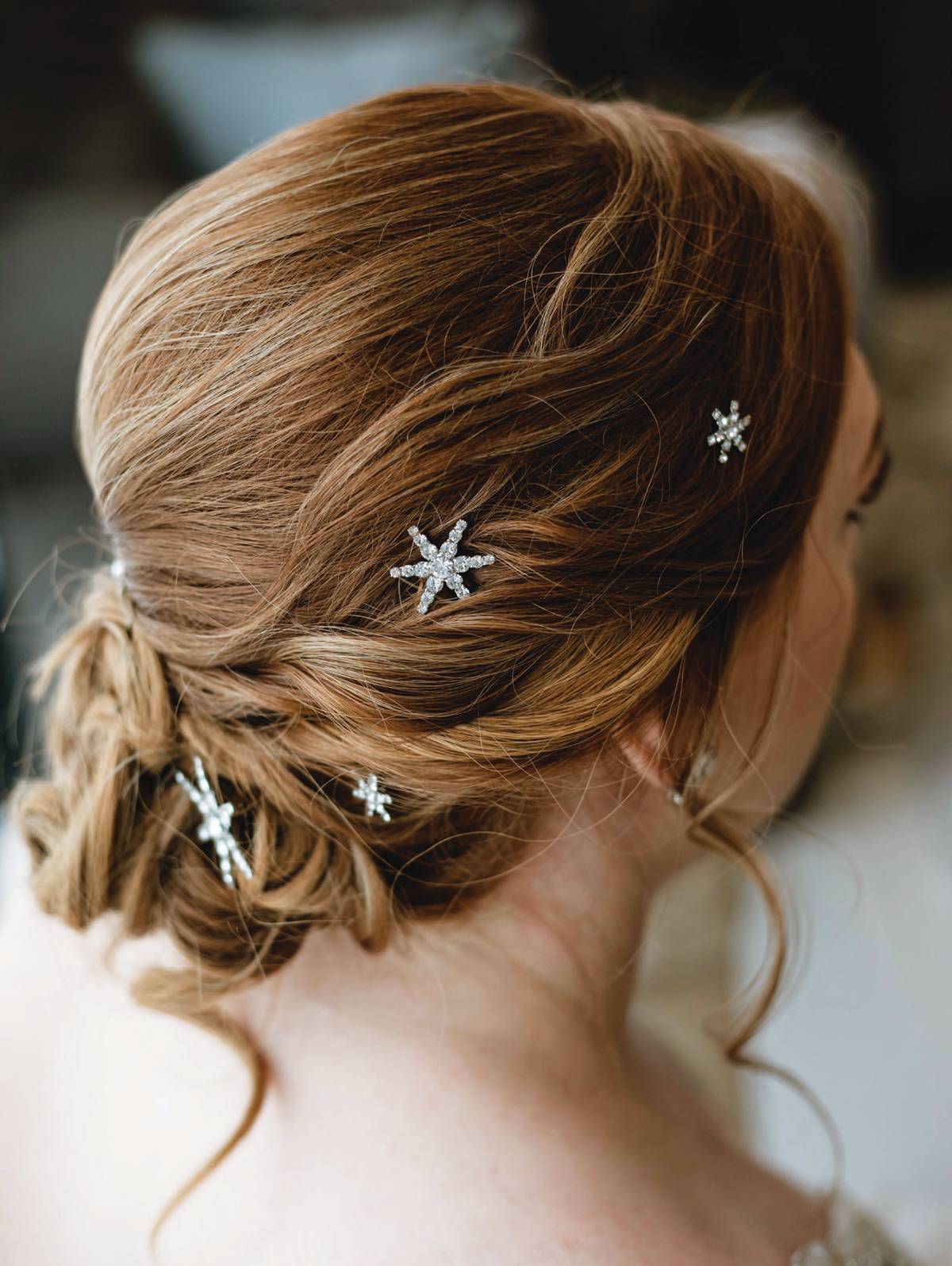 Having the ceremony at their parish, St. Agnes in West Chester, was an easy decision. Nancy also booked photographer Lexy Pierce and BVT Live's Big Ric Rising band. She'd fallen in love with Loch Aerie Mansion in Malvern during a Van Cleve photo shoot earlier that year and the venue was available on the date that she and Michael chose for their wedding: December 5, 2020.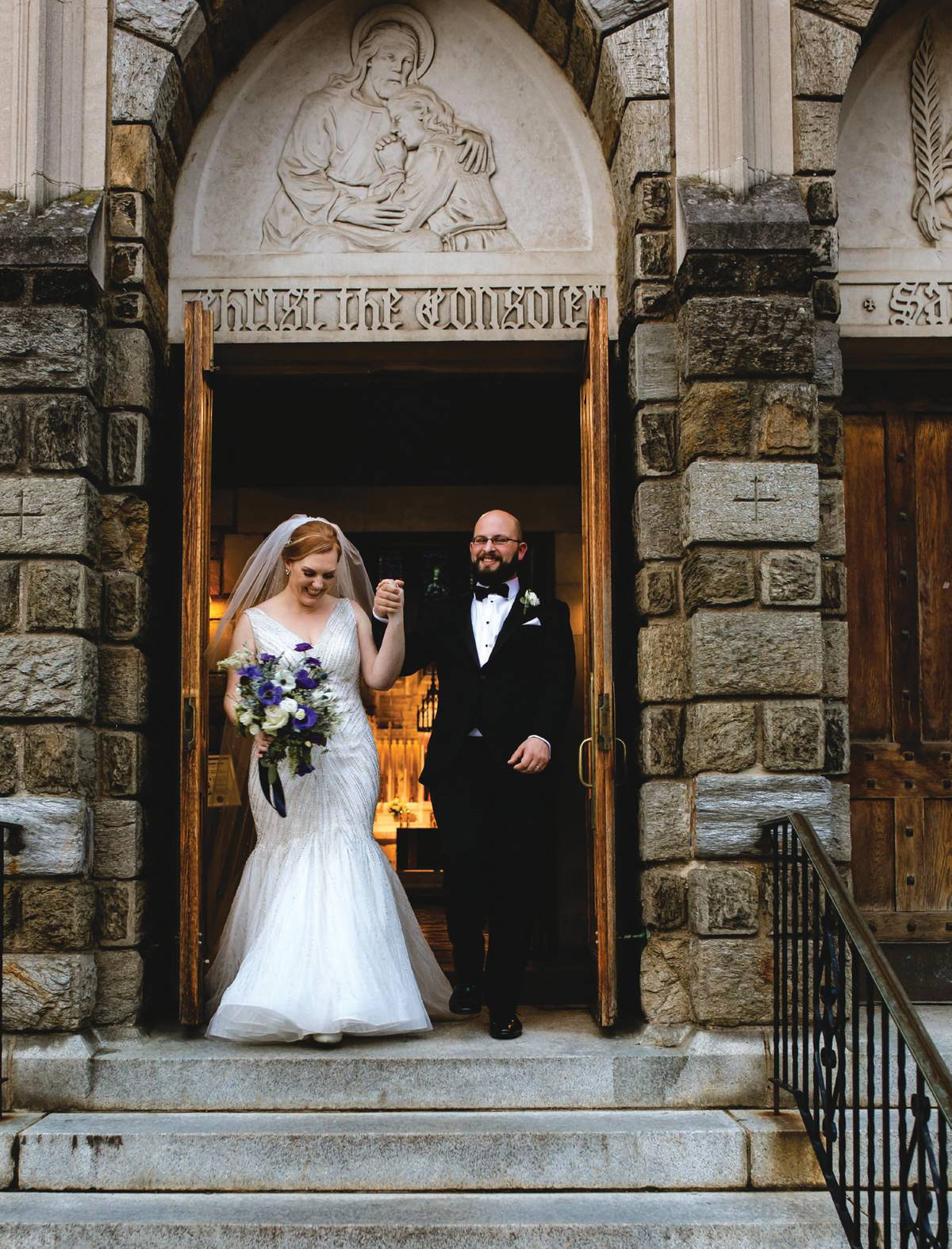 By her Valentine's Day bridal gown appointment—surrounded by her closest friends, cupcakes and champagne—Nancy's dream event was well on its way to becoming reality. She had her pick of more than 500 dresses but tried on only eight. She said "yes" to a combination of three different dresses, taking the fabric and shape of one and adding the neckline and skirt of others. The result was a Stephen Yearick gown with a trumpet silhouette made of geometric beaded fabric. Her five bridesmaids chose navy dresses.
By early March, all details for the affair were confirmed. Then came the pandemic. In May, the couple decided to postpone the wedding reception, but they did not reschedule their ceremony. "We wanted to be married, and the rest could wait," Michael says. They exchanged vows in front of 30 masked family and friends, with other loved ones joining via Zoom.
Afterward, Nancy in her bustled gown and Michael in his tuxedo walked to Mercato, a casual restaurant in downtown West Chester. Their brief stroll turned into something of a promenade, with people honking car horns and calling out good wishes. "It's not every day you see a bride and groom walking through West Chester, especially not during the pandemic," Michael says. "People were looking for little pieces of happiness and something to celebrate, so they celebrated with us."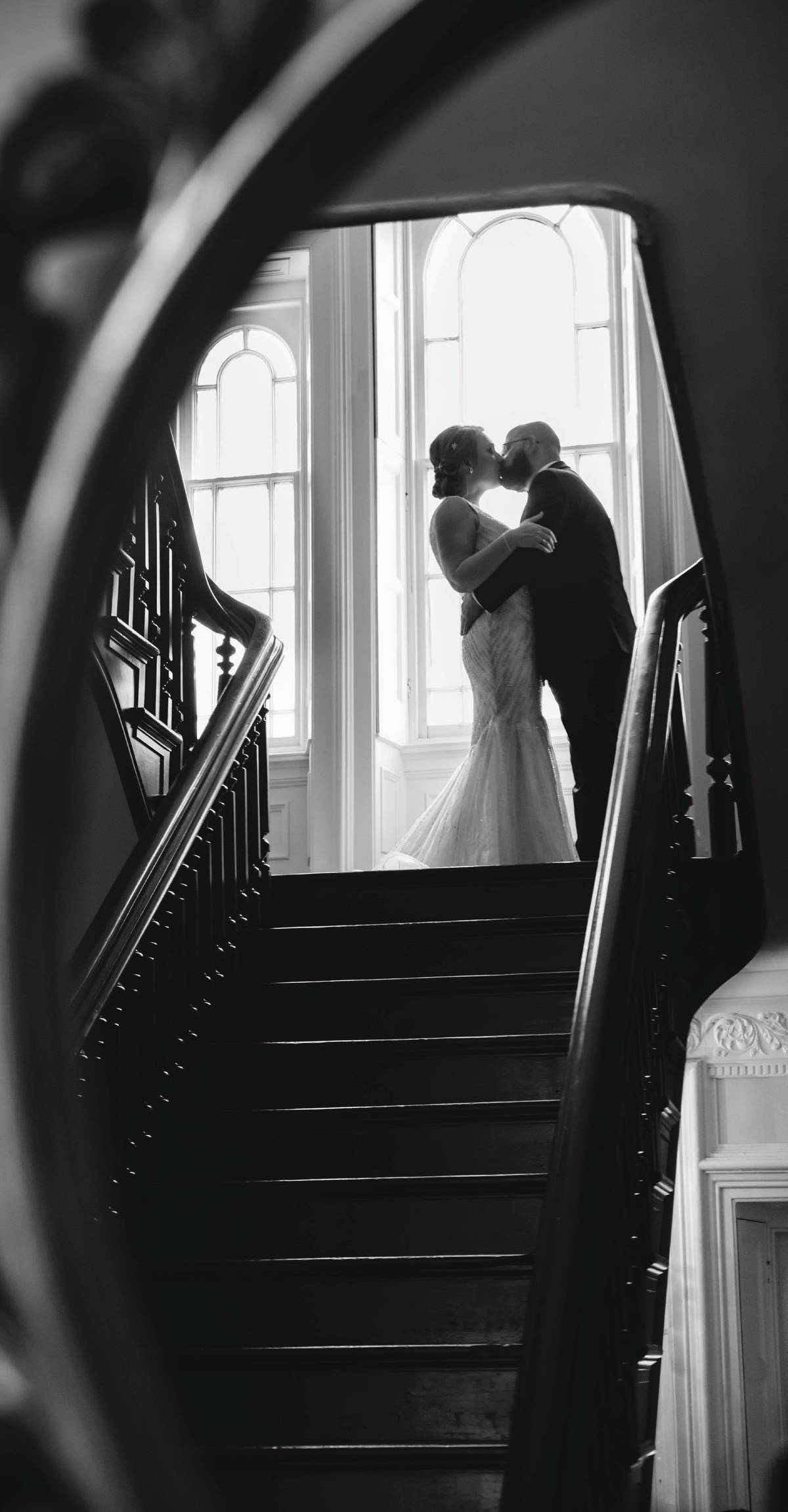 After dinner, they went home. "We danced in our living room, just the two of us," Nancy says. "It was perfect."
The following spring, the couple had the wedding reception they'd originally planned. In front of a vaccinated and limited audience of 100, they re-exchanged vows, then had their second first dance to "Golden Hour" by Kacey Musgraves. Later, Michael—who moonlights as a musician when he's not pursuing his engineering career—surprised Nancy by performing a version of Bob Dylan's "If Not for You."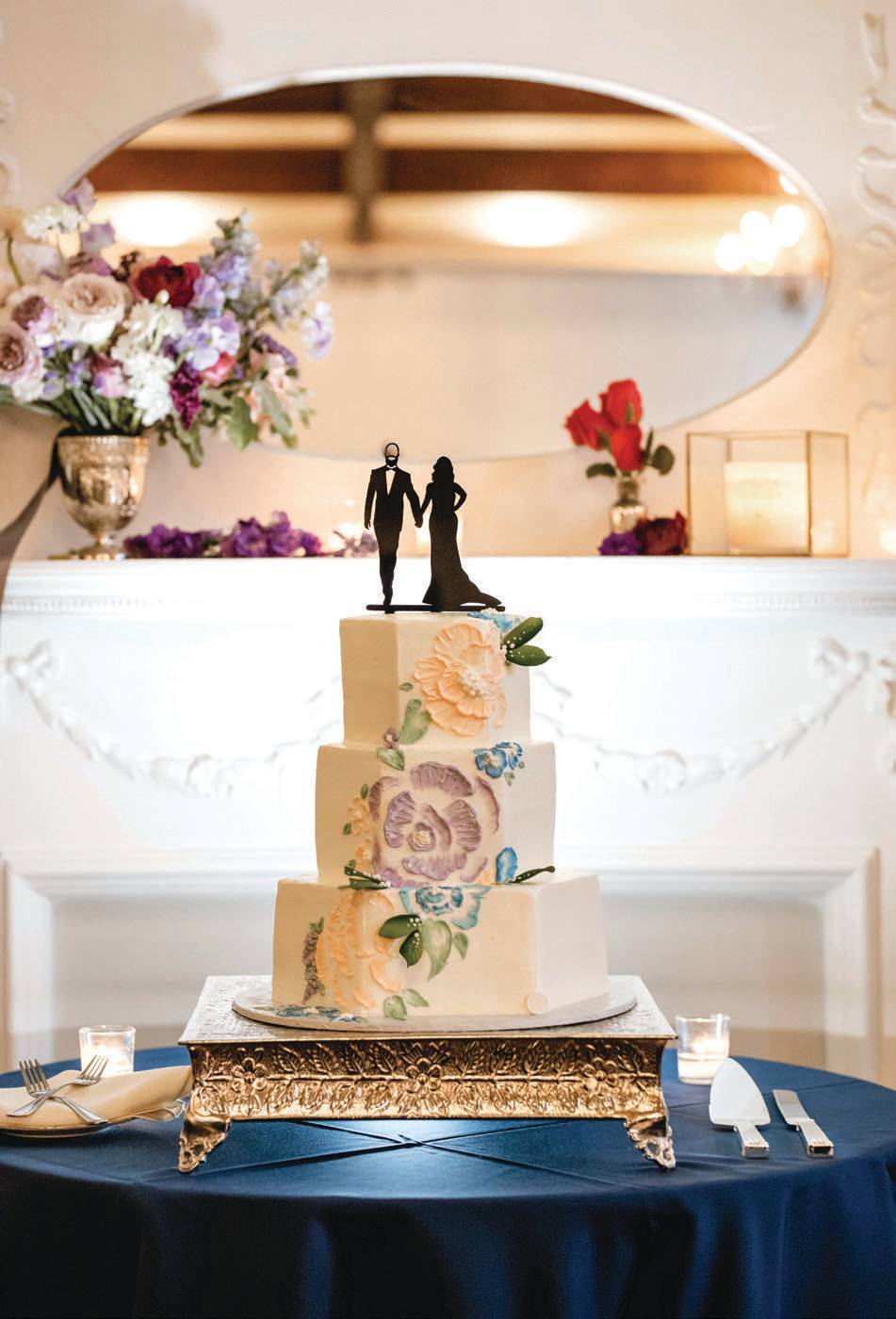 Yes, Nancy got a second dress for the second wedding. She wore it when guests arrived at Loch Aerie for cocktail hour, then changed into her bridal gown for the ceremony and reception.
"Two dresses, two weddings, one husband," she says. "I wouldn't have it any other way."
---
DETAILS