Adobe Stock | ronedya
Wed in comfort and style with these glam accessories, from glittery kicks to a complexion that glistens.
---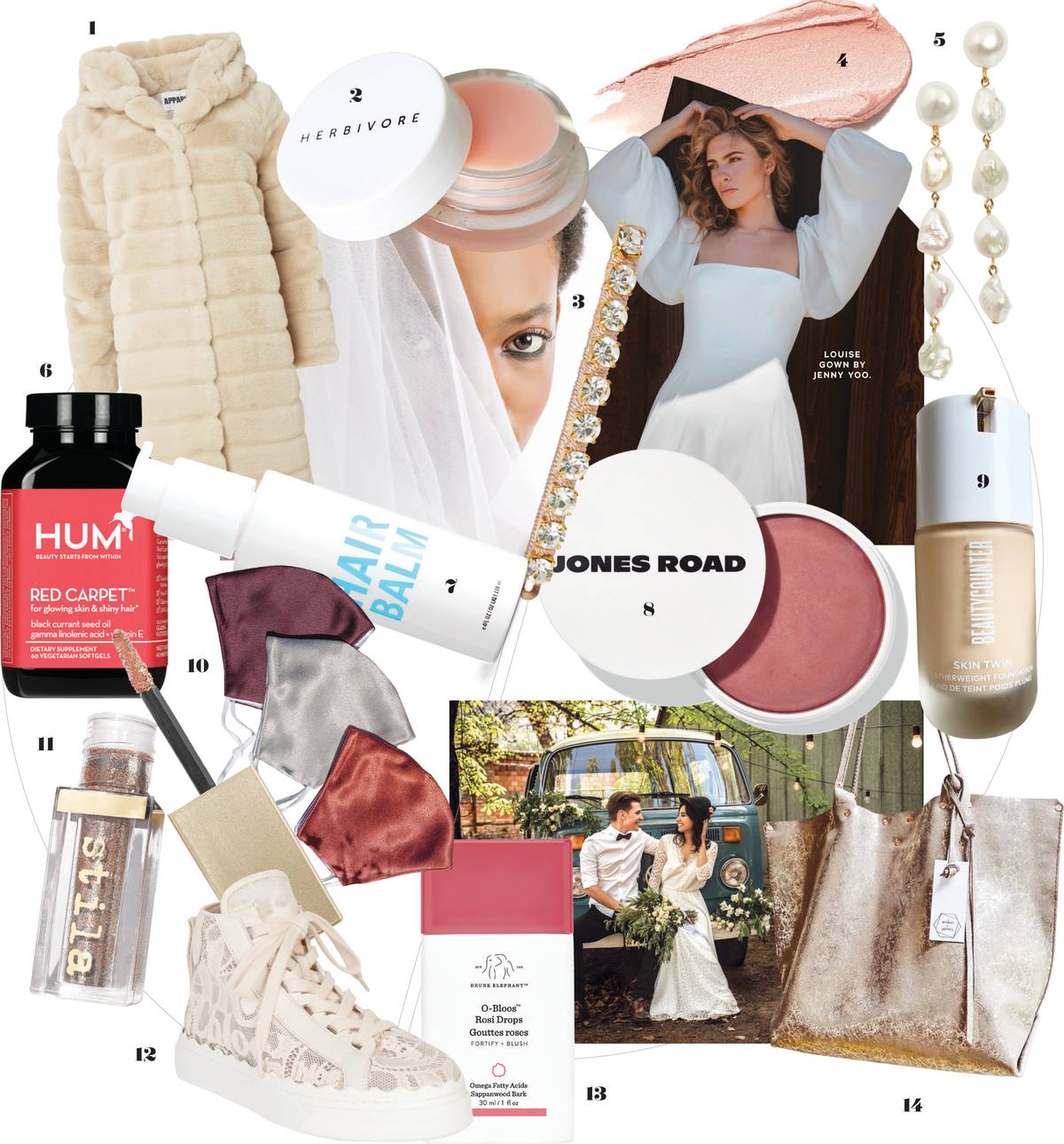 ---
1. Shield bare shoulders from the winter cold in haute style. Apparis Celina 2 Paneled Faux Fur Coat, $225, at Nordstrom stores, Delaware and Pennsylvania.
2. Don't let your betrothed kiss a bride with chapped lips. Herbivore Coco Rose Lip Conditioner, $24, at Terrain, Glen Mills, Pennsylvania.
3. Lizzie Fortunato's Lagoon Clip is the dressing on top. $100, at Peter Kate, Wilmington, Delaware.
4. Sweep on some extra sparkle with Jane Iredale Glow Time Highlighter Stick, $38, at Blue Mercury, Ardmore, Pennsylvania.
5. The Cairo earrings, also by Lizzie Fortunato, pair beautifully with an updo. $175, at Peter Kate, Wilmington, Delaware.
6. It's your red carpet moment. Make skin and hair glow with Hum Nutrition's Red Carpet, $26. Want to strut down the aisle with a taught tummy? Flatter Me, $26, supports healthy digestion and a sleek silhouette that will help you stun in that dress. Both at Houppette in Greenville, Delaware, and humnutrition.com.
7. Sitting in a salon chair for hours not your style? Smooth a little Hair Balm through damp locks, lightly tousle and then air-dry for natural waves or curls that bounce. $38, at hairstory.com and Moko Beauty, Philadelphia.
8. Keep skin hydrated and fake a fall tan with Jones Road Miracle Balm, $38, at jonesroadbeauty.com.
9. For a clean (green) and flawless finish, smooth on Beautycounter's Twin Skin Foundation, $45, at beautycounter.com. For a local consultation, contact beautycounter.com/ericarazze/contact.
10. Don't let Delta destroy your dream wedding. Luxe Silk Masks, $20 each, at Jenny Yoo, New York, New York.
11. Let your eyes do the talking. Stila Glitter & Glow Liquid Eye Shadow, $24, at Sephora stores, Delaware and Pennsylvania.
12. Comfort meets couture with Chloé Lauren Logo Lace Sneakers, $575, at Saks Fifth Avenue, King of Prussia, Pennsylvania.
13. Turn on the "blushing bride" with Drunk Elephant O-Bloos Rosi Drops, $36, at Sephora stores, Delaware and Pennsylvania.
14. Tiny clutches may be cute, but if you need something to hold all of your bridal essentials, Arden + James' Gold Tote, $180, is both fun and functional. Arden + James, Chadds Ford, Pennsylvania.
---