For this Wilmington couple, a steaming cup of java and a hockey game brought their families together.
By Lisa Dukart
Photos by Becca Neufeld Photography
---
Like the best cup of coffee—rich in flavor and texture—Laura Scharp and Harry Wooding's relationship is a perfect blend.
Fittingly, it was over one such cup of coffee at Brew HaHa! in Trolley Square that the two first really connected, though they'd met months earlier. Harry was a hockey coach at the Salesianum School; Laura's son, Ethan, was one of his players.
Impressed by Ethan's ability on the ice and the type of kid he was off it, Harry sought out Laura to tell her just that. But that wasn't the only thing that made Laura smile. She and Harry felt an instant connection, they recall, a sort of spark. A friendship began to blossom; they decided to get to know each other better over coffee.
Although they immediately hit it off, the pair were cautious. Harry's children were already grown, but Laura's were just 12 and 15, so they wanted to make sure they were comfortable with the new relationship. Plus, they didn't want Ethan to feel awkward come the next hockey season. So they waited, and when the time felt right, Harry was also ready to hang up his skates after two decades of coaching.
All four of their children were excited for their parents, "welcoming each of us with open arms," Laura says. Harry and Ethan continued to bond over sports, while Ethan's sister, Ava, enjoyed Harry's similar sense of humor. "I could almost say they're like BFFs," Laura laughs.
Dates for two became family affairs—sports practices, events and shared dinners. Laura traveled with Harry to see his children, who now live outside of the region.
Kids would prove a bonding point in their relationship. "We have very similar outlooks of how we raised and continue to raise our children," Laura says.
When it came to making it official, they took their time again. Ultimately, they decided a second marriage was in the cards. Before Harry was ready to get down on one knee, he had another big question to propose: "I actually asked permission from her children first," he says, noting their welcoming him into the family was just as important. "If they had said no, I would have had to take a step back, because it was important to me that they were OK with it."
Days before the world shut down, on March 10, 2020, Harry asked Laura to meet him at Brew HaHa! before heading to work. Laura found Harry ensconced at a table with a latte and breakfast sandwich waiting for her—and there was also a bouquet of flowers on the table. She thought it was just another of Harry's sweet gestures. As she sat down, Harry played Blood, Sweat and Tears' "You've Made Me So Very Happy" on his phone.
"The next thing I know, he's down on one knee in the middle of Brew HaHa! asking me to marry him," Laura says.
Despite the pandemic, they decided to move forward with an intimate celebration. Neither wanted a big party anyway, since both had already done that.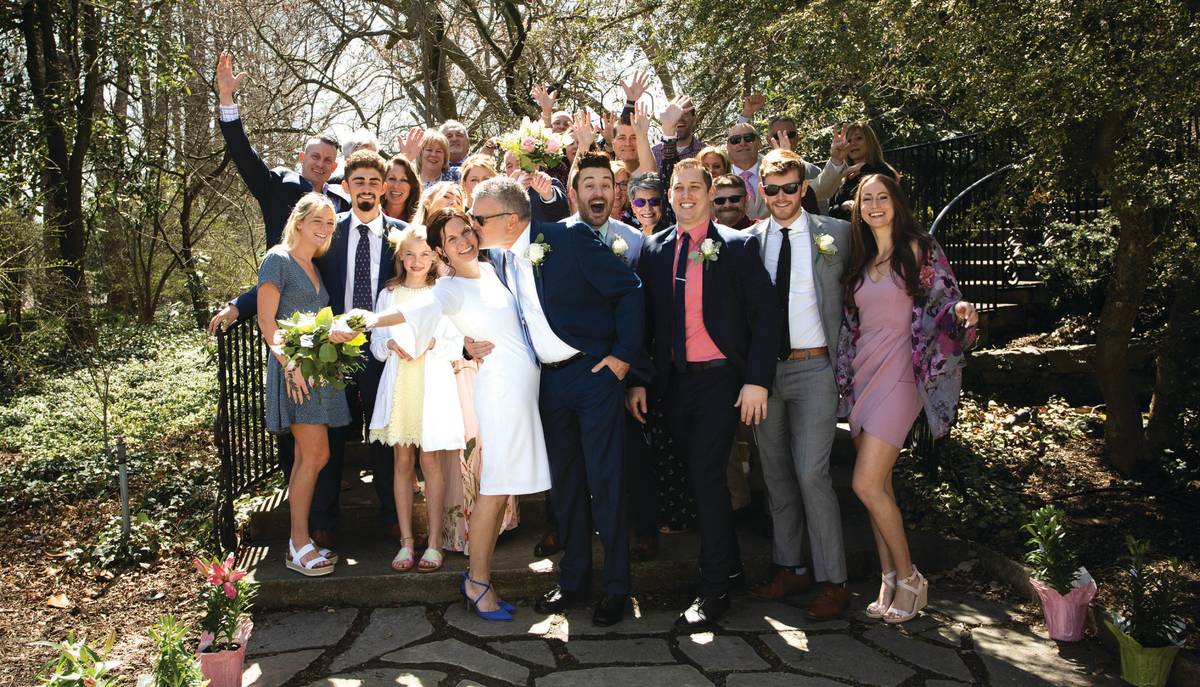 On April 3, 2021, they wed at the Marian Coffin Gardens at Gibraltar. It was a sunny and warm Easter weekend, and to mark the holiday, the couple was surrounded by their closest family and friends—and Easter lilies.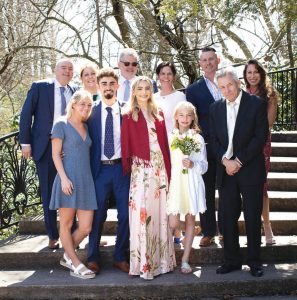 The holiday has great significance for Laura, who herself comes from a blended family. Not long after her half-sister passed away several years ago, Laura saw a bunny in her yard with long legs, reminiscent of her sister. "I got as close to it as I could and it didn't go anywhere," she recalls. "I thought to myself, This is kind of like my sister coming back to me in the shape of this bunny. Now every time I see a bunny, I think of my sister."
Laura's brother presided over the ceremony.
Eschewing a traditional wedding party, all four children and their own partners stood beside the couple. Afterward, all joined together for dinner at the Columbus Inn. There, Ava gave a moving speech about their new family, and Harry had a surprise of his own. With the help of his son Tommy, the two serenaded Laura to Barry White's "You're the First, the Last, My Everything," pulling her into a first dance.
It added a special element since they'd refrained from most wedding traditions. Opting for a short Calvin Klein dress this time around, Laura still had something new and blue thanks to her shoes, and something old and borrowed thanks to a lace handkerchief loaned to her by Harry's sister.
In a nod to her late half-sister, they had the space decorated with porcelain bunnies. Guests were even given Easter-inspired gift baskets as favors, complete with chocolates and coffee.
Friends they consider an extension of their family proved essential to their nuptials. One of Laura's friends and former coworkers at Ursuline Academy, Joanna Schumacher Arat, ensured their reception space was decorated for their arrival. Their friends Tony and Audrey, whose family previously were florists, designed all the flowers for the day. "It was incredible what they did," Harry says. "They went above and beyond."
The couple spent their wedding night at the Inn at Montchanin before returning home to host an Easter brunch—the welcoming bustle of their blended families awaiting them with open arms.
---