Alexandra Bakerian and Daniel Zwiren's big day incorporated their
outdoorsy, laid-back personalities at some of the region's hottest venues.
Words by Lisa Dukart
Photographs by Kelli Wilke
The day after they met, Alexandra Bakerian and Daniel Zwiren each came to the conclusion that they had found "the one." Alex even joked with her friend Brigid—who had hosted the party where the pair had met the previous night—that she was going to marry Dan. Dan shared similar sentiments with a co-worker. "This is what it's really supposed to feel like. This is natural chemistry," he had said.
But a romance seemed improbable. A University of Delaware and Villanova University grad, Alex was living with her father in her hometown of Hockessin, Delaware, while Dan was two hours away in his home state of New Jersey.
Still, their meeting seemed fated. Alex had known Brigid since high school and Dan had been roommates with Brigid's husband in college, but they'd never thought to set the pair up. If it hadn't been for Alex needing a night out—her father had recently been diagnosed with cancer—they might not have met. "By the end of the night, we were inseparable," says Dan.
Undeterred by distance, the couple decided to make a go of it, first texting back and forth and then hanging out, committed to splitting the driving. With Alex at home with her dad, Dan was able to meet her family almost from the start.
A little over a year later, Dan was ready to pop the question. On Father's Day weekend, he asked Alex's father, Dave, for his blessing. "He kind of went ballistic with happiness," Dan recalls. Still fighting cancer, it was a happy moment for him during a difficult summer.
Dan decided on a destination engagement to Charleston, South Carolina. The trip was planned under the guise of a simple getaway. He even recruited Alex's sister to help deflect any potential questions. It worked. "I was completely oblivious," Alex says.
The couple strolled along colorful Rainbow Row, stopping at White Point Garden. Seashell paths lined with stately trees and lampposts led to a gazebo, where Dan proposed. There was no question about her answer—Alex's prediction from many months before was going to come true.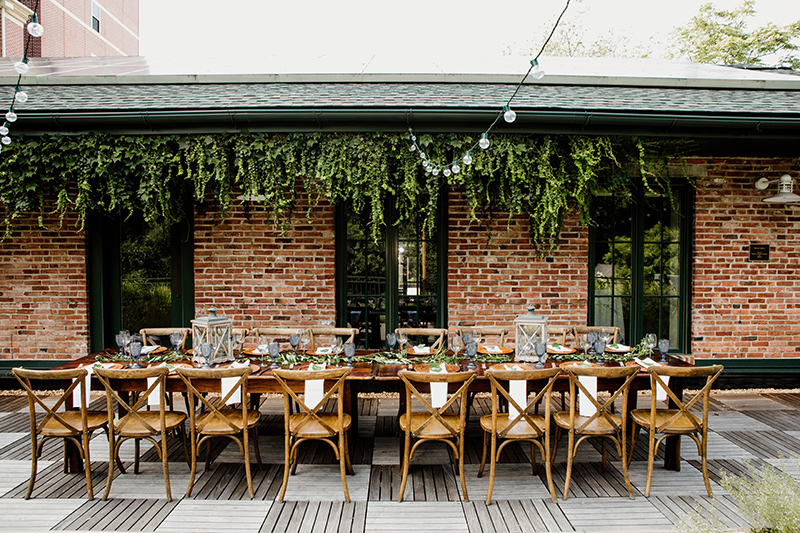 The pair tied the knot the following summer. Wanting to incorporate nature into their celebration, they held their rehearsal dinner at Wilmington's Delaware Center for Horticulture. "We both have this very outdoorsy, laid-back type of personality," says Alex, so the venue suited them well.
They love nature, but they didn't want to subject guests to the sweltering July heat. Instead, they hosted their nuptials at the nearby Cathedral of St. Peter, with one of Alex's brother's friends, Father Jack Kolodziej, presiding over the ceremony. The first time Alex and Dan saw each other on their wedding day was when the cathedral doors opened and Alex, escorted by her brother Nick (their father had passed away late the previous year), walked down the aisle. "I was overfilled with joy," Dan recalls.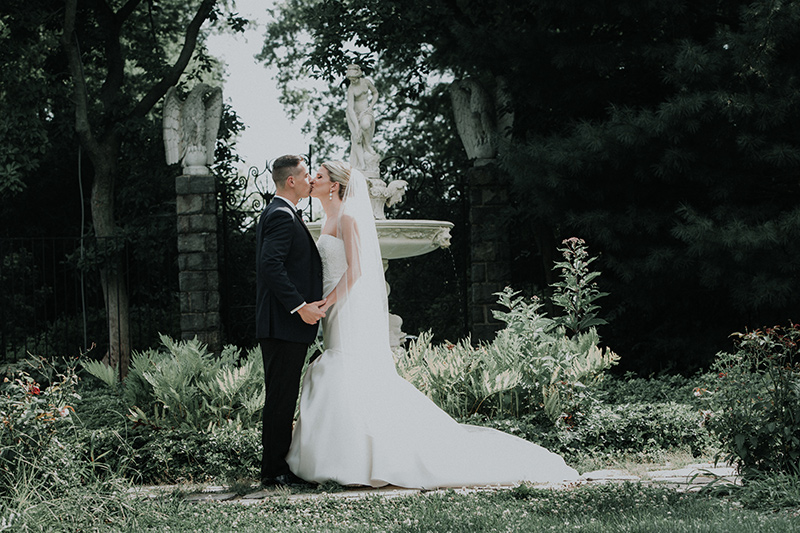 Following the ceremony, they took portraits at the Marian Coffin Gardens at Gibraltar to showcase natural elements. "It just has that classic look," Dan says.
The reception took place at the nearby Hotel DuPont, which held personal significance. Alex's father was the former president of the Delaware Bankers Association and often hosted events at the iconic downtown establishment, including his retirement party. The hotel's storied elegance blew Dan away, and Alex agreed. "It's just a place that, whenever you walk through the door, you feel like you're going into a different era and time," she says.
It was a true party, with a live band and lots of dancing. In a surprise twist, Dan even swapped his dark tuxedo jacket for a white one for the reception. "It was very Great Gatsby," Alex says. "When I think back to my wedding day, what stands out is just pure joy."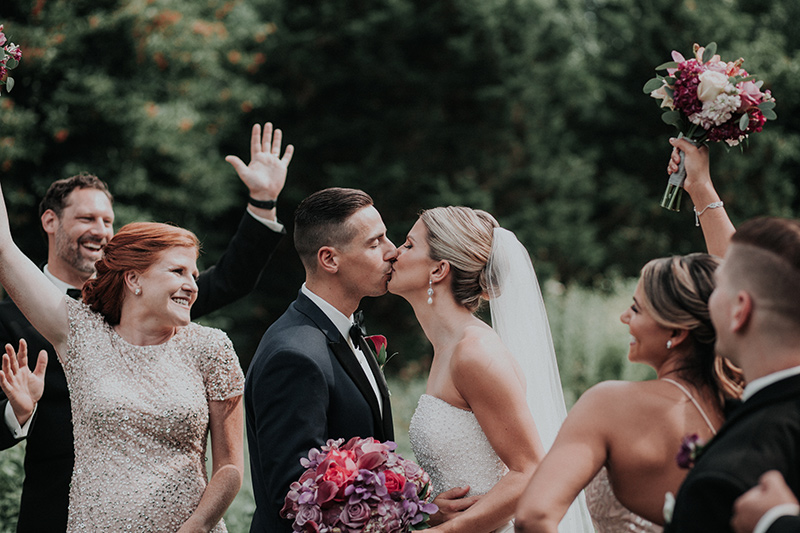 ---
Details
Ceremony
Reception
Hair
Makeup
Bride's Gown
Penelope gown by Allison Webb, from Jennifer's Bridal
Bridesmaids' Dresses
Various designers from Bella Bridesmaids

Groom's and Groomsmen's Tuxedos
Florist
Cocktail Hour and Reception Entertainment
Around Town Entertainment's Authority Band

First Dance
"Nothing Can Change This Love," Sam Cooke cover
Number of Guests
150
Occupations
Alex is a manager at concierge healthcare company Accolate and Dan is a high school history and special
education teacher
Photographer
Published  as "First Impressions" in the Spring/Summer 2020 issue of Weddings Today magazine.