This Wilmington couple's wedding included Afropop, rock and animation.
By Pam George
---
Not many brides reference SpongeBob in their vows, and few couples enjoy wearing matching outfits. However, Marina and Mike Jones are unique, and their recent wedding celebrated their shared interests and different cultures.
Born in Togo, a West African nation, Marina was 5 when her family moved to Maine. After graduating from Bowdoin College, she was a newspaper reporter in New York, Wisconsin and Delaware, where she worked at The News Journal and The Philadelphia Inquirer.
Meanwhile, Mike grew up near Pittsburgh, earned a chemical engineering degree from Pennsylvania State University, and eventually landed at Chemours in Wilmington. The couple connected on Hinge, a dating app, and bonded over a mutual love of the TV series SpongeBob SquarePants. "It's a big part of our lives," Marina says. "We love the show—it's just this goofy thing."
They met in person at Brew HaHa! in Greenville on October 26, 2019, says Marina, who is good with dates. ("We love to celebrate anniversaries," she explains.) They solidified their girlfriend-boyfriend status on November 24 of that year.
Since they both lived in Trolley Square, keeping the romance going during the pandemic was easy. "We were in our own little bubble," Marina recalls. They later moved in together in Wilmington's Triangle neighborhood.
Around Valentine's Day 2022, Marina got a gut feeling that Mike would propose. "I consider myself clairvoyant," she says. "The ancestors are telling me something; I felt it in my bones." Her girlfriends pooh-poohed the idea.
Little did Marina know that Mike had revealed his proposal plans to her friends and sister, who said a manicure was in order. "Go get your nails done for Valentine's Day, honey," Mike had told Marina. "I'll pay for it." The offer was a risk, he acknowledges.
While en route to Killens Pond State Park for a hike, the couple competed to spot a yellow car. The first person to see the vehicle got to punch the other. Mike, who was usually good at the game, was preoccupied. He worried Marina would see the ring box hidden in his jacket.
Knowing his Maine girl loved the water, he got down on one knee by the pond. Mike was wearing gloves, which made pulling the box from his pocket difficult, and the ring was upside down, but it didn't matter. Marina said yes, and they walked to the parking lot, where their families were waiting to celebrate.
At the rehearsal dinner, guests wore African clothing and dined on the native dishes Marina's sister prepared. "It was really, really lovely," Marina says. The wedding and reception were at The Farmhouse, an estate on Old Capital Trail in Wilmington. Since Mike grew up in the Hungarian Reformed Church and Marina is Catholic, their friend Taylor Goebel, a fellow journalist, was the officiant. There were 16 attendants, but Marina's 9-year-old nephew stole the show. The ring bearer danced down the aisle to Beyoncé's "All the Single Ladies (Put a Ring on It)," wearing sunglasses and carrying a briefcase.
Marina wore a sleeveless mermaid gown and flowing veil, while Mike wore a formal white jacket and black pants. After the first dance, they changed into custom-made African garments—complete with a fan for her and cane for him—and danced to an Afrobeat song. For their third outfit, Marina wore another white wedding dress; Mike wore white pants, a periwinkle shirt and sneakers.
DJ Breaz mixed it up with such tunes as the "Kim Possible" theme song, Evanescence's "Bring Me to Life" and an Afropop song by Davido. (Marina's gruff high school history teacher, a mentor, still texts her about how much he loved the DJ.)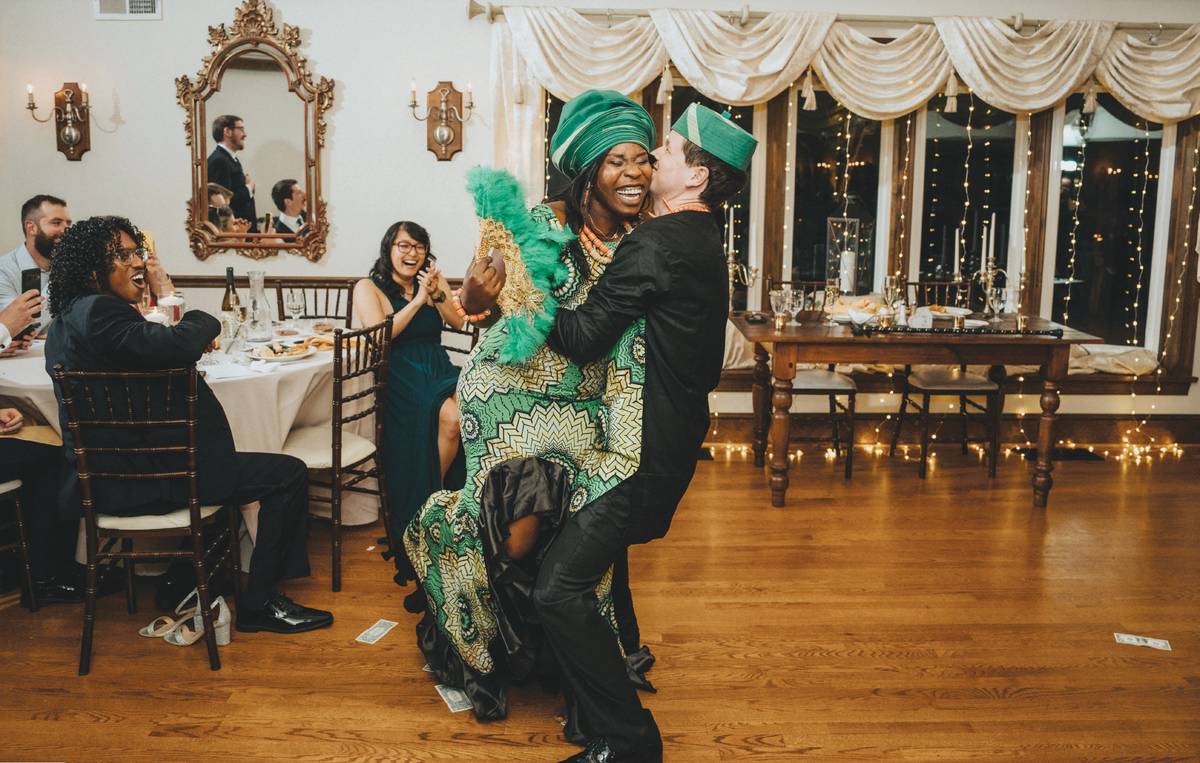 Bucking tradition, the couple had cupcakes instead of a tiered creation. However, a cookie table, a Pittsburgh tradition, was laden with the more than 400 cookies that Mike's mom baked.
The event was the perfect multigenerational affair, Marina says. There were even babysitters for the children. "It was about bringing together our world and celebrating not just our love but the love in the room," Marina says. "It was a nice blend of our cultures and our families. It was exactly what we wanted."
Details
Ceremony and Recpetion: The Farmhouse thefarmhousede.com
Photographer: Sophie Gabriella sophiegabriella.com
Florist: Marina made the flower arrangements from artificial flowers and Produce Junction blooms.
Entertainment: DJ Breaz facebook.com/DjBreazSocial
First Song: A cover of "Teenage Dream" by The Renegades; "Be My Lover (Yes/No Part 2)" by Banky W
Cupcakes: Cakes by Kim cakesbykim.com
Rehearsal Dinner: Bellevue State Park destateparks.com/bellevue
Fun Factor: Guests signed wine bottles on the tables, and the couple will open one on each anniversary.
After-Party: Hilton Wilmington/Christiana hiltonchristiana.com
Honeymoon: Greece
Occupations: Marina is a media relations manager at the University of Delaware; Mike is a new product development engineer with Entegris in Chester, Pennsylvania.