From high school to college and beyond, this Delaware couple's love was written in the stars.
By Lisa Dukart
On their first date, Laura Wiley and Hunter McHugh gazed at the night sky, observing the stars and glow of the moon refracting a rainbow of colors. It was November during their senior year at Concord High School, and the longtime best friends were now in a new phase of their relationship.
It was like a moment out of a movie for the high school football player, who had harbored feelings for Laura, a cheerleader, for years. They knew their bond, like that glow around the moon, was something special. Attending colleges six hours apart would be a challenge. Still, they knew it was meant to last, and six months after that first date, Hunter presented Laura with a promise ring reminiscent of the moon.
Laura went to school in Virginia, while Hunter, who continued to play football in college, was in New Jersey. But they reunited every few weeks in Delaware. The time apart "gave us the chance to become our own individuals," Hunter says. "I think it made our relationship better."
After a one-year break post-college, they rekindled their romance "for the long run," Hunter recalls. Two years later, and almost exactly to the anniversary of their first date, the couple traveled to Laura's alma mater for a football game with friends and family. Kicking off the weekend at a nearby vineyard, a private tasting awaited. On a terrace overlooking the grapevines, Hunter gave Laura a custom bottle of wine. Its label read, "Laura Walker Wiley, will you marry me?" Down on one knee, Hunter got the response he'd been hoping for.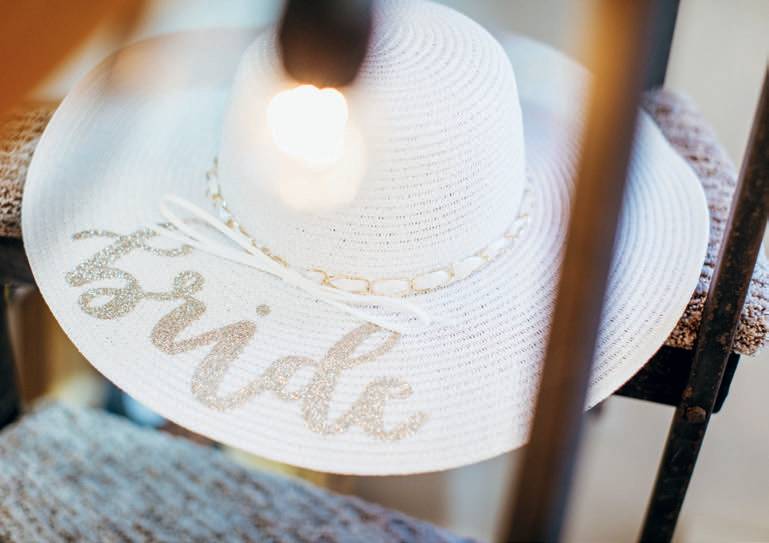 On the drive home, the couple started making plans. Laura always knew she wanted to tie the knot at the Delaware beaches, where she spent time at her grandparents' house growing up. They set a wedding date for June 6, 2020, with a guest list of about 175. A trained nurse, Laura knew by April that their plans weren't likely to hold.
Determined to marry that year, the coupled moved their wedding date to October 3, changed venues and pared down the guest list. "It was really important for us to just make that commitment to each other no matter how that was going to look," Laura says.

They honored their original wedding date by sipping Champagne (from friends) and cuddling in matching bride-and-groom silk pajamas (from their parents) during stay-at-home orders.
When the big day arrived, it looked exactly as they hoped, with the sweeping coastline as their backdrop. Wanting to help guests feel comfortable, they chose the recently renovated Rehoboth Beach Country Club, which was more spacious and provided ample outdoor access. (Fun idea: They provided wristbands for guests who preferred to stay distanced.)
The day prior, they held a small ceremony and celebration on the beach with just their families. "That was really special because we got to thank those who were with us along the way," Hunter says.
When the couple exchanged personal vows the following day, few left with dry eyes. The ceremony, presided over by Laura's brother, was livestreamed to friends and family who couldn't be there. Laura's grandfather even surprised her earlier in the day, wanting to see his granddaughter on her wedding day, even if he wasn't comfortable in a group.
Personal touches made the day all the more special. Laura's brother and his girlfriend recorded a version of Sarah Bareilles' "Tightrope" for Laura to walk down the aisle to.
"The song just really describes our relationship," says Laura, who didn't know about the surprise until she heard their voices. "It was perfect." Her sister even gathered congratulatory videos from those who couldn't be there and created a compilation, which played during the reception.
Later that day, taking a moment as husband and wife, Laura and Hunter stepped outside onto the balcony and looked over all those who were gathered to celebrate them.
"[We reflected] on how lucky we were to have our family there, for everyone to be healthy and safe, and for us to ultimately be finally married after so long," Hunter says. Like that glow around the moon, it was another moment where everything was beautifully aligned.
---
Details: