For this Kennett Square couple, the perfect wedding equaled a laid-back party filled with love, laughter and lots of lights.
Words by Ashley Breeding
Photography by Ashley Shuey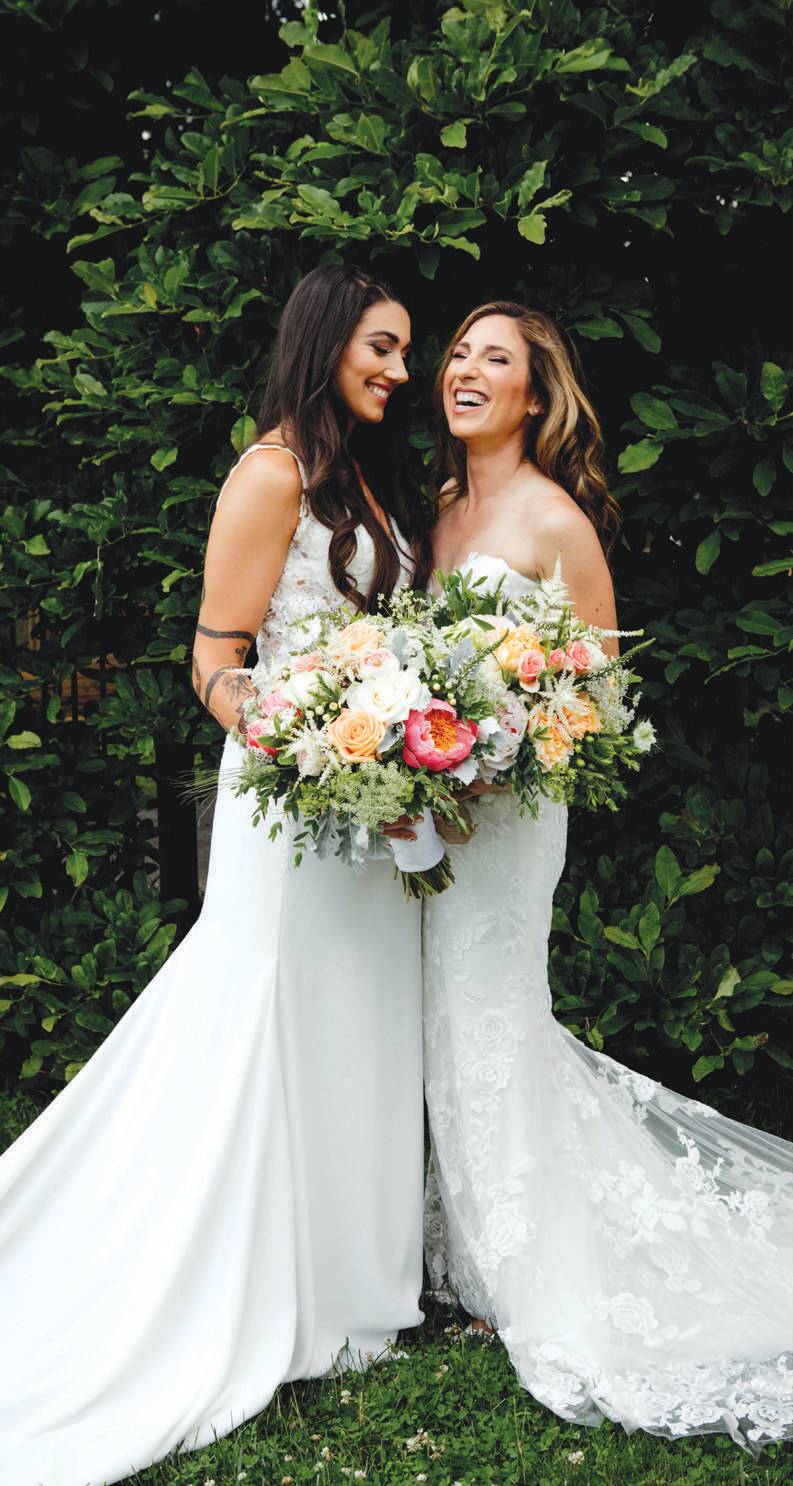 After more than a decade of dating, Samantha Ross and Nicole Georgalas, of Kennett Square, had planned to marry on September 12, 2020. It would be a lavish affair with more than 200 guests, whose invitations were set to be mailed right as the COVID-19 pandemic shuttered the couple's fancy venue in Chesapeake City.
"We never sent those save-the-dates, so no one ever even knew," says Nicole, adding that what appeared at first to be bad luck was in fact a proverbial "blessing in disguise." Often feeling as though their original wedding was "way too much" for their simple, easygoing style, the pandemic ultimately upended the pair into the celebration of their dreams.
They would have to wait longer than either wanted, but really, what's another year or two when you're dating in the double digits? Sam and Nicole met as students at University of Delaware's girls' rugby house—Sam was a sophomore, Nicole a senior.
"There was an immediate connection, though I didn't know what that meant at first because I hadn't dated women before," Sam says. "I just thought, 'Oh, I am having feelings I've never felt before.'"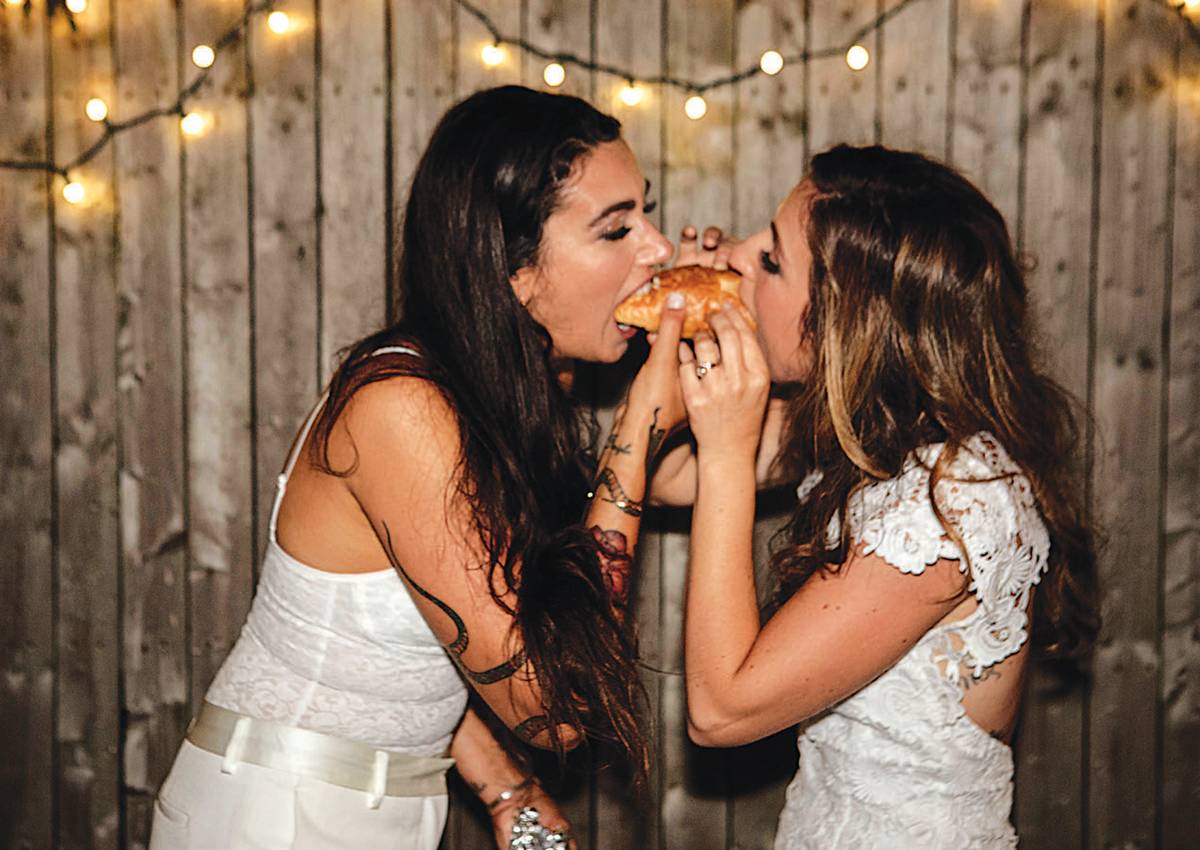 They began hanging out a lot, both describing an "attachment" that neither had experienced with anyone else, even saying "I love you" before they made it official, Nicole remembers.
Their first date was at the defunct Café de Napoli in Newark, a space now occupied by The Peach Blossom Eatery, a new café and restaurant that Sam, a chef, co-owns with friend and coffee connoisseur Olivia Brinton (Little Goat Coffee Roasting). Pointing to a small table at the middle of the space, Sam says, "That's where we sat…so I had to put a table where we had our first date."
After graduating from college, Nicole moved back to her native New Jersey. The long-distance relationship would be short-lived: She soon returned to Delaware, and when Sam finished school, the two moved in together in Newark for a time, eventually relocating their family (they have two rescue dogs, Barkley and Riley) to a farmhouse in Kennett.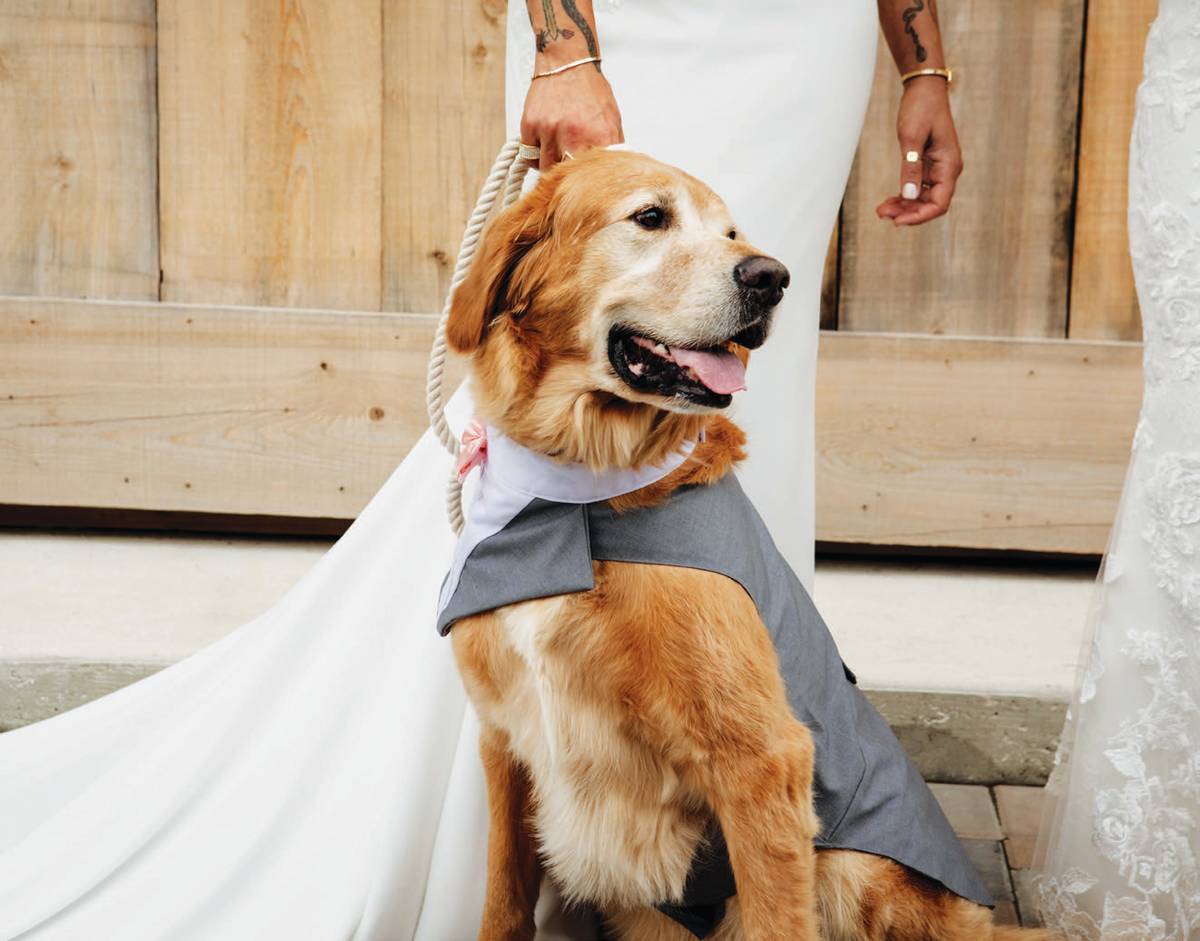 The proposal came on Nicole's 30th birthday, when Sam rented the upstairs of House of William and Merry (where she worked at the time) for a party to honor both occasions after she popped the question on bended knee.
"I had no clue it was coming," Nicole says. "I grabbed Sam by the shoulders and tried to pick her back up. …I had been shopping for rings for her and was thinking of proposing myself!"
Still wanting her partner to have that same surprise moment herself, Nicole went ahead and planned her own proposal anyway: "When we were moving to Kennett, I threw a goodbye party for lots of friends, where I pulled out my own ring and proposed," Nicole says.
As the couple scrambled to revise their wedding plans for the following year, a friend who lived nearby and owned a historic barn (part of the Underground Railroad), suggested they have it there.
The problem: The place was over 100 years old and in dire need of repairs. But the pandemic era provided little work for a chef, while Nicole, a landscape designer, also had more spare time than usual. "We thought, 'No better time to pick up some hammers and make it happen,'" she says.
While their wedding planner worked with all their original vendors to shift direction, the duo got busy digging, and paving, and woodworking, and planting, and laying patios—all with the help of family and friends who were also out of work at the time. Those who worked in construction even loaned their heavy equipment, Sam says, chuckling as she recalls a John Deere bouncing down the road or her mom tamping dirt for a patio. And since they were fixing up their friend's property, they even got paid for the work.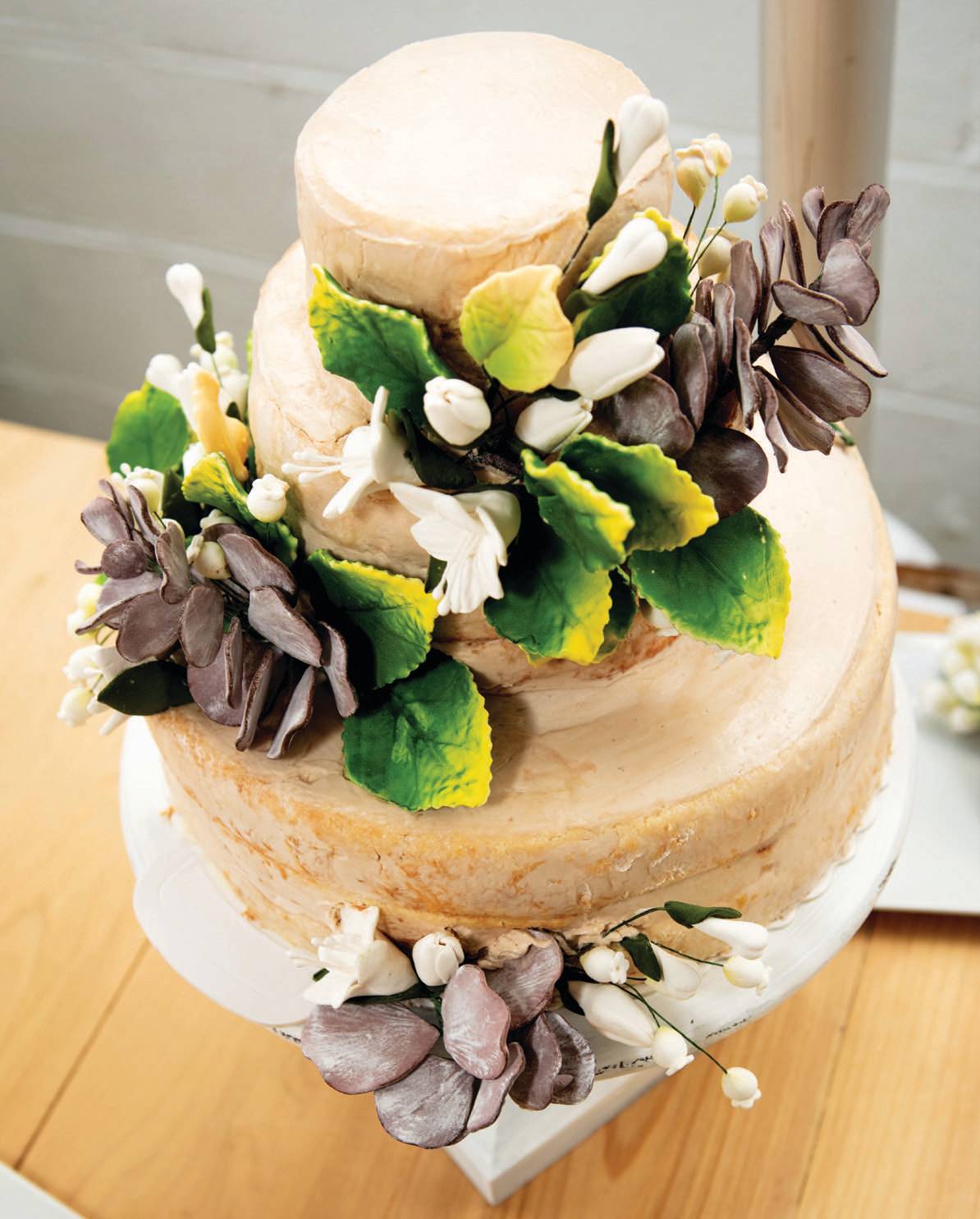 For the wedding itself, Sam and her dad, Tony, built a rustic bar and cocktail tables from old whiskey barrels. At Nicole's request, they strung lights—and then some more lights—on everything from the 50-foot ceilings to the outside fences. Sam's mom "went wild" decorating the outdoor space with potted flowers, while Nicole's talented trio of aunts fashioned bespoke cakes, cannolis and cookies for an unmatched dessert spread. They had backyard tents, a yurt lounge and a sofa for tired guests to relax in the fresh open air. A close friend would officiate the ceremony, having each bride complete a questionnaire in advance and then spinning their answers into touching vows. ("I still pull them out once a week to read them," Nicole says.)
"The more we visualized it, the more we realized this is what we wanted," Sam says. "The first wedding became so expensive that we started to lose out on the things we really care about—we really just wanted to just throw a good party and for everyone to be happy."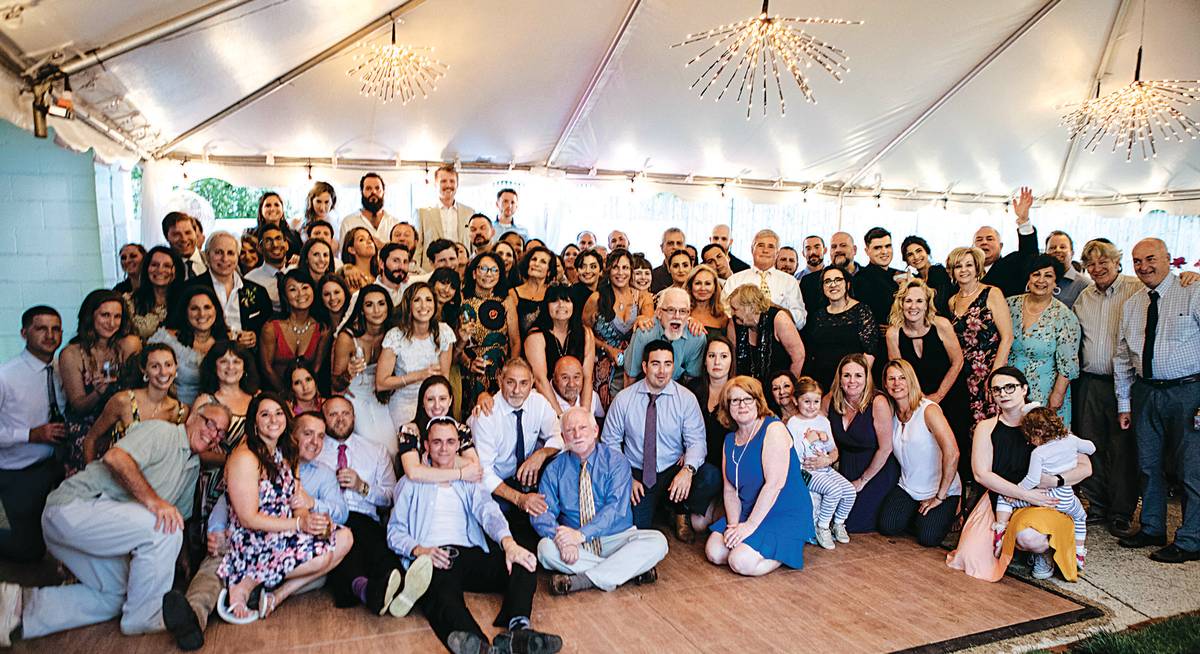 They cut the guest list in half and whittled their 12-piece band down to a talented and versatile few, and opted for casual carving stations and endless hors d'oeuvres over assigned tables.
"Because many of our friends and family hadn't seen each other in so long because of COVID, we wanted more mingling," Nicole explains.
Both donning their original formal wedding gowns for the ceremony, neither could wait to peel it off and slip into something more "themselves," Sam says. She, in a white pantsuit, and Nicole, in a fitted lace frock, celebrated with loved ones late into the night—always under the lights.