A Delaware couple's fortuitous meeting after a daring rescue was something straight out of a movie.
Written by Lisa Dukart
Photography by J. Nicole Photography
---
January 9, 2017, was a cold and fateful day. Red Mill Pond, near Lewes, was partially frozen over, its icy tentacles precariously extending the shoreline. A 13-year-old deaf and nearly blind golden retriever named Buddy found himself marooned some 100 feet offshore, his human frantically calling the Lewes Fire Department. Swift to Buddy's rescue, firefighters used a boat to traverse the ice, a skill they didn't often have reason to practice. Despite the conditions, Buddy was soon reunited with his owner.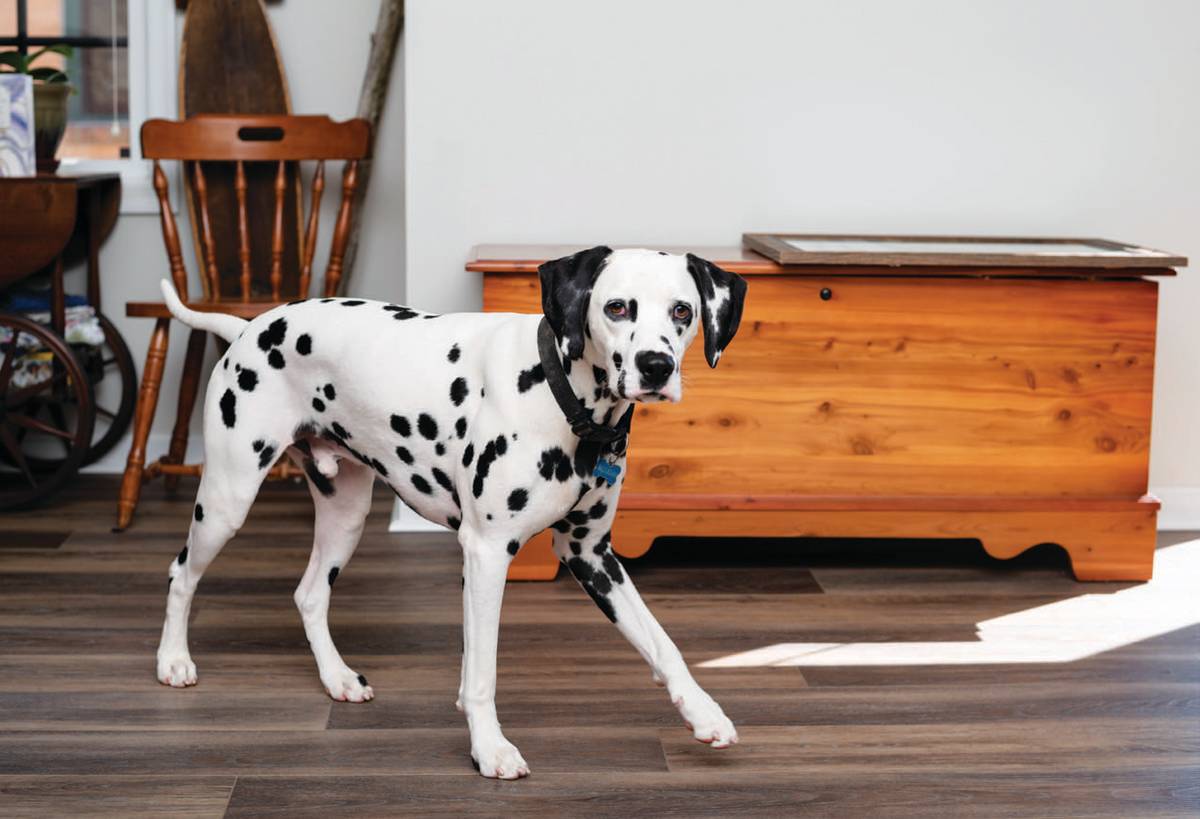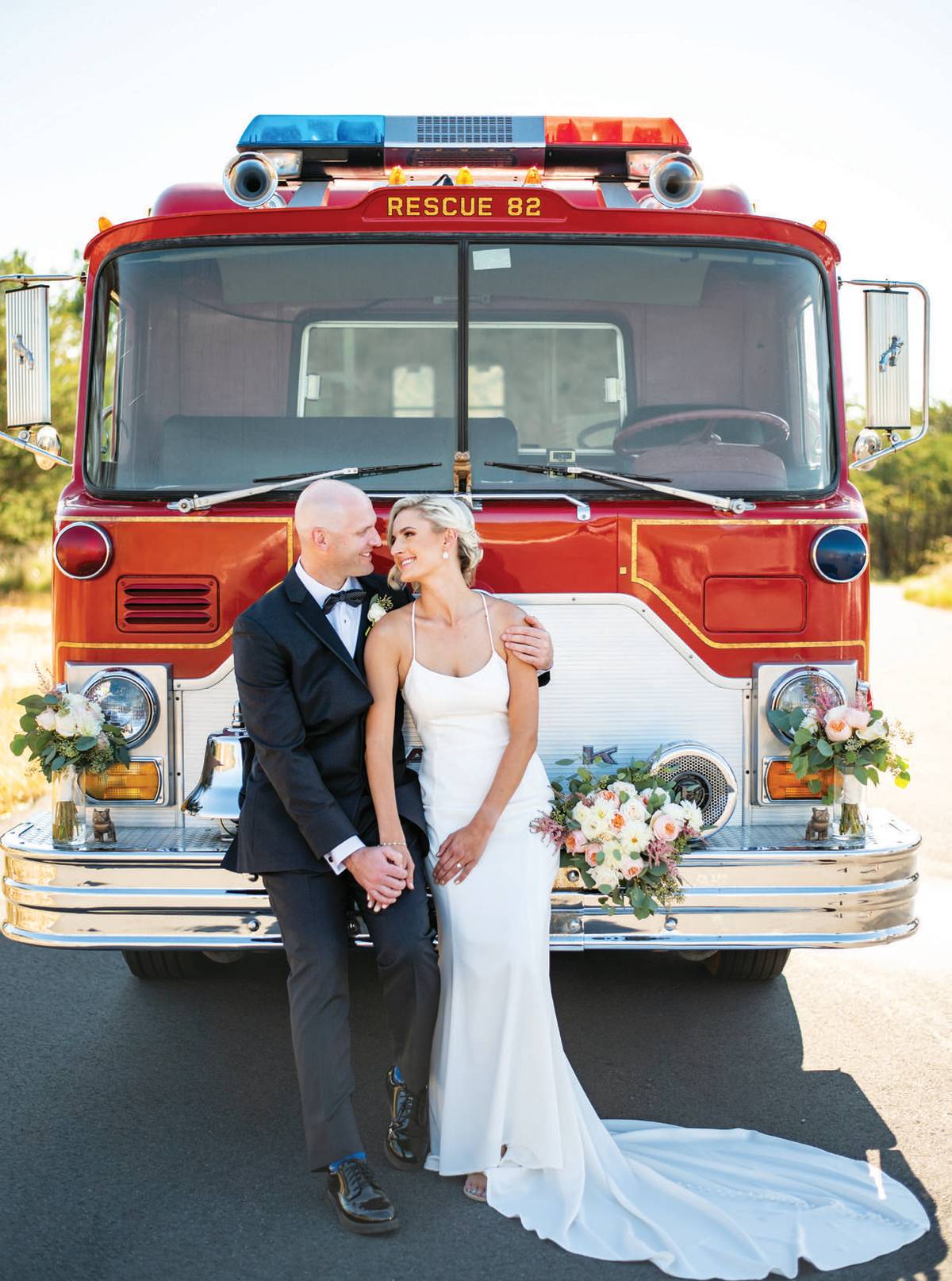 Two days later, local news station WBOC dispatched Madeleine "Maddie" Overturf to cover the story of the rescued pup. Then a reporter for the CBS affiliate, she set about interviewing the two rescuers involved. Like Red Mill Pond, Robbie Stevens seemed a bit icy, at least to Maddie. But under the surface, sparks were flying.
"I'm really not good with talking to cameras. I'd never done it before," explains Robbie, then the captain of the Lewes Fire Department. While Maddie found him attractive, their exchange felt tenuous. "I was trying to crack silly jokes to loosen them up," she recalls. "When I left that firehouse, I kind of felt a connection, but I was dating somebody else."
It was an unexpected meet cute that had all the makings of a Hollywood rom-com. As Hollywood would have it, Robbie felt the same attraction to Maddie.
Six months later, the two reconnected when Maddie ran into her firehouse contact and mentioned she was single. Robbie asked her out, and they met for dinner at Agave in Lewes. During the long wait time, they got to know each other while wandering Robbie's hometown as he pointed out his favorite spots and shared pieces of the town's history. "We just talked the whole time and it felt really easy and very natural," Maddie says.
By their eighth date, Robbie was so sure of their connection, he told Maddie that one day they would get married.
That certainty was reciprocated when their date was interrupted by Robbie being called to the scene of a hit-and-run car crash. "Everybody was fine, but it looked pretty scary," Maddie recalls. "I was sitting in that [command] car as I watched Robbie talking to the family, to those kids and their mom…he took care of them. That was the moment where I was like, 'I'm going to marry this guy.'"
The following fall, Robbie was hired by the Wilmington Fire Department and had to attend its academy. Forced apart five days a week, they stayed connected through phone calls and weekend visits. "I think it made us closer," Maddie says.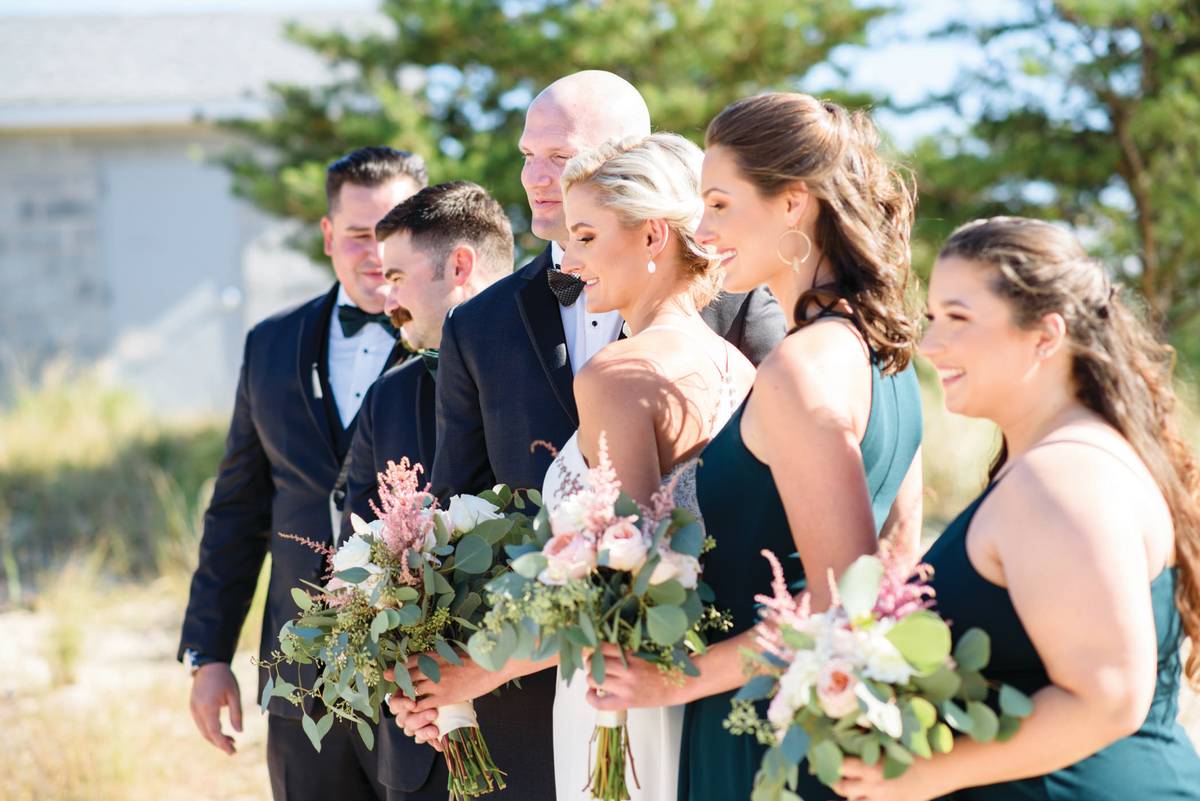 For two years their relationship blossomed. Eager to put down roots, they purchased a condo in Lewes. Surrounded by moving boxes and tired from the haul, Robbie got down on one knee and proposed in their new shared place. "I said, 'Now that we have a house together, we can start a family together,'" he remembers.
Splitting their time between Lewes and Wilmington for Robbie's job, they knew the beach was a natural fit for their Big Day. They planned for a beautiful affair at the Fort Miles Historical Area at Cape Henlopen State Park the following autumn. "We love that time of year, especially at the beach," Robbie says.
The venue also had special significance: The couple visits Cape Henlopen every Sunday in summer to spend time with family and friends, and Fort Miles' history as a World War II battery was important to Maddie, whose father served as a fighter pilot. "For me, it was kind of cool to have that historic tie to the military as well, paying homage," she explains.
On October 3, 2020, surrounded by 130 of their loved ones, the pair tied the knot. Thanks to the venue's ample outdoor space, their guest count wasn't hindered by the pandemic.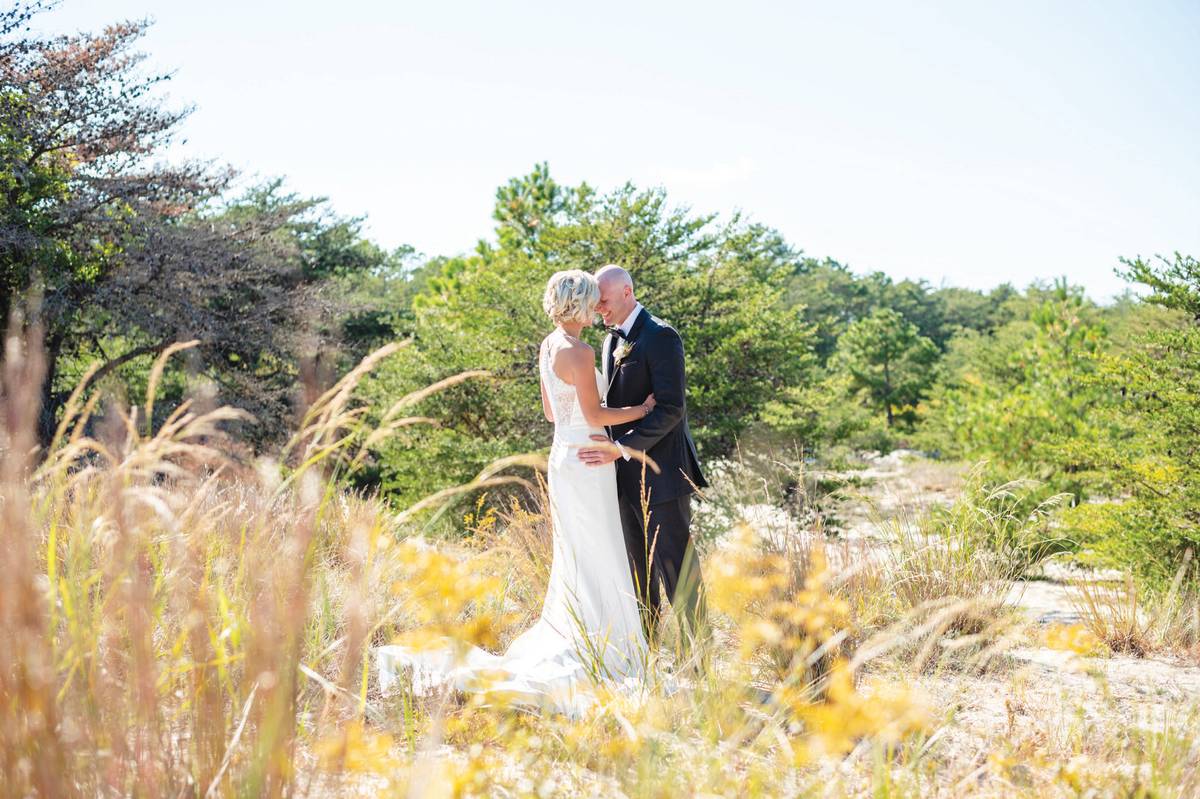 On a perfect early fall day, they shared a first look among the sandy dunes and were joined by their Dalmatian, Hal, for photos. Fittingly, their getaway car was a fire truck—but not just any fire truck. One of Robbie's friends and a fellow fireman bought and restored a decommissioned truck, its Lewes sticker still intact despite having been sold to company in Georgia. Coincidentally, it was the very same truck Robbie's father, a longtime fireman, used to ride on.
The couple exchanged vows in a ceremony presided over by the Rev. Brad Martin, who serves as a reverend for the Wilmington Fire Department and plays a significant role in their lives. "He's such a mentor to Robbie in the fire department," Maddie says. One of her friends also offered a reading.
The ceremony concluded with a tree planting of sorts. Maddie and Robbie saved acorns and potted them in the hopes that like their love, those seeds would grow and flourish. One day, when they buy a house with a yard, Robbie plans to transplant them so that they'll always be there, a reminder of the beauty and endurance of their love.