A Bethlehem couple celebrates family in their Bethany Beach nuptials.
By Lisa Dukart
Photographs by Maria Deforrest
---
It was a classic modern-day meet cute. After growing up in neighboring towns, with a number of friends in common, Emily Graveno and Joshua Ehret didn't meet each other until college—where they were miles farther apart.
Emily went on to study at Penn State University in State College, while Josh attended Bethlehem's Moravian University.
They met through mutual friends in 2013, and soon thereafter, Josh took the step that begins so many modern romances: He reached out on social media.
The began dating exclusively that summer, taking advantage of the long, sultry days away from school. "We were kind of inseparable the whole summer," Emily recalls.
In the years that followed, they continued to pursue their relationship, despite the distance. By the time Emily finished her nursing degree in 2019, this time from Villanova University, Josh was buying a house in Bethlehem. The couple decided to move in together.
Five years and many discussions about engagement later, they took a ski trip to the Adirondacks in New York, where, on a crisp winter day, Josh—along with their two dogs, Bruce and Bonnie—took Emily on a hike to a frozen lake and popped the question.
A mid-pandemic engagement meant they would wait a while to marry. Emily knew she wanted to exchange vows in Bethany Beach, where her family had a home and they visited often.
"We just love the quaintness of the town," she says.
Addy Sea Bed & Breakfast, with its intimate size and proximity to the beach, was the venue that beckoned. Last September, in a heat wave, Emily and Josh had a traditional ceremony in front of family and friends. In advance, they exchanged personal sentiments by letter.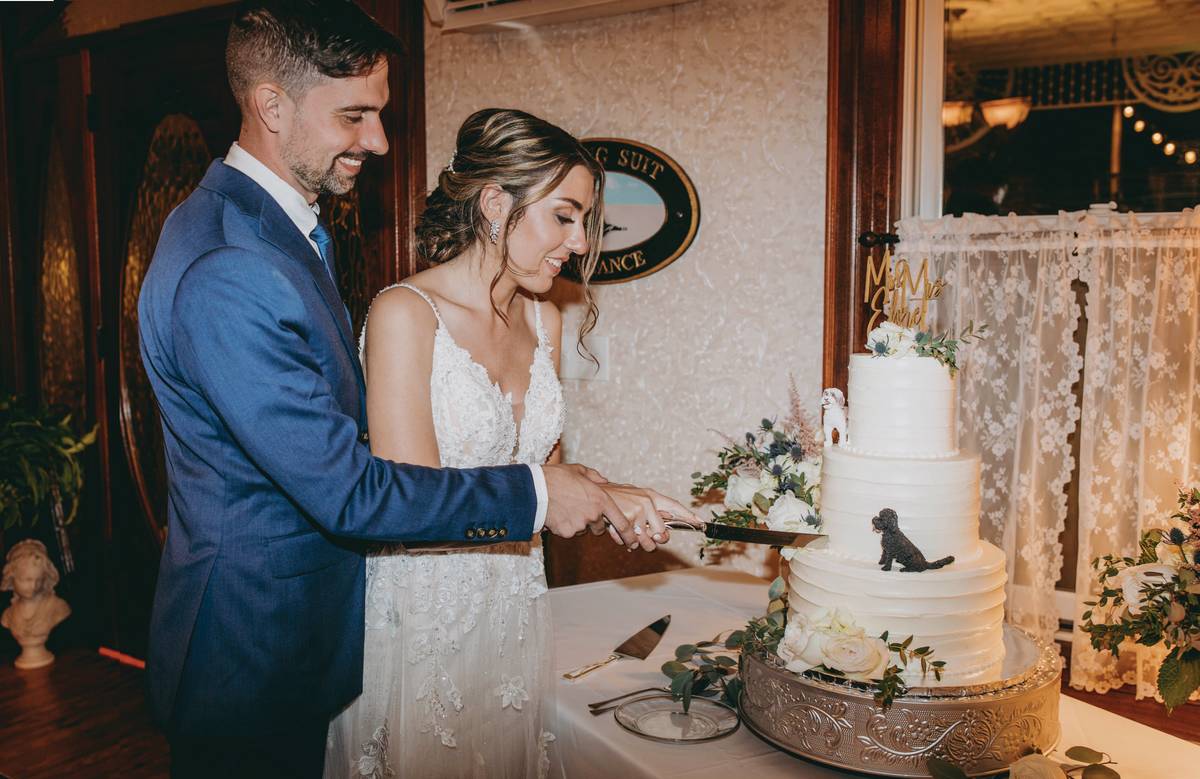 In keeping with the beachy vibes, the couple chose dusty blue, pale pink and gold as their colors, popping up in everything from the wedding party's wardrobe to the floral archway they wed beneath.
"I just wanted a really casual, relaxed, very light and fun wedding," Emily says.
They also gave guests Fisher's Popcorn as a favor, and those who checked in to Addy Sea also received saltwater taffy from the famous Dolle's Candyland.
More than anything, Emily and Josh wanted their special day to celebrate family. Their wedding date was just few days after the anniversary of Emily's grandparents, who've been married 66 years. Emily's fraternal twin sister served as her maid of honor, while her brother gave a toast at the reception and her father said grace before dinner.
Also important was having their dogs there—in spirits. The couple's signature reception cocktails—a Long Island Ice Tea and a Crush—were named for their Portuguese water dogs, whose likenesses also graced the wedding cake.
"They're such a big part of our lives—they kind of are what made us a family—so we wanted them to be a big part of the day," Emily says.
Amid the celebration, the couple managed to slip away to watch the sunset over the Atlantic, taking a moment for themselves. Like the pink sun glinting off the waves, it gave them a moment to reflect on the day and the love they'd built over a decade.
"I never felt more loved in my life than at that wedding," Emily says. "It was truly something I'll remember for the rest of my life."